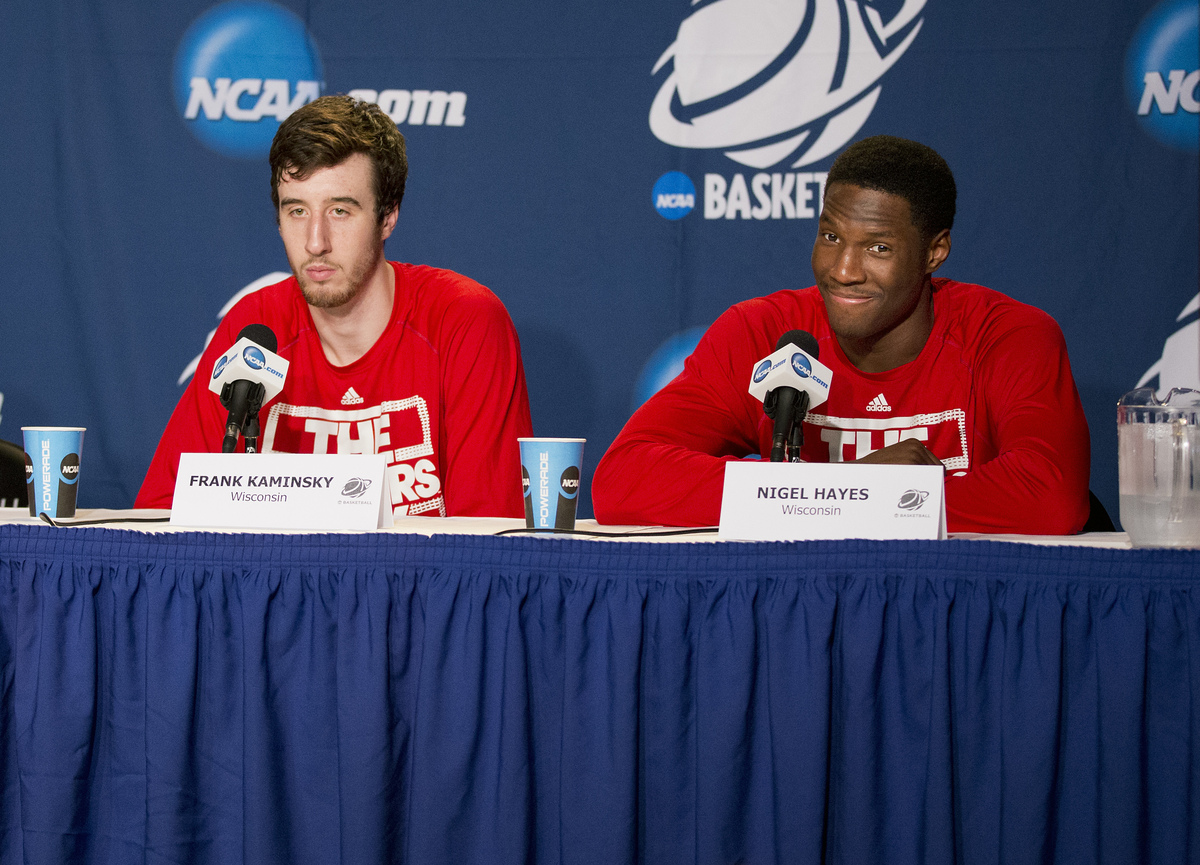 Nigel Hayes (right) and Frank Kaminsky at a press conference. Courtesy UW Athletics.
Thanks to Nigel Hayes, stenographers — and interesting words —are having a moment.
Ever since the starring Wisconsin Badgers men's basketball forward uttered "onomatopoeia," the world took notice.
As a lover of words and the editor of the Dictionary of American Regional English, Joan Houston Hall quickly took note of Hayes' way with words.
"I thought it was great — just great," she says.
Her favorite word so far?
"Catawampus, of course."
Hayes doesn't need an assist, but Hall decided to be a good sport and offer some suggestions — just in case he's ever at a loss for big words.
alamagoozlum: maple syrup made by melting down the sugar (southeast New York)
puckersnatch: a difficult or muddled situation (especially Northeast)
ramstugious: violent and reckless in behavior; outrageous, quarrelsome, passionate (especially Midland region)
scrimption: a very small piece or quantity (chiefly South, South Midland)
titrivate: to go about ostentatiously; or to fix up, adjust, manipulate (chiefly Maine)
upscuddle: a noisy quarrel; a disturbance (chiefly southern Appalachians)
wamble-cropped: unhappy, discomfited, irritated (chiefly New England)
Characteristic of Wisconsin:
schafskopf (often translated as 'sheepshead'): a card game
krumkake, lutefisk, and lefse (food delicacies introduced by Norwegian immigrants)
uff-da: an all-purpose exclamation of surprise, aversion, disgust, pain (also brought to us from Norway)
whoopensocker: something extraordinary of its kind (etymology unknown)
Read more about Hayes' penchant for sesquipedalian lexemes.