Winning images reveal the aesthetic side of UW science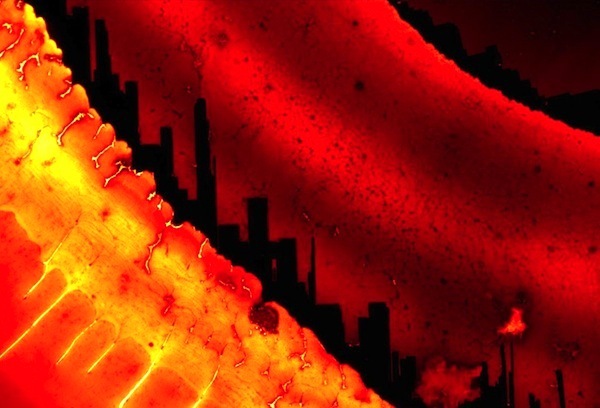 This image, from graduate students Thomas Ellingham and Max R. Salick, shows cellulose nano-fibers marked with a fluorescent stain. When dried, the fibers produce fascinating geometric, crystallized patterns. This image resembles a surreal, microscopic city skyline.
From the frumpish mug of an oyster toadfish to delicate crystalline "flowers" of cobalt pyrite, 12 winners of the 2014 University of Wisconsin–Madison Cool Science Image contest were announced today, Tuesday, March 25.
Ten still images and two videos were recognized for their portrayals of science and for the stories the pictures embody. Videos are recognized this year for the first time. Click here to view all of the winning images.
"As is true each year, we had amazing participation and many beautiful and insightful pictures," says Steve Ackerman, a UW–Madison professor of atmospheric and oceanic sciences and a contest judge. "We continue to be astounded by the quality of the images submitted and the fascinating stories they tell."
This photo, from Amy V. Uhrin, a zoology graduate student, shows the oyster toadfish. Medical researchers are also attempting to understand mechanisms behind the fish's high tolerance for ammonia in water in hope of halting the toxic effects of high ammonia concentrations in humans.
The 2014 CSI winners are:
Angie Derr of the Department of Botany's Newcomb Imaging Center, for her environmental scanning electron micrograph of a spore-producing capsule in moss.
Nathalie Dinguirard of the School of Veterinary Medicine's Department of Pathobiological Sciences, for her micrograph of snail hemocytes.
Matthew Faber, graduate student in chemistry, for his scanning electron microscope portrait of cobalt pyrite.
Audrey Forticaux, graduate student in chemistry, for her electron micrograph of the element molybdenum.
Mike Geiger, graduate student in horticulture, for his image of starflower and an alighting bumblebee.
Graduate students Matthew Gidden, Robert Carlsen and Arrielle Optotowsky; staff scientist Anthony Scopatz; and Professor Paul Wilson, all of the Department of Engineering Physics, for their animation documenting the work history of projects in nuclear energy systems and fuel cycle concepts.
Justin Jeffery, instrumentation specialist at the Carbone Cancer Center; Ben Cox, Medical Physics graduate student; and Greg Gion of Medical Art Prosthetics, for their poignant series of images depicting the sculpting of an artificial hand.
Biochemistry postdoctoral fellow Brian Jenkins, for his image of rat brain neurons and axons.
Ricardo Kriebel, postdoctoral fellow, Department of Botany, for his scanning electron microscope portrait of a flower from the cloud forests of Costa Rica.
Pui-Ying Lam, a School of Medicine and Public Health graduate student in cellular and molecular biology, for her time-lapse video of the immune system at work at the site of a wound in the tail fin of a zebrafish embryo.
Max Salick and Thomas Ellingham, graduate students in engineering physics and mechanical engineering respectively, for their micrograph of cellulose nanofibers.
Amy Uhrin, graduate student in zoology, for her close-up of an oyster toadfish, an unusual model in biomedical research.
This photo, by Angie Derr, an intern at the Newcomb Imaging Center in the Department of Botany, shows a moss capsule, where spore production takes place.
This year's contest drew 94 entries from faculty, staff and students from nearly all corners of campus.
Sponsored by Promega Corp. with additional support from DoIT's Digital Publishing and Printing Services, the contest is intended to provide a showcase and more broadly share the work of Wisconsin researchers. Winners receive $100 gift cards for Downtown Madison and, for still image winners, a poster-sized print.
All of the submissions for the 2014 contest will be incorporated into a slide show to be shown on the media wall in the Town Center of the Wisconsin Institutes for Discovery during the 2014 Wisconsin Science Festival.