UW Sailing: Against the odds, this club sport makes waves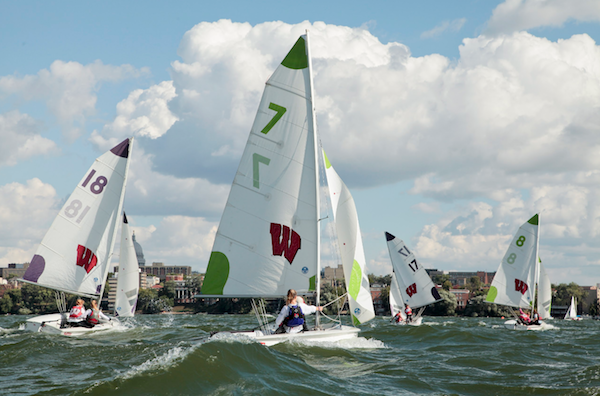 The UW Sailing Team practices on Lake Mendota during a recent September afternoon. (Photo by Kait Vosswinkel.)
Unlike most collegiate sailing teams, the UW–Madison Sailing Team has to deal with eighty-plus days of Lake Mendota ice — but the team doesn't let a little bad weather hold them back.
Despite obstacles, including weather and funding, the coed club team consistently ranks in the top two in Midwest conference events — and they're becoming more competitive at the national level. The future is bright: The sport is only likely to grow in popularity with last week's stunning U.S. win in the America's Cup.
"Our geographic limitations are pretty massive," says David Elsmo, the team's coach. "People are always surprised with what we can do."
Last season, Wisconsin was already to the Midwest semifinals in April before Lake Mendota thawed. The only time on the water during that period was a seven-day spring training session in Austin, Texas. To stay in shape while on campus, the team held workouts during regular practice time.
Officially, the team is part of the Hoofers Sailing Club. Elsmo, a graduate of the University of Minnesota, was hired three years ago to coach the team in addition to running Hoofers' sailing instruction program. Though he conducts practices, the team's logistics remain entirely student-led.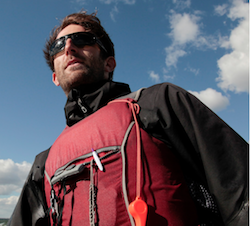 UW-Madison Sailing Team Coach David Elsmo. (Photo by Kait Vosswinkel.)
"Basically, Dave's job is to go on the water with us, start drills and teach us things," says sophomore Katie Hall. "As far as organization goes and sending people to regattas, it's all students."
Student leaders are also in charge of marketing, budgets and alumni correspondence. Elsmo notes that team members not only sail, but they also get involved in all aspects of operating a club sport.
Whether team members grew up sailing or recently discovered the sport, they find time to make sailing a priority. The team practices Tuesday through Friday, from 2:30-6 p.m, with competitions held on the weekends.
"We always have homework sessions in the cars," says Hall. "People are always willing to help us out, but you kind of have to finish everything before you leave for a regatta."
UW-Madison's location in the Midwest also means that travel to big competitions takes significantly longer than it does for coastal teams. A few weeks ago, the team headed to an event hosted by Yale, driving three hours to Chicago and another 13 to Connecticut. Lacking the NCAA backing of varsity sailing teams, club teams conduct fundraising to ensure that they are able to fully participate in the way that they want. Last year, UW–Madison sailed at Nationals against varsity teams including Stanford, Brown and Dartmouth.
"If [our team is] going to travel that much and put that financial burden on themselves to go to these things, they're there and fully bought in," says Elsmo. "There's nobody who tries harder and cares more than our top-level sailors, that's for sure."
Even with its shortened season, UW–Madison's rise through the rankings has attracted many good sailors from coastal areas.
And while Wisconsin may not be the top team, top-tier sailors have a much better chance of competing here, Elsmo says. "When I was at Minnesota," he says, "this kid who could beat me around the course day in and day out … went to Hawaii and he could never sail. He said 'It's too much competition here.' "
At UW–Madison, the team offers students the chance to participate in regattas, but they are not limited to experienced sailors. Elsmo says the team welcomes anyone who is interested. Because of the association with Hoofers, it's easy to get top-quality instruction.
"We'll find an opportunity for them to learn how to sail," says Elsmo. "In a semester's time, maybe in a year's time, they're competent enough to get into a collegiate dinghy and race against top-level collegiate sailors."
A majority of the team says the accessibility of sailing and the bonds they form with their peers is what keeps them coming back.
"The ease of being able to sail right on campus is hard to beat," says undergraduate Charles Bocklet. "The first day of practice was great for me. It's nice to come into a place and an atmosphere like this and be a member of the team from day one."