Lea Jacobs named associate dean for arts and humanities
Lea Jacobs is still getting used to trekking between her familiar office in Vilas Hall and her new one on the third floor of Bascom Hall.
The walk is worth it. Since being named associate dean for the arts and humanities in the Graduate School, Jacobs has enjoyed many new opportunities for faculty and student engagement.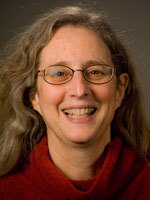 Lea Jacobs
"I'm just so happy to have this job," says Jacobs. "I've always thought that this job would be great fun because you get to know what's going on in other areas — some departments I know well, and others I don't. There's also the joy of moving out beyond your own little silo and thinking about the arts and humanities in a more general way. I was at a point in my career when I was ready to do that."
Jacobs, professor of communication arts and the founding director of the UW Cinematheque, succeeds Susan Cook, who stepped down to become director of the School of Music.
As one of four graduate associate deans, Jacobs manages both faculty and student issues in 38 graduate programs of study, balancing matters of research, education and administration. She plays a major role in policy oversight and resource allocation with respect to graduate education; her responsibilities include Wisconsin Alumni Research Foundation-named professorships, including the Kellett Mid-Career Awards and the H. I. Romnes Faculty Fellowships.
Jacobs herself received a Kellett Award in 2009. She teaches film history and aesthetics, researching areas including the history of the American studio system, performance, silent cinema, and film stylistics. She regularly teaches courses on the studio system, methods of analysis, and animation.
Jacobs' area of study is well suited to interdisciplinary collaboration. Since founding the Cinematheque in 1997 with colleagues Ben Brewster and David Bordwell, she has encouraged partnerships between Cinematheque and other campus departments, particularly those involving international languages and cultures.
"We have to do a better job of both explaining to students what they can do with an arts or humanities degree and reviving a demoralized faculty."
Lea Jacobs
Jacobs had experienced the kinds of responsibility required in the position through her previous work with the Graduate School Research Committee, interviewing researchers and allocating funds. Though she primarily represents faculty and issues related to the arts and humanities, her work involves collaboration with the leaders in the three other divisions: social studies, physical sciences and biological sciences.
"We're doing an interdisciplinary grant right now across all four divisions," says Jacobs. "One of the things I'm learning about is how the university as a whole works, how we educate students across the curriculum. It's so great that we think about the problem of graduate education in relation to faculty research agendas and our university research mission."
Jacobs takes on her new role at a difficult time for the arts and humanities. Nationally, enrollments are down, and the National Endowment for the Humanities — a major source of funding — is shrinking at a drastic pace.
"We have to do a better job of both explaining to students what they can do with an arts or humanities degree and reviving a demoralized faculty," says Jacobs.
This isn't news by any means, but it makes her concerns all the more urgent. Still, especially at a school like UW–Madison, bright spots abound.
"We have truly excellent faculty here," says Jacobs. "I've always thought that one of the advantages of being at a public university is that we're big. We have a large faculty and graduate population. I think that's going to settle out, but when it does, we'll still have a lot going on. You want a good variety of specializations, and the ability for students to work in interdisciplinary ways that are interesting. I think we'll be able to keep that going."