Curb magazine celebrates the legacy, culture and community of Wisconsin
Dec. 10, 2013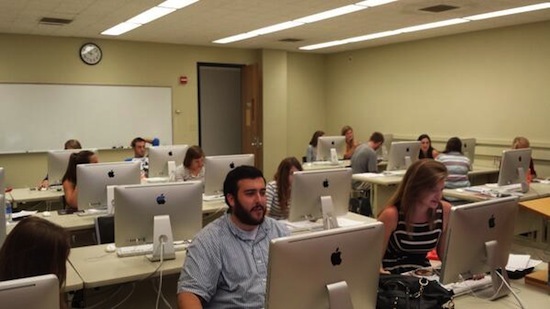 Curb journalists work at perfecting the final product, a 64-page glossy magazine built around the theme "Made by Wisconsin."
A barren prairie changed by war but filled with memories, a dairy-waste plant powering more than 3,000 homes and the celebration of Native American storytelling through technology are among the stories told in this year's Curb magazine.
Curb, produced by students in the UW-Madison School of Journalism & Mass Communication, focuses the theme of "Made by Wisconsin" and aims to cover the communities, cultures and legacies of the state.
Now in its 12th edition, Curb is a Wisconsin lifestyle magazine produced annually in a course taught by Assistant Professor Katy Culver.
"At the center of our stories is the state of Wisconsin, but at the heart of them are its people," says Curb editor Katelyn Youngblood. "We want to showcase our state's traditions and its ideas, something irrevocably linked to our identities as Wisconsinites and UW-Madison students."
The staff was hand-picked by Culver through an application process last spring. A fast-tracked 11-week production schedule tests the students constantly.
"The class is worth four credits, but the commitment is much greater. It's like having a job," says Steve Horn, Curb's art director. Horn, with the design team, worked on building and designing the layout of the magazine. "There will be nothing more satisfying than having that finished product in our hands."
"We want to showcase our state's traditions and its ideas, something irrevocably linked to our identities as Wisconsinites and UW-Madison students."
Katelyn Youngblood, editor
Culver agrees. "The level of professionalism I ask of them can be daunting, but they never fail me or each other. Their content clearly shows their capabilities. They're publishing something that would rival any professionally published lifestyle magazine," she says.
The 64-page print version of Curb is a glossy, full-color magazine, distributed to 10,000 homes statewide. An interactive website with original multimedia pieces and an iPad version give the students the opportunity for national or even international reach.
The staff raised more than $10,000 through advertising and apparel sales, as well as generous donations from alumni and friends, so they can print and mail Curb. As they have for the past four years, Royle Printing of Sun Prairie donated half the printing cost. Thanks to alumni donations and fundraising by past Curb members, the students also received an iPad for the semester, so they could develop their digital versions.
The students traveled the state to find meaningful stories. Copy editor Bridget Ryan drove more than 600 miles round-trip from Madison to the Bad River Indian Reservation near the Upper Peninsula.
"From day one, we've been committed to working hard as a team to see our content come to life," says Katie Hermsen, Curb's marketing director. "In the process, we've become sort of a family that we all feel so lucky to be part of."
Visit here to explore online content, find a map of distribution locations and download an iBook version.