Wisconsin Science Festival to celebrate scientific discovery, community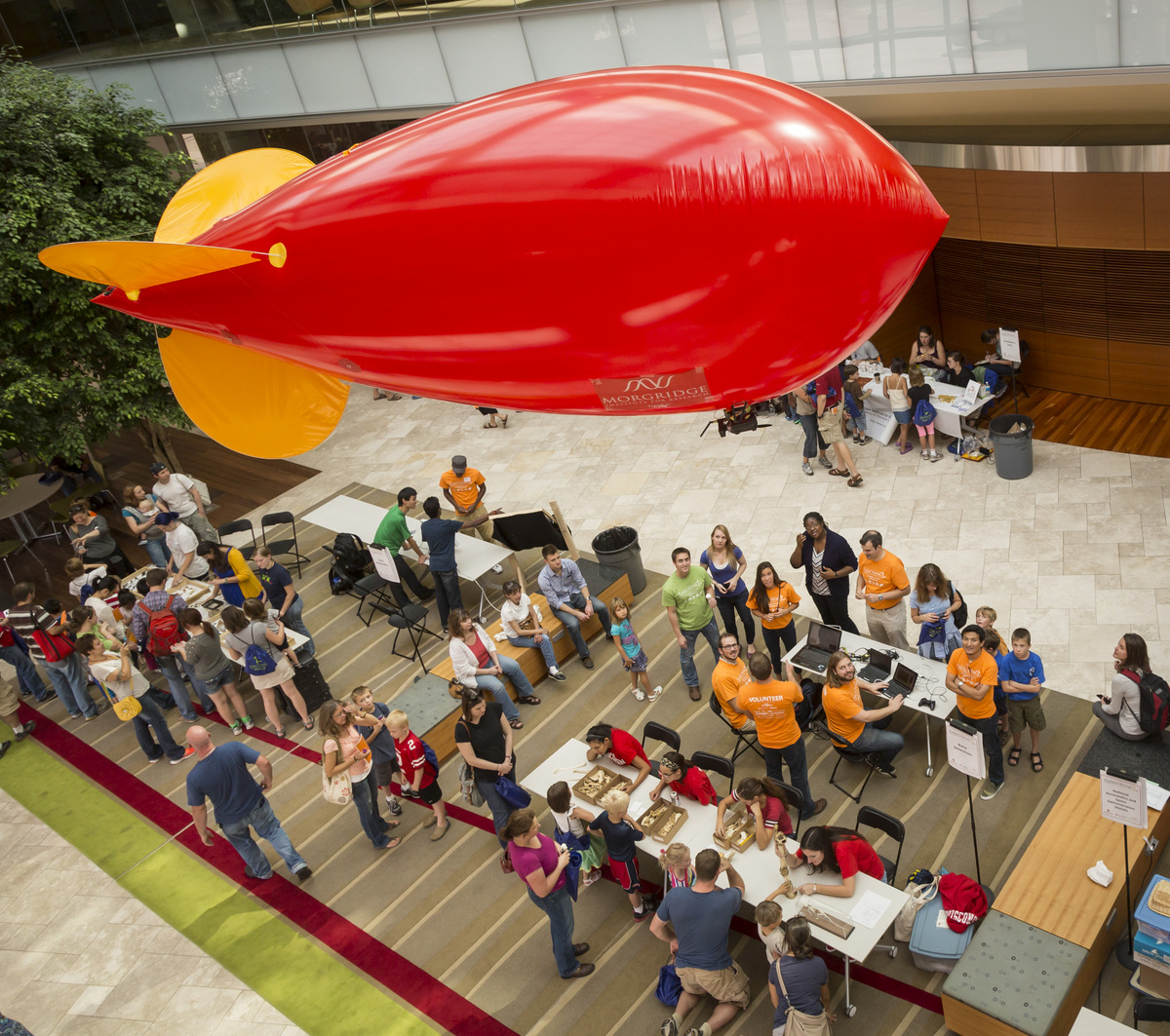 A remote-controlled blimp designed by a team from the Morgridge Institute for Research cruises through the Discovery Town Center atrium during the 2013 Wisconsin Science Festival. This year's event will be held Oct. 16–19.
Photos: Wisconsin Alumni Research Foundation
Thousands of visitors, young and old, will have the chance to indulge their "inner scientist" during the 2014 Wisconsin Science Festival, with more than 20 communities statewide joining Madison in the event.
Now in its fourth year, the festival will be held from Oct. 16-19. The event has established itself as a statewide celebration of creativity and scientific discovery for audiences of all ages. Some past festival favorites, like the Discovery Expo, will be featured again this year, but attendees can also expect a number of new programs.
Laura Heisler, director of the festival and programming for the Wisconsin Alumni Research Foundation, says organizers strive to experiment each year and offer a different window on science.
"The upcoming Science of Supper Clubs is probably the most experimental thing we've ever done," Heisler says.
A visitor blows a human-sized soap bubble at the 2013 Wisconsin Science Festival.
That event will feature the Wisconsin supper club tradition through a scientific lens, including the science of the brandy old-fashioned, food samples and demonstrations from the University of Wisconsin–Madison College of Agricultural and Life Sciences (CALS) faculty, and a concluding roundtable discussion with noted food authors
"It's really exciting and only something the Wisconsin Science Festival can do," Heisler says. "Nobody else can claim a supper club culture like we have in Wisconsin."
As CALS celebrates its 125th anniversary this year, the college's involvement in the science festival is an opportunity to feature campus researchers who contribute in some way to the supper club culture, including vegetable producers, cheesemakers and beer experts, Heisler says.
"We are excited to be pairing food with a side of science at the Science of Supper Clubs, including samples of our Babcock Dairy ice cream flavor, Happy Cranniversary," says CALS Dean Kate VandenBosch. "Festival panels on genetically engineered crops and climate change are also terrific ways for our scientists to dialog with festival-goers on important current issues."
With visitors from around the United States and even foreign countries, the festival has become a destination event that economically benefits the entire state, Heisler says.
A visitor takes in a microscopic view of a flower during last year's festival.
"We all have an inner scientist," she says. "Science is part of every aspect of our lives, whether we're conscious of it or not, and we're all drawn to it. There's amazing stuff going on in our state, done by people of our state, and we should be celebrating that."
Whether you're a foodie, sports fan, artist or science geek, you can find something of relevance at the four-day festival. Most activities will be held in the Town Center of the Discovery Building, 330 N. Orchard St., with other events taking place elsewhere in Madison and in some communities statewide.
Highlighted events include:
Li Chiao-Ping's Rise Over Run Encore: Choreographer/director Li Chiao-Ping's "Rise Over Run: Off the Wall Dances" will feature an inventive approach to dance. Members of the audience will follow the performance as it travels through the Discovery Building, and tour guides will help audience members navigate the unique structure of the performance.
Details: Thursday, Oct. 16, 7-8 p.m. in the Discovery Building.
Big Ideas, Busy People: UW–Madison faculty in areas ranging from art to atmospheric sciences will highlight their groundbreaking work in rapid-fire talks limited to five minutes. An additional five-minute Q&A will follow each presentation.
Details: Thursday, Oct. 16, 8-9:30 p.m. in the Discovery Building.
Science of Supper Clubs: This event will spotlight the distinctive food, culture and history of Wisconsin's supper clubs. A meal will be available for purchase through advance ticket sales, though attendance and samples are free to the public.
Details: Friday, Oct. 17, 5-8 p.m. in the Discovery Building.
Nerd Nite: Nerd Nites and science festivals are phenomena all around the world and the two tend to find each other in their locations. The science festival edition of Nerd Nite will feature UW–Madison faculty Jordan Ellenberg, Kristyn Masters, Emily Ruff and Eric Caldera. While Madison Nerd Nite has hosted science festival events in the past, this is the first year the event will take place as a core event in the Discovery Building. 
Details: Saturday, Oct. 18, 8-10 p.m. in the Discovery Building.
Visit the Wisconsin Science Festival website for more detailed information about the full festival schedule for Madison and statewide events. Entry to most festival events will be free, though some activities may require nominal fees for materials. Some community partner sites may charge their usual admission fees.
— Courtni Kopietz