Wisconsin residents well-represented in freshman class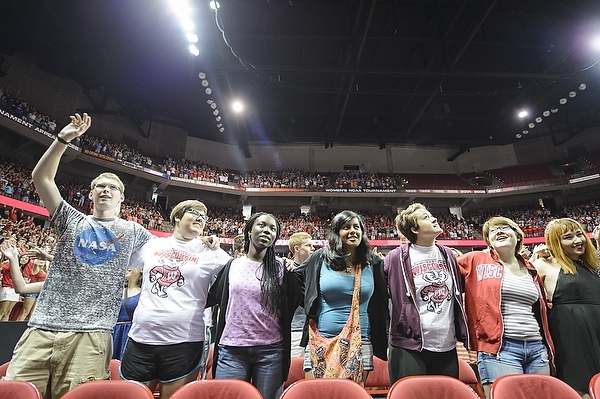 First-year students lock arms and sing "Varsity" during the Chancellor's Convocation at the Kohl Center Aug. 29. This year's freshman class includes 3,750 students from Wisconsin.
Photo: Bryce Richter
The freshman class at the University of Wisconsin–Madison is the third largest in school history, with 6,264 students, and features the second-largest number of Wisconsin residents in the past 13 years.
According to official figures released by the university's Office of the Registrar, this year's class includes 3,750 students from Wisconsin. Students hail from every county in the state except Florence, from 46 states and Washington, D.C., and from 39 countries.
The numbers released this week by the registrar's office are the official enrollment figures for the semester and a follow-up to estimated numbers released by the university in August.
This is the second largest number of state residents since the incoming class of 2001, which included 3,947 Wisconsin residents. In all, 71.9 percent of Wisconsin residents who applied as freshmen to UW–Madison for Fall 2014 were offered admission.
"We place a high priority on admitting the best and brightest among Wisconsin high school graduates, and these numbers reflect that commitment," says Steve Hahn, interim vice provost for enrollment management.
African-American, Hispanic/Latino, American Indian, or southeast Asian-American students make up 10.4 percent of the class. The new freshman class includes 1,052 first-generation students, or 16.8 percent.
Total enrollment at UW–Madison this fall is down 0.2 percent from the previous year, decreasing from 43,275 students to 43,189. Undergraduate enrollment has decreased from 29,504 students in Fall 2013 to 29,304 in Fall 2014. Nonresident enrollment represents 26.8 percent of the total undergraduate population, well within the 27.5 percent out-of-state threshold set by the UW System Board of Regents.