Wisconsin contributions helped Hubble Space Telescope soar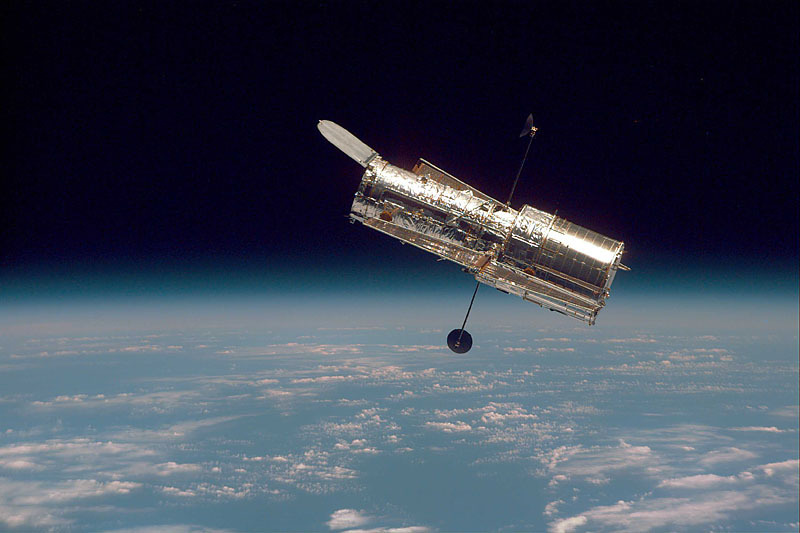 The Hubble Space Telescope hovers at the boundary of Earth and space in this picture, taken after Hubble's second servicing mission in 1997.
Photo: NASA/STScI
It was "the flea on the tail of the dog."
Roughly 30 years ago, that was how University of Wisconsin–Madison astronomy Professor Robert C. Bless described the High Speed Photometer (HSP), a detector then under development at UW–Madison for the soon-to-be-launched Hubble Space Telescope.
The photometer, a telephone booth-sized light meter weighing 600 pounds, was the least expensive and simplest of the original instruments that made up Hubble's scientific payload, which also included more complicated cameras and spectrometers. HSP's purpose was to measure fluctuations in the brightness of stars and other celestial objects, something it could do at a rate up to 100,000 times a second — a handy capability for those studying things like pulsars, supernovae and planetary ring systems.
This week (April 24, 2015) marks the Hubble observatory's 25th year in space and UW–Madison, in addition to its contribution of the High Speed Photometer, played a significant and ongoing role in the development, management and groundbreaking research afforded by the world's preeminent space telescope.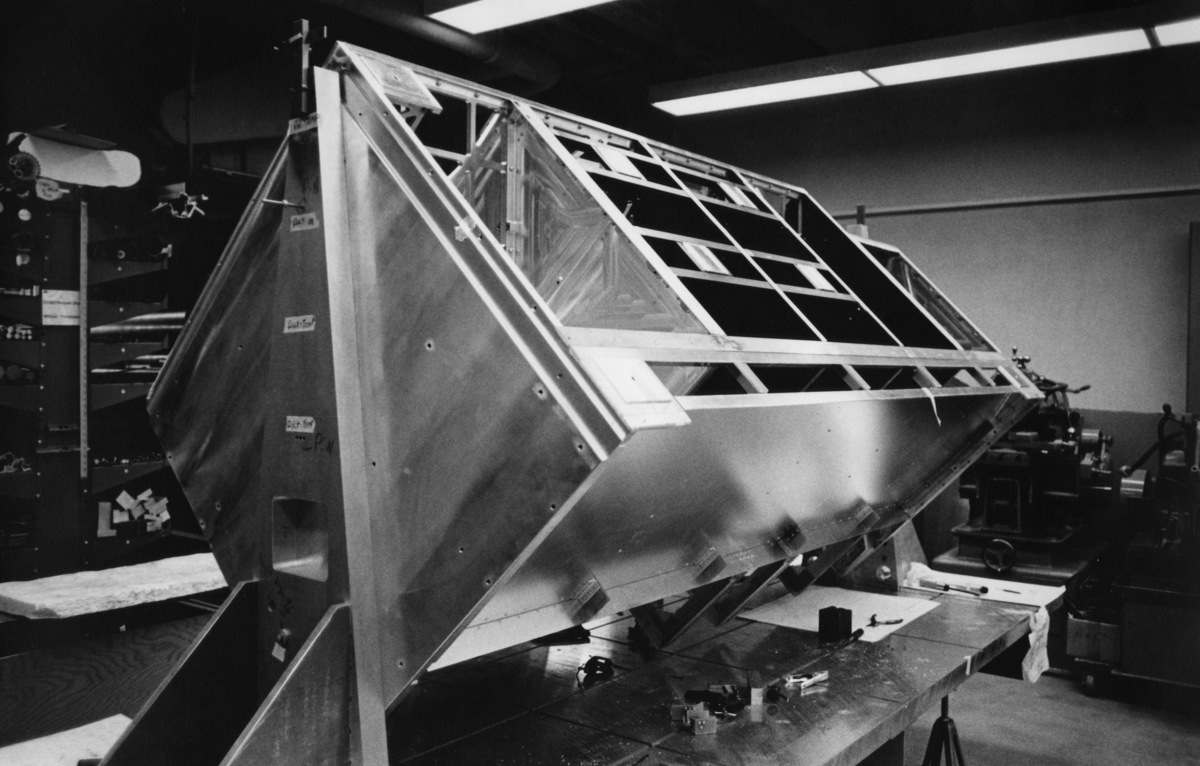 The High Speed Photometer under construction at the UW–Madison Space Science and Engineering Center.
Photo: University Communications
Built in a clean room in the Space Science and Engineering Center, the High Speed Photometer had five detectors to measure the varying brightness of starlight, but not a single moving part. The instrument depended entirely on manipulating the telescope to route light to its apertures. HSP's simplicity and tested technology made it perfect for deployment in space, where fixing anything is a big challenge.
As one of the telescope's main science instruments, HSP was the star of Wisconsin's involvement in one of the late 20th century's most exciting and ambitious scientific adventures. But Wisconsin astronomers left their fingerprints all over Hubble from the very beginning, primarily because Wisconsin had helped pioneer the field of space astronomy with luminaries like Bless and the late UW–Madison astronomy Professor Art Code, one of the first scientists to move above the obscuring confines of the Earth's atmosphere in the 1960s by putting astronomical instruments on NASA's X-15 rocket plane and aboard the Orbiting Astronomical Observatory, the world's first true space observatory.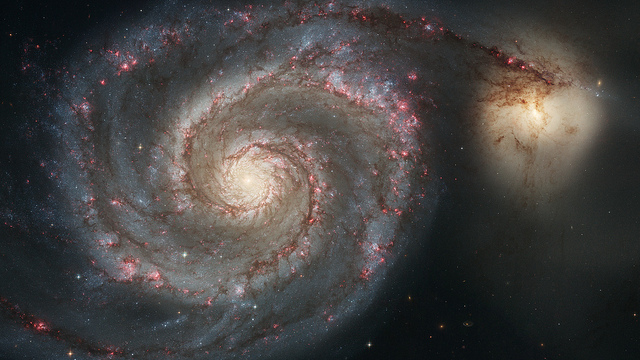 The graceful, winding arms of the majestic Whirlpool Galaxy, as seen from Hubble, appear like a grand spiral staircase sweeping through space. They are actually long lanes of stars and gas laced with dust.
Photo: NASA/STScI
"They were the pioneers," explains UW–Madison astronomy Professor John "Jay" Gallagher, himself a noted Hubble scientist. "They began developing the key technologies," things like fully automated telescopes.
Code, who founded Wisconsin's Space Astronomy Laboratory in 1959, was a force in the overall development of Hubble from the beginning, notes Gallagher, and was part of the team building another Hubble instrument, the Wide Field and Planetary Camera. He later served as the first interim director of the Space Telescope Science Institute located in Baltimore on the campus of Johns Hopkins University.
John "Jay" Gallagher
"Art was the brilliant instrumentalist. Bob was also a superb scientific strategist," Gallagher recalls. "We provided leadership in two key areas and helped NASA do its job."
In addition to Code and Bless, many other UW–Madison faculty, staff, students and alumni played roles in helping develop Hubble, or one or more of its instruments. Hubble and other space-based astronomical ventures helped keep UW–Madison at the forefront of astronomy at a time when the university did not have direct access to any large ground-based telescopes.
For an astronomer, having your telescope in space has distinct advantages. Code likened ground-based astronomy to "bird watching from the bottom of a swimming pool." Being above the Earth's atmosphere makes images sharper, opens deeper vistas and provides access to parts of the electromagnetic spectrum impossible to access from the ground.
Today, fewer opportunities exist for universities to design and build instruments like the High Speed Photometer for large space observatories. "Now, most of those activities are carried out via collaborations with industry or very large government labs like the Jet Propulsion Laboratory," Gallagher says. "HSP failed industry standards only because it was designed and built on campus."
"We provided leadership in two key areas and helped NASA do its job."
John "Jay" Gallagher
Today, HSP can be found at UW–Madison's astronomy outpost, Space Place, having been removed from the telescope in late 1993 to make way for the optics package that would ultimately correct Hubble's flawed vision — the result of a famously defective primary mirror discovered shortly after the telescope was first placed in orbit.
But it also worked aboard Hubble as advertised and actually played a key role in helping NASA diagnose many of the telescope's early troubles.
"Wisconsin's astronomers have been wrapped around Hubble the whole time," according to Gallagher. "We really have benefited from it and we helped make it possible. It has changed our view of astronomy."