Whose ER response is better? Medical faculty, residents compete in 'Sim Wars'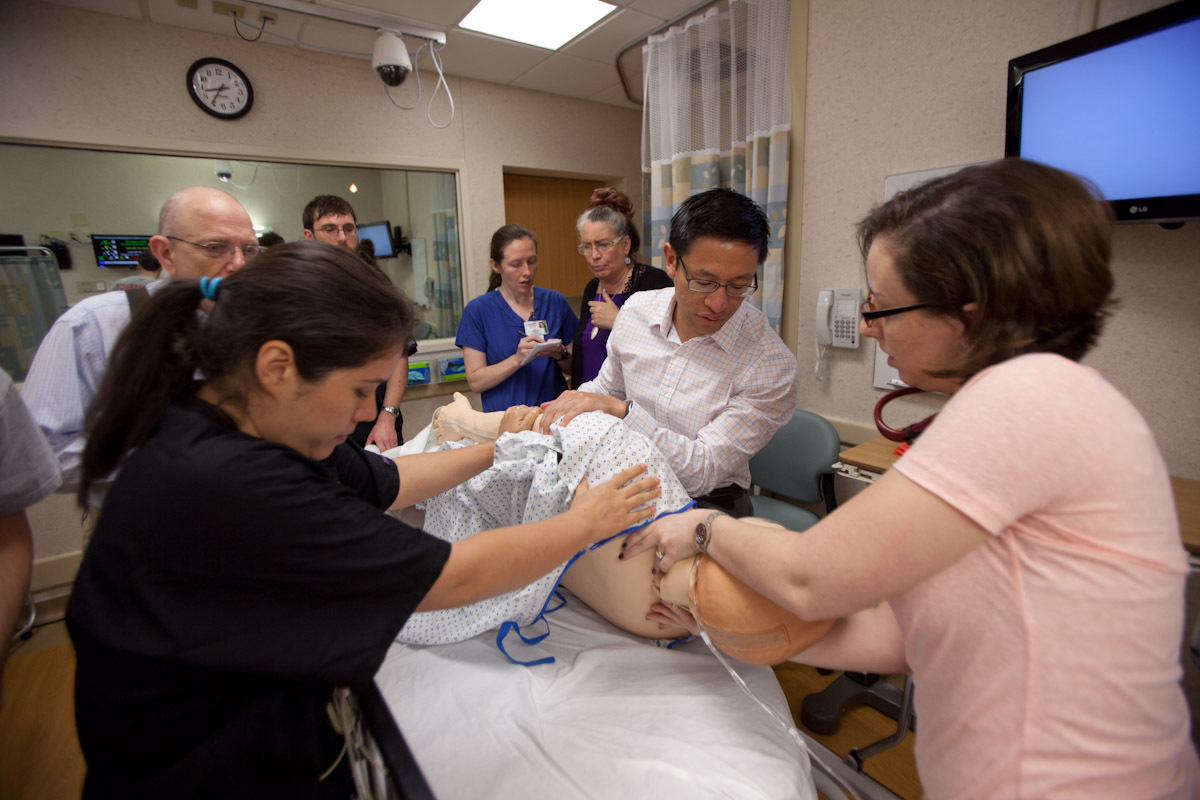 Residents Erica Peethumnongsin (left) and Benjamin Ho (center) examine the patient while resident Haleh Van Vliet helps maintain its cervical spine stability. They are participating in 'Sim Wars,' in which medical faculty and residents compete in response to simulated emergency room situations.
Photos: John Maniaci/UW Health
In one room of the simulated emergency department, Assistant Professor of Medicine Mary Westergaard futilely applies chest compressions to a child manikin. The script says the boy hasn't had a pulse since he arrived in the Med Flight helicopter and that gray matter leaking from his brain indicates a severe head injury.
In the next room, other faculty physicians work on an adult manikin representing the boy's father, who was in the same high-speed vehicle accident and has low blood pressure and blood oxygen levels.
Enter the ex-wife — really, a paid actor — who becomes hysterical when the team stops working on her "son" and turns all the attention to the "ex-husband."
"Who cares about him?'' she wails, trying to draw the team back to her "son" in the next room. "Please, please save my son."
But, observing this tense scene from behind a glass window in the state-of-the-art UW Health Clinical Simulation Program, Joshua Ross, director of simulation for pediatrics and emergency medicine, notes that stopping work on the child is exactly the right move, sobbing mother or not.
"This is a multiple-victim trauma, and the child unfortunately has unsurvivable injuries,'' comments Ross, an assistant professor of pediatrics and medicine. "If they put all their energy into the boy, that would be incorrect. They have been giving chest compressions for 45 minutes with no result."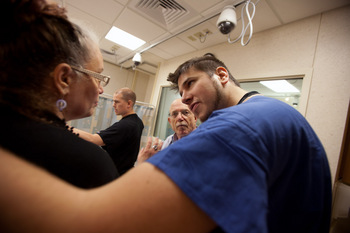 Resident David Tillman (right) takes a moment to console distraught family members, played by actors Ronna Trapenese and Barry Abrams.
Besides medical management, Ross is evaluating the physicians for their teamwork: Do they have a designated leader? Is all communication clear and correct?
Across the hall, about 30 other emergency medicine physicians are making their own assessments. They will watch another team of UW Hospital emergency medicine residents enact the same simulation, then vote on which team handled the situation better. Welcome to "Sim Wars: Residents vs. Faculty."
Ross says the simulations are an invaluable teaching tool, giving faculty and residents a chance to learn about teamwork and making decisions under stress, followed by debriefing. Emergency medicine residents have participated in simulation training once a month since the state-of-the-art facility opened at UW Hospital and Clinics in late 2011. Some UW emergency medicine residents even competed against those from other academic medical centers at national conferences in Sim Wars.
The scenario, written by second-year resident Ryan Thompson, includes medical data — such as heart rate, blood oxygen levels and other data — programmed into the manikins and scripted roles for actors Ronna Trapenese and Barry Abrams. Those two serve often as "standardized patients," helping train medical and nursing students, and even faculty from the palliative-care division.
The simulations are an invaluable teaching tool, giving faculty and residents a chance to learn about teamwork and making decisions under stress.
When the resident team runs the scenario, they make similar medical decisions, although they spend more time trying to save the child manikin before stopping to comfort the grieving mother.
Will they be penalized? No, it turns out that teaching bedside manner is also part of the simulation, and even competing faculty members compliment them. The residents win in a close vote.
"The faculty team came to the conclusion (that the child could not be saved) sooner," notes Allan Mottram, assistant professor of medicine, "but you guys were much kinder and gentler."
Ross led the debriefing, noting, "This was a really tough case," and asking if any others had encountered a multiple-victim trauma when staff, resources and time were limited. Matt Newsted, a member of the resident team, shared that when he was a medical student in Detroit, he was involved in a trauma case in which nine pediatric patients arrived at once, all with gunshot wounds.
As stressful as the simulation training can be — and from the looks on the physicians' faces, they all take it very seriously — it is when these catastrophes happen in real life that all the training pays off.