Volunteers needed as commencement marshals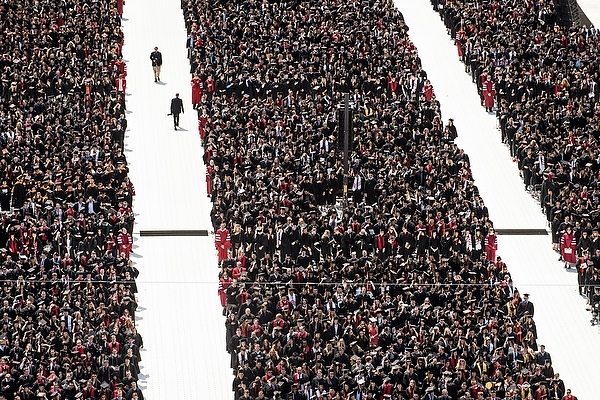 If wrangling large crowds of graduates and their families and friends appeals to you, you might just be cut out to be a commencement marshal.
Photo: Jeff Miller
It's hard to ignore the infectious energy that makes commencement special. Seeing it up close on the field at Camp Randall is even better.
All faculty and staff members – academic or classified – are welcome and encouraged to serve as marshals at this spring's main commencement ceremony, held on Saturday, May 16 at Camp Randall Stadium.  Interested persons may register by Friday, April 10, either by completing this online form or contacting Allison Golden at 608-890-1238 or agolden@chancellor.wisc.edu.
Those who own their own academic regalia are welcome to wear it. For others, the University Book Store will supply the familiar cardinal red marshal gowns, along with the appropriate stoles marking the wearer's field and highest degree.
Ben Schultz, assistant director of the School of Music, uses his own regalia. Consequently, he's always easy to spot, thanks to the "very, very pink" robe that represents his Doctor of Musical Arts degree.
"I really enjoyed going to my own commencement ceremonies because of the energy that's there with students, faculty and families," says Schultz. "As a graduate, the overall experience helps you feel very accomplished and proud about what you've done over the years at school. So I wanted to stay involved."
What makes a good marshal? No experience is necessary, but some qualities stand out.
Comfort with crowds, it should go without saying, is key. Willingness to wrangle crowds is even better.
Be assertive, looking for opportunities to provide directions to people who seem unsure where to go.
Be friendly but firm when it comes to herding excited graduates, their friends and family members.
Many people on and off the field have questions. Be able to answer these questions, or at least point them in the direction of an answer.
"It's all about keeping the panic out of things," says Schultz. "How many times do most people go through a ceremony like this? Not many – and it's different every time. So how would you know where to go?"
A training session will take place in advance. Optional tours of Camp Randall are available, offering a great chance to see behind-the-scenes areas of the stadium that might not be accessible otherwise.
The experience has proved rewarding enough that many marshals return year after year.
"It's really a lot of fun," says Schultz. "We're able to feed off of the energy of the graduates, and we feed back into it by helping make a smooth event that looks really good."