UW's mobile app receives major update, new name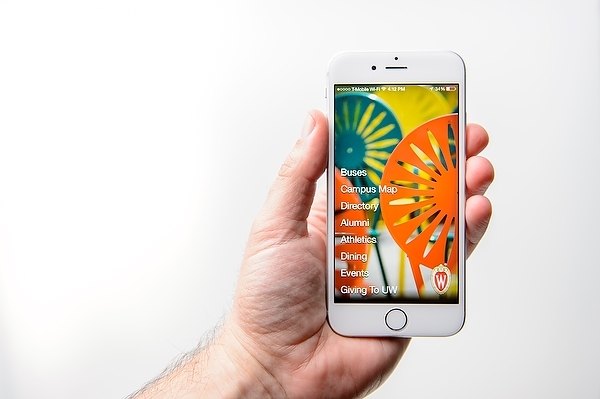 The Division of Information Technology has launched a major update to the UW's official mobile app, now called "Wisconsin." The update includes access to course materials from Learn@UW and a revamped interface.  
Photo: Bryce Richter
The University of Wisconsin–Madison's official mobile app has received such a major update that it's gotten a new name.
"Mobile UW" is now "Wisconsin" — an app with a sharp interface and handful of new options, including access to course materials. The Division of Information Technology (DoIT) launched the free update for Apple iOS and Android devices this week.
"Our goal was to create an app that people want to use — not have to use," says Brad Leege, mobile engineering project manager at DoIT.
New features include the following:
A modernized interface with iconic campus imagery and a scrolling list of menu options.
Access to Learn@UW, the UW's centralized educational tool for instructors and students. Users can view material from classes that use either the Desire2Learn or Moodle software.
Integration of the new UW Campus Map, which offers a more detailed, up-to-date view of campus buildings compared to Google and Apple Maps.
The addition of a "Dining" tab that plots the campus's dining locations and displays their hours and services.
Popular options from the past version remain, including access to university news, an interactive bus schedule and the UW Events Calendar.
The UW's mobile app hit record highs in usage at the beginning of the fall semester, eclipsing 17,000 logs per day, according to Leege. DoIT first launched the app in 2010 in collaboration with University Communications. The new version was under development along with University Marketing for nearly a year.
Existing users can install the update from the App Store for Apple devices (with iOS 7 and above) and from Google Play for Androids (versions 2.3 and above), though the app may automatically update depending on device settings. New users can download it for free at any time from the official app stores.
Visit the app's website for more information.