UW Varsity Band Concert: 40 years of fun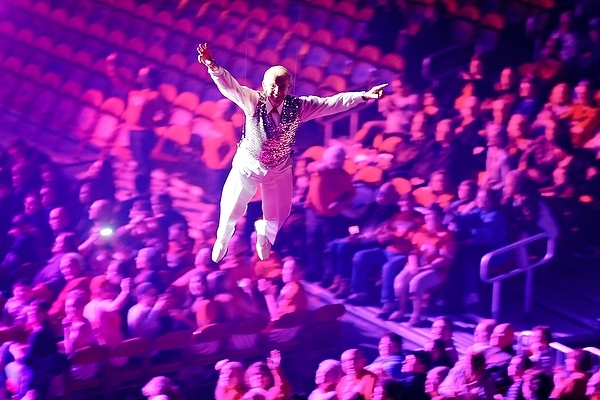 Suspended from a wired harness, band director Mike Leckrone flew high above the crowd — and even performed the occasional flip — during last year's Varsity Band Concert.
Photo: Jeff Miller
It's hard to believe it's been 40 years. But later this month, the Badger band celebrates four decades of UW Varsity Band concerts.
The 2014 Varsity Band Concert will be held at 7:30 p.m. Thursday through Saturday, April 24-26 at the Kohl Center.
It's a three-night multimedia extravaganza – a Bucky blowout with fireworks and aerial stunts, held at the Kohl Center. It annually draws around 20,000 fans from nearly every county in the state, as well as Illinois and Minnesota.
"It's like an indoor Fifth Quarter," says conductor Mike Leckrone, who this year fans have a chance to meet personally after the show.
Tickets are $23 each, with a special price on Thursday of $18 for UW–Madison students and groups of eight or more. UW–Madison residence hall groups of 15 or more can order Thursday tickets for $11; student and residence hall prices are by phone only. For reservations or ticket information, visit the band's website or phone (608) 265-4120.
Ticket holders who make a $150 donation to the band can meet Leckrone immediately after the concert (space is limited). Light refreshments will be served at the private gathering, and cameras are welcome.
Special guests will include trumpeter Mark Pender, from Conan O'Brien's talk show band, and Broadway star Tom Wopat. The Tony award nominee is best known from his stint as Luke on TV's "The Dukes of Hazzard" and his more recent appearance on the big screen's "Django Unchained." Along with other surprises, a certain badger may drop by, too.
It all began on a much smaller scale.
On the football field, it's the Marching Band. At hockey and basketball, it's called the Varsity Band. The first Varsity Band concert was held March 21, 1975, in a campus concert hall. Despite the fine arts surroundings, it was a casual affair. Leckrone announced the program to musicians right before they took the stage. The event was as much for the band as its audience of family and friends.
"We wanted one performance at the end of the year, where everyone could get together," says Leckrone, noting that about 450 attended. "We were just amazed. We had no idea what to expect. But that turned out to be just the start."
The next year was standing room only. The third year, the concert moved to the Field House, where it drew 2,800 fans — a staggering number at the time. As annual crowds grew larger, the band was pushed from center to one side of the basketball court, and a stage had to be erected so that every possible seat could be used.
Extra nights were added, and in 1998 the concert moved to the Kohl Center. Eventually, professional lighting and multimedia displays were brought in, along with pyrotechnics, aerial acrobatics, and professional stage crews.
This year's event will look back over each decade of the concert's history and at the UW's recent sports season. But though the 2014 edition will be bigger and better than ever, with a salute to the Beatles and "Phantom of the Opera," the audience is always served up hand-clapping Badger favorites such as "You've Said It All," "If You Want to be a Badger" and "On, Wisconsin!"
"We have plenty of seats this year, and we want everyone to come help us celebrate the 40th anniversary," says Leckrone.
The event is made possible by sponsors including Robert W. Baird & Company, The Badger Herald, The University Book Store, WSUM-FM student radio, WISC-TV and Channel3000.com.
– By Jay Rath