UW Professor Emeritus Littleton, the 'Father of Studio Glass,' dies at 91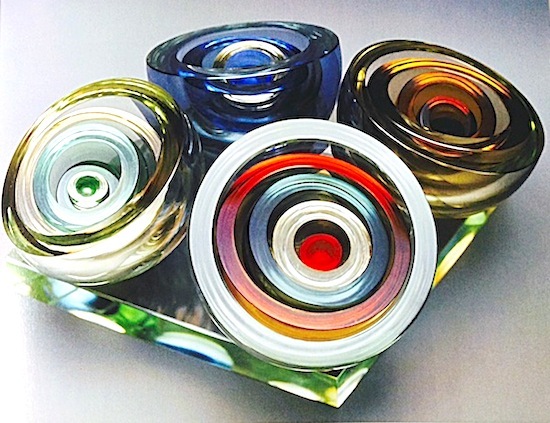 This is one of Harvey K. Littleton's glass artworks. Littleton launched the university's glass program in 1962.
University of Wisconsin–Madison Professor Emeritus Harvey K. Littleton, the trail-blazing artist who founded the nation's first university-based studio program in art glass more than five decades ago, passed away on Dec. 13 at his home in Spruce Pine, N.C. He was 91.
Littleton came to the UW in 1951 to teach ceramics. And while he served as chair of the Art Department on two separate occasions in the 1960s and early 1970s, he is best known for launching the university's glass program in 1962, a move that is credited with revolutionizing glass art in the United States.
Harvey K. Littleton
"Harvey Littleton's powerful personality and drive to realize his dream of glass as a fine art medium for the artist, will forever place him as the 'Father of Studio Glass,' " says Audrey Handler, an early student of Littleton's who has traveled the country giving glass blowing workshops and was involved in the creation of the Glass Art Society. She opened her own glass studio in 1970. "Harvey saw the possibility that this incredible, sensual medium could transfix the art world with its wondrous characteristics. His efforts put the University of Wisconsin's Art Department on the map."
Born in Corning, N.Y., on June 14, 1922, Littleton grew up near Corning Glassworks, where his father, physicist Jesse T. Littleton, headed research and development in the 1930s.
During this period glass blowing was done almost exclusively in factories that produced uniform, commercial products. A few companies, including Tiffany and Corning, had in the past, created beautiful hand-made vessels in a factory setting, with a master glass blower and a designer. A few artists were casting glass in the 1940's in America but none were blowing glass and making art as designer and creator in small studio settings.
From 1939-40, Littleton studied physics at the University of Michigan before his growing preference for art led him to the Cranbrook Academy of Art in 1941. His education was put on hold for three years when he was drafted into the U.S. army and he served in North Africa, France and Italy in Signal Intelligence. After receiving an honorary discharge from the army, he attended classes at the Brighton School of Design in England before eventually returning to the University of Michigan and receiving a bachelor's of design in 1947.
Littleton is shown in this 1962 photo.
After earning his master's degree in ceramics from the Cranbrook Academy of Art, he arrived at the University of Wisconsin in 1951. But it wasn't until the late 1950s that Littleton became interested in molten glass. Although largely a forgotten art form in the United States, the use of glass as a creative art medium was still pursued by artist-craftsmen overseas, so Littleton traveled to Europe in 1957 to learn more.
According to an article that appeared in the December 1966 issue of Wisconsin Alumnus, Littleton visited glass factories and got to know several free-form glass-blowing artists. The article notes how Jean Sala, a French craftsman, showed Littleton some techniques and gave him some tools.
"It was the impact of watching the fascinating technology of the small glass shops in Murano, Italy, that made me resolve to discover for myself if glass-blowing was within the scope of the artist," Littleton is quoted as saying.
After organizing a glass workshop at the Toledo Museum of Art in 1962, Littleton then launched the first studio hot glass program at an American university with an independent study course at UW that he taught out of his garage at his farm in Verona, located just outside Madison. This initial workshop was funded with a grant from the University of Wisconsin research committee, and he later built a large glass blowing studio and workshop on his farm.
It was around 1964 that the glass lab moved to a campus Quonset hut on North Randall Street, and in 2005 the UW–Madison program moved to the Glass Lab at 630 W. Mifflin St. Over the years, Littleton was a strong advocate for making glass a course of study in university art departments in the Midwest and northeastern United States.
This is another of Littleton's glass creations.
Under the watchful eye of Littleton, the program and its early students – including Tom McGlauchlin, Marvin Lipofsky, Sam Herman, Fritz Dreisbach, Joan Byrd, Handler, Henry Halem, Dale Chihuly and Michael Taylor – became leaders in the studio glass movement, helping to lead a renaissance in glass blowing in the United States and Europe.
"The beautiful thing about Harvey Littleton's vision was his insistence that we become designer and creator, experimenting with different glass forms and learning as much as possible about glass and glass history," says Handler. "He then wanted us to pass our knowledge on to our students. Harvey was determined to buck the old factory traditions of keeping glass processes a secret and encouraged his students to go out and start glass programs at other institutions."
In 1976, Littleton retired from teaching and moved to North Carolina so he could devote more energy to his own art. He built a glass blowing and casting facility and experimented with glass etching plates. UW–Madison recognized Littleton with emeritus status in 1977, and in 2000 the university awarded him an honorary Doctor of Fine Arts Degree.
"What I see at the heart of Harvey Littleton's legacy is a truly inspired, far-sighted vision that relied on experimentation, innovation, and education as a means for growth," says UW–Madison's Helen Lee, an assistant professor in the Art Department and head of the university's Glass Lab. "These virtues of Littleton's career are timeless. My hope, as an educator, is for the current and next generation of glass artists to turn to the bar Harvey Littleton set as a constant fire under our tails. May his legacy push us to continually innovate in this field; and may we honor his spirit by moving through this world in curiosity."
Harvey's work can be found in the collection of the High Museum of Art, Los Angeles County Museum of Art, The Metropolitan Museum of Art, Museum of Modern Art, New York, Renwick Gallery of the Smithsonian Institution, the Victoria & Albert Museum in England, among other locations.
Harvey was married to Bess Tamura Littleton in 1947. She died on October 8, 2009. The couple had four children: Carol L. Shay, Thomas Littleton, Maurine Littleton and John Littleton. All work in the field of glass art.
– Todd Finkelmeyer