UW merchandise royalties climb 10 percent in 2014-15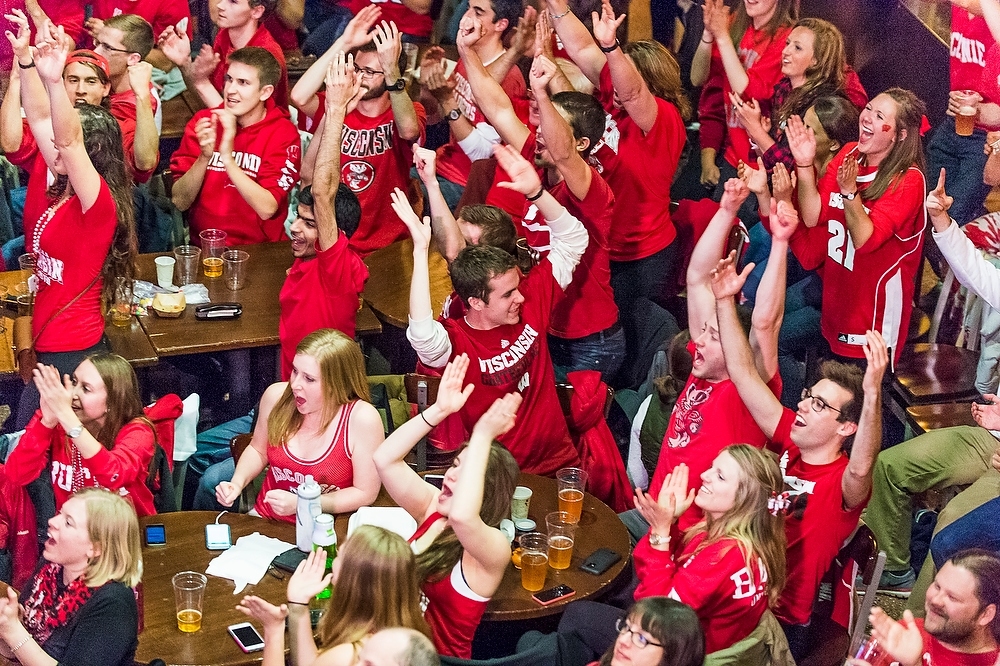 Students decked out in Badger gear watch a broadcast of the Wisconsin-Duke NCAA tournament game at Union South in April. Licensed UW merchandise sales funded nearly $1.8 million in scholarships in 2014-15.
Photo: Jeff Miller
Propelled by the Badger men's basketball team second consecutive push to the NCAA Final Four last spring, the University of Wisconsin–Madison's royalties from the sale of licensed merchandise rose 10 percent in 2014-15, exceeding $3.8 million.
The UW ranked 14th among the nearly 200 universities and colleges licensed through the Collegiate Licensing Company and third among CLC's Big Ten clients. The university has generated nearly $52 million during its 28-year partnership with CLC.
The 2014-15 gross amount of $3,807,275 is the second highest in school history, topped only by $3,850,776 in 2012-13.
The royalties from licensed UW merchandise are split between Bucky Grants, a program that provides need-based financial aid to undergraduates, and the athletics department. In 2014-15, nearly $1.8 million was disbursed to 2,109 Bucky Grant recipients with an average award of $843.
"Our supporters are making a major contribution to the education of thousands of Wisconsin students every year."
Cindy Van Matre
"It's extremely rewarding to be able to use our trademark to contribute to the academic and athletic mission at UW–Madison," Office of Trademark Licensing Director Cindy Van Matre says. "Our supporters are making a major contribution to the education of thousands of Wisconsin students every year."
Susan Fischer, director of the Office of Student Financial Aid, says the royalty windfall is a big help in the current revenue climate.
"We are fortunate at the University of Wisconsin to have such ardent fans," Fischer says. "Whether or not they know it, their purchase of UW licensed merchandise helps to support students who otherwise might struggle to attend, and that is a fantastic thing."
To sell UW licensed merchandise, manufacturers must agree to a code of conduct and royalty fees to sell products bearing any verbiage and logos associated with the University of Wisconsin, including the Bucky Badger likeness, the Motion W and the Crest W logo.
Van Matre says her department reviewed 9,840 art designs from vendors in 2014-15, and received 569 licensing requests either from existing licensees or companies that wanted to become licensed through CLC. The amount of artwork spiked in March, with 1,716 art submissions — about double the average month's total — as the men's basketball team clawed its way back to the Final Four.
Top-selling apparel categories were men's/unisex T-shirts (24 percent of all apparel), men's fleece (19 percent), and women's T-shirts (9 percent). Youth apparel accounted for 7 percent of overall clothing sales.
The largest-selling category in non-apparel items included housewares (14 percent of non-apparel), domestics (9 percent), gifts and novelties (7 percent), footwear and furniture (6 percent each).