UW–Madison's benefit to state on display at Capitol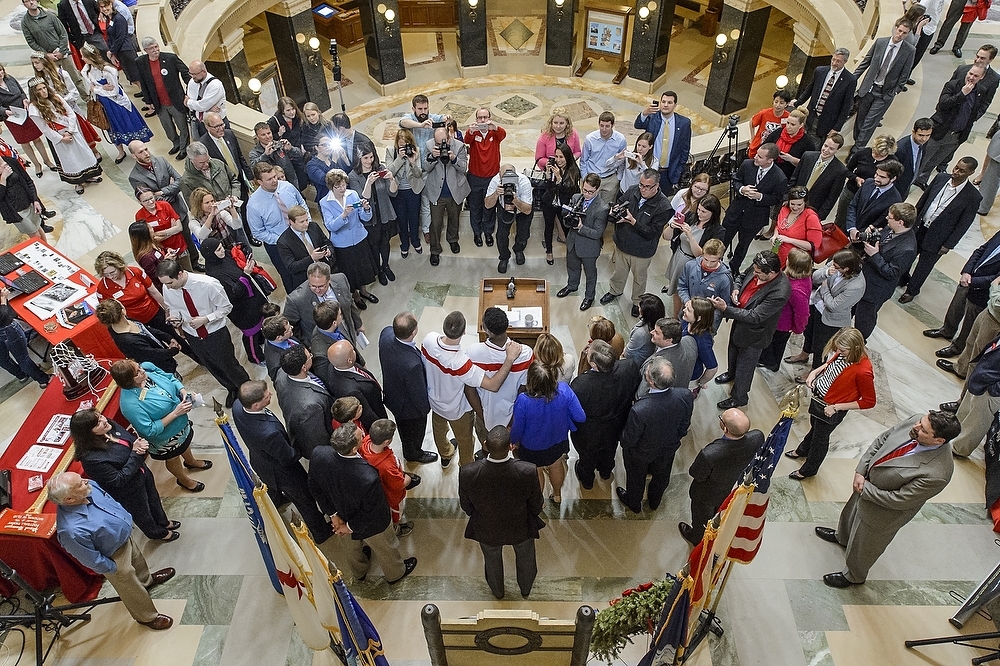 Visitors, legislative staff, legislators and news media gather for a visit by UW Badgers basketball players Nigel Hayes and Josh Gasser during UW–Madison Day at the State Capitol.
Photos: Bryce Richter
Fans chanting "Badgers, Badgers!" can often be heard at the Kohl Center, but on Wednesday the refrain could be heard in the halls of the State Capitol as UW basketball players Josh Gasser and Nigel Hayes stopped in for a visit.
While many were dazzled by the star student-athletes, the research on display during UW–Madison Day at the Capitol also amazed many visitors.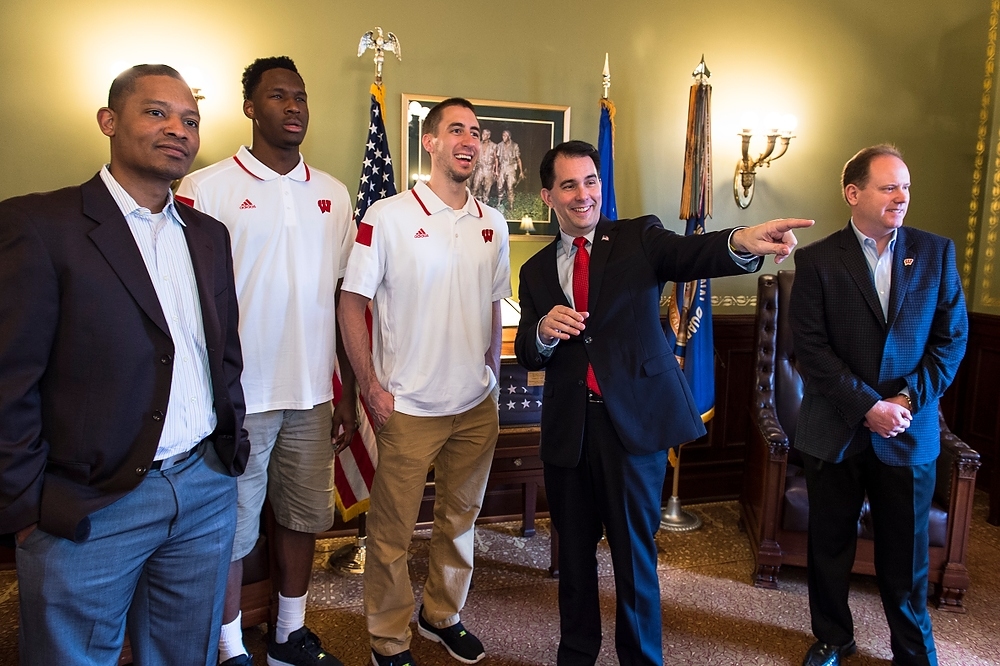 Gov. Scott Walker gestures while talking with, from left to right, UW Badgers assistant coach Lamont Paris, sophomore forward Nigel Hayes, senior guard Josh Gasser and associate head coach Greg Gard after the governor conferred a proclamation of excellence upon the entire men's basketball team.
Photo: Jeff Miller
Tables ringed the rotunda with displays and information about programs ranging from entomology to nursing, and from chemistry to engineering. The biannual event presents to legislators and the public the many ways that the innovation and research at the UW makes an impact all across Wisconsin.
The event, sponsored and organized by University Relations, filled the Capitol Rotunda with red as dozens of legislators and staff and hundreds of members of the public streamed through the displays.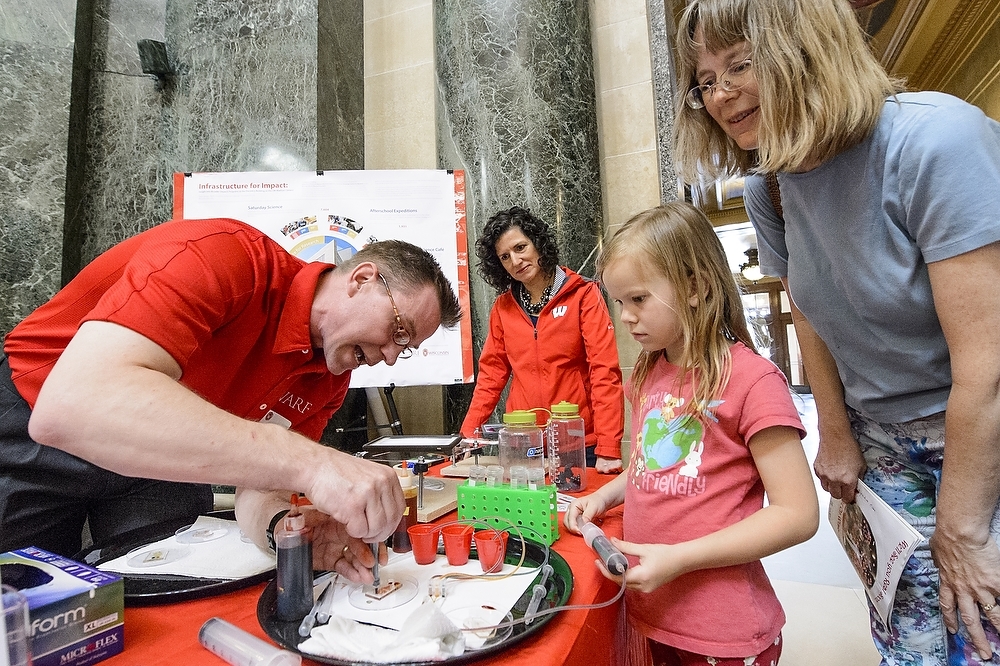 Travis Tangen, education and outreach manager with the Wisconsin Alumni Research Foundation (WARF), talks with visitor Molly Lenius and her mother, Sheila Lenius.
Sheila Lenius and her daughters, Victoria, 11, and Molly, 8, dropped by the table displaying research from the Wisconsin Alumni Research Foundation (WARF) and Morgridge Institute for Research. The girls watched attentively as Travis Tangen, WARF's education and outreach manager, showed them an experiment in microfluid dynamics.
"It was cool how the fluids stayed separated," Victoria said as her mom looked over information about the Wisconsin Institutes for Discovery Science Saturday programs for kids and families.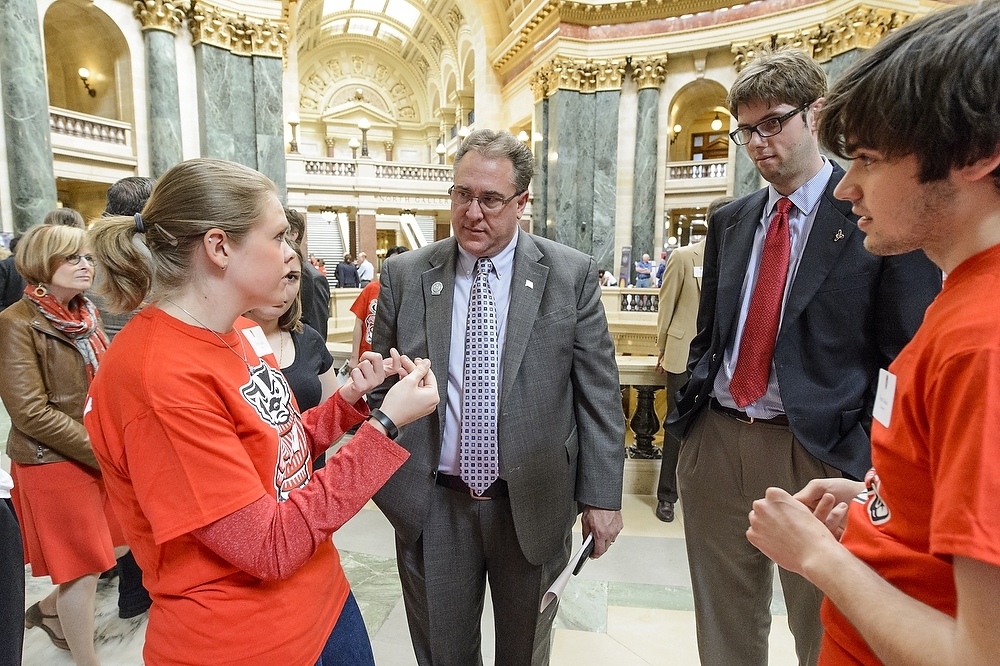 Students Emily Klade (left) and Isaac Mades (far right) from the Department of Chemistry talk with Rep. Robert Brooks (R-Saukville).
Meanwhile, the Wisconsin Badger basketball team was honored by the state Senate and Assembly for its Final Four runs the past two seasons. Chancellor Rebecca Blank, associate head coach Greg Gard and assistant coach Lamont Paris accompanied Hayes and Gasser.
They also met with Gov. Scott Walker, whose son, Alex, is a sophomore at UW. The governor presented the players and coaches with a plaque of appreciation from the State of Wisconsin.
"Thank you, not just because you played so well, but for the way you represented the state of Wisconsin throughout the tournament," Gov. Walker said.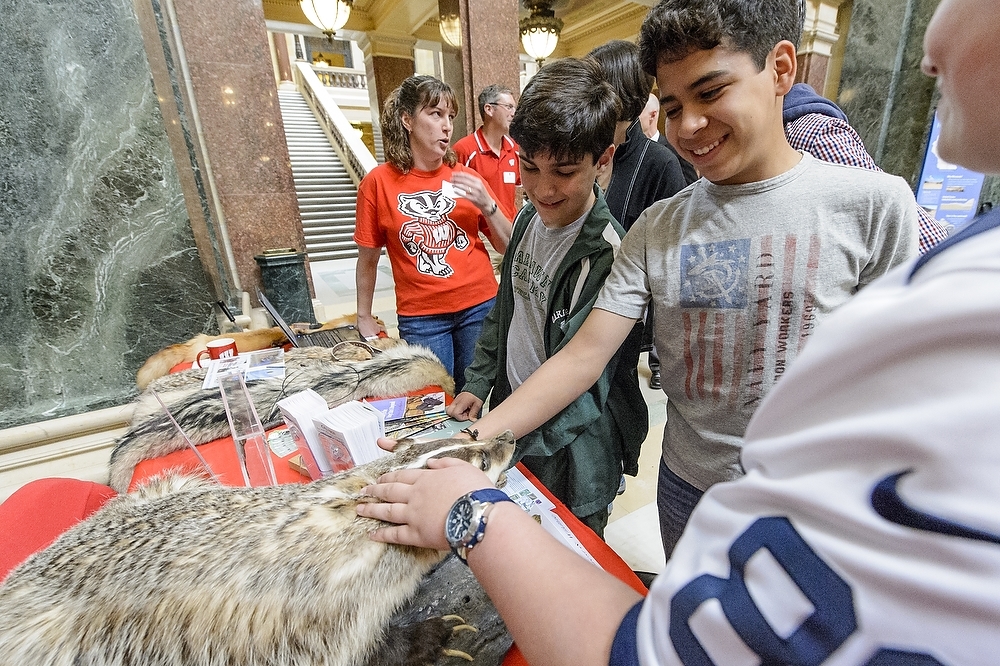 A group of young visitors touch a taxidermic badger at a Department of Forest and Wildlife Ecology table.