UW-Madison welcomes 'Go Big Read' author Bryan Stevenson on Oct. 26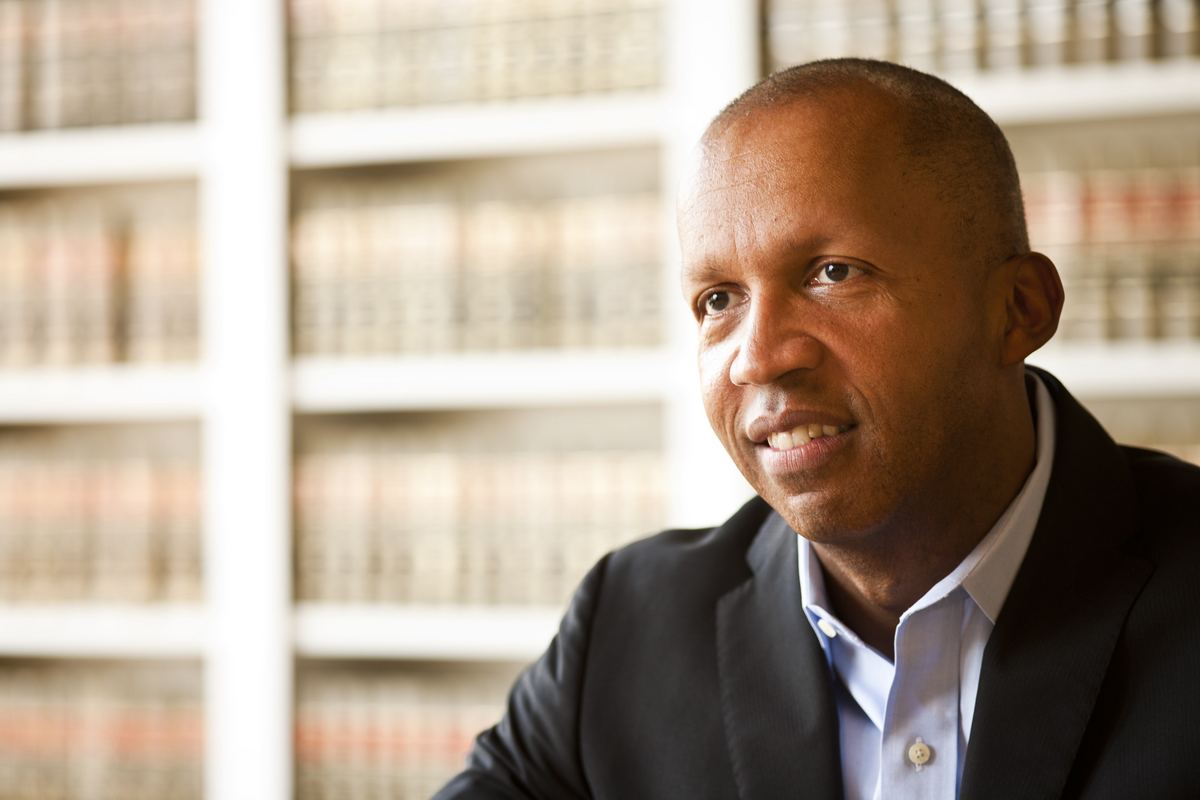 Bryan Stevenson, author of "Just Mercy" and founder and executive director of the Equal Justice Initiative, will speak at UW–Madison on Monday, Oct. 26, in Varsity Hall at Union South. 
Go Big Read is bigger than ever in its seventh year.
The selection of Bryan Stevenson's "Just Mercy: A Story of Justice and Redemption" prompted record participation in UW–Madison's common-reading program. More than 170 courses are using the book this semester, in disciplines including business, education, English, history, law, nursing, political science and social work. 
The UW–Madison community will hear from Stevenson on Monday, Oct. 26, when he visits campus to meet with students and give a public talk as the centerpiece of Go Big Read.
The event, hosted by Chancellor Rebecca Blank, begins at 7 p.m. in Varsity Hall at Union South and will be streamed live and captioned on the Go Big Read website. Stevenson's talk will be followed by a question-and-answer session, moderated by Everett Mitchell, director of community relations for the UW–Madison Office of University Relations.
During his visit to the UW campus, Stevenson will also meet with students from First-Year Interest Groups, the College of Letters & Science Honors Program and the law school.
Stevenson co-founded the nonprofit Equal Justice Initiative, based in Montgomery, Alabama, three decades ago. Since then, he has argued before the U.S. Supreme Court five times and played a role in landmark court cases that have transformed how the criminal justice system deals with violent youths. He has helped secure relief for dozens of condemned prisoners, advocated for poor people and developed community-based reform litigation aimed at improving the administration of criminal justice.
Last year, President Barack Obama appointed Stevenson to a task force established to recommend police practices that can improve relations between officers and the people they serve, particularly in minority communities. Stevenson is on the faculty at New York University School of Law and the winner of a MacArthur "genius grant."
More than 5,000 new UW students received copies of "Just Mercy" during Wisconsin Welcome in early September. This month, every member of the UW–Madison Police Department is reading the book. During their orientation week at the start of the semester, first-year law students also received copies to read and discuss before participating in a community-service day.
Other upcoming Go Big Read events:
— "Just Mercy" is being featured on Wisconsin Public Radio's Chapter a Day series, airing at 12:30 p.m. (and repeating at 11 p.m.) from Monday, Oct. 19-Friday, Nov. 6. 
— Thursday, Oct. 22, noon-1:30 p.m.: Daniel Meyer, a professor of social work, will lead a faculty and staff panel discussion of key issues raised by "Just Mercy" from a Christian perspective during a luncheon at the University Club. 
— Thursday-Saturday, Nov. 5-7: free conference at the Pyle Center, "A New Politics of Human Rights: Crossing Disciplines, Regions, and Issues." 
— Tuesday, Nov. 10, 5-9 p.m.: Reform Now Programs and Resource Fair, an evening of social justice at the Madison Public Library, 201 W. Mifflin St., includes a screening of "Reform Now," a film about Wisconsin citizens who are challenging solitary confinement.