UW-Madison student project aims to save food, reduce food insecurity
MADISON – It's late Thursday afternoon, and seven UW–Madison undergraduates are spending about an hour scooping jasmine rice and a lemon-grass tofu-vegetable dish into single-use plastic containers.
Protein, starch and vegetables… it could be a meal designed by dietitians, and it was – twice.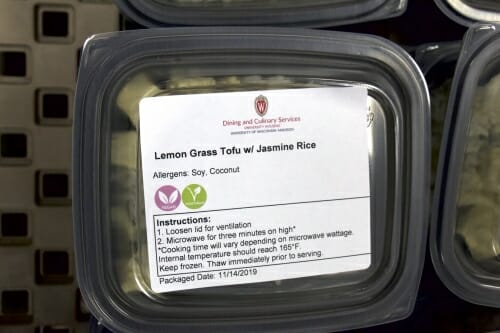 First, the food was cooked for six UW–Madison dining halls, but never served.
Second, the repackaging was overseen by dietetics students at the Food Recovery Pre-package Program, a new "gleaning" effort to reduce both food waste and food insecurity.
After a night in the freezer, the containers will be transported to The Crossing, a Christian Campus ministry and registered student organization.
And from there, UW–Madison students who feel the need for food will snag these microwaveable meals. The program was designed to reduce "food insecurity;" it operates on the honor system while delivering an average of 250 meals a week to students.
The program has run out of meals every week since it started on Sept. 19.
"The spirit of the project is to reduce food waste and reduce insecurity," says Monica Theis of the department of food science, who joined Agnes Sherman of UW–Madison Housing in its formulation. "We have some degree of both of these on campus, and we thought, why not start here and see if we can design something that can maintain itself over time."
The packaging program is a modern gleaning operation that is directed at left-over food that was cooked, but not served, at markets and dining halls across campus. (Originally, gleaners collected leftover crops after harvest.)
Last summer, American Family Insurance Dreams Foundation awarded an $27,000 grant for a one-year program food repackaging program. Although there are other efforts to reduce food waste on campus, says Theis, "part of the funding was to see what we can accomplish if we pay student leaders as student hourly employees."
The leaders have specific job descriptions and hire incoming assistant directors, says Theis. "A big part of the project is sustainability, ensuring that there is a leadership transition" so the program will be around year after year.
By now, the program has recycled well over 1,000 pounds of food from markets and dining halls.
Despite the widespread enthusiasm for gleaning and repurposing food, "we do try to limit waste on the production end," says Peter Testory, director of dining and culinary service at the Division of Housing, "looking at our past data about usage, the weather, even football games. We track all these things so we order properly, produce properly, and limit overproduction."
Sherman, food safety manager at dining and culinary services, says the food "was only menued starting at dinner Sunday, so we can repackage, and stay within safety parameters."
Other gleanings do not go to waste, however; they are distributed at community meals, Sherman says.
Overall, the repackaging effort is designed to be a persistent answer to two persistent problems at campuses across the country. "Our hope is that this will be a blueprint for other campuses," says Sherman. "We are analyzing our approach: What is working for us? What are the important points to take into consideration? We want to express this so other universities, campuses can look at it and say, 'How can we adapt this to our campus?'"