UW-Madison student named Rhodes Scholar; another is finalist
Colin Higgins, a student at the University of Wisconsin–Madison, has been named a recipient of the Rhodes Scholarship.
Higgins, of Middleton, Wisconsin, completed his undergraduate studies in May, triple majoring with comprehensive honors in environmental studies, geography and history. He is currently a graduate student in the Robert M. La Follette School of Public Affairs and will complete an accelerated Master of Public Affairs degree in the spring.
Fellow student Bill Mulligan, a senior, was a finalist. He is a biochemistry major from Lake Mills, Wisconsin.
"As the state's flagship university, nurturing homegrown talent is one of our greatest privileges," says Provost Sarah Mangelsdorf. "Both Colin and Bill grew up here in Wisconsin. Because we were able to offer them compelling research opportunities and mentorship, we have the honor of helping to launch these two remarkable individuals into the world."
The Rhodes Scholarship funds two to three years of study at England's Oxford University. Founded in 1902, it is the oldest international study program in the world; on average, it is valued at approximately $50,000 per year.
"I entered freshman year looking for conservation and left a geographer," Higgins wrote in his application. On and off campus, he has encouraged engagement in environmental and sustainability issues.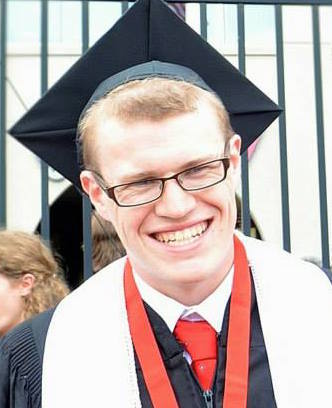 Colin Higgins
He founded and chaired the Associated Students of Madison Sustainability Committee; as student leader of the Office of Sustainability, he ran the student Sustainability Council and advised on campus sustainability research, education and operations. He has also conducted independent research on the valuation of ecosystem services such as biodiversity.
On campus, Mulligan served as the Director of the Distinguished Lecture Series and Vice President of Program Administration for the Wisconsin Union. He has competed nationally for the UW Cycling Team and is a two-time Wisconsin state cycling champion. The significant time he has spent on independent research – funded in part by a Hilldale Undergraduate Research Fellowship – has resulted in two publications and presentations at a national conference.
Both students have already received national recognition for their work. In 2014, Higgins received a Morris K. and Stewart L. Udall Scholarship as one of 50 students recognized nationwide for outstanding potential and a commitment to pursuing environmental careers. Mulligan was named a Barry M. Goldwater Scholar earlier in 2015, honoring undergraduate excellence in the sciences.
Higgins plans to seek philosophical and practical solutions to environmental governance issues by pursuing an MPhil in Geography and the Environment, supervised by Oxford professor Jamie Lorimer. Higgins laid the foundation for this work last summer, conducting fieldwork in Oxford on biodiversity offsetting, the practice of using a market-based system to ensure no net loss of nature due to development. He plans to get a doctorate in geography and pursue a career bridging research and policy.
"It's hard to imagine better candidates for the Rhodes Scholarship. Colin and Bill have made the most of their undergraduate experience at UW–Madison, particularly in relation to the leadership positions and depth of independent research they've been able to pursue," says Julie Stubbs, director of the Office of Undergraduate Academic Awards, who assisted both students through the application process. "In and outside the classroom, the university does a wonderful job of preparing students for these prestigious scholarships, and for dynamic careers in the years ahead."
UW-Madison's last Rhodes Scholars were Drew Birrenkott, in 2013, and Alexis Brown, in 2011. Higgins and Mulligan represent a district that includes Wisconsin, Michigan,  Minnesota, and West Virginia. Nationally, each of 16 districts can name two scholars, for a total of 32 per year.
Hundreds of elite applicants from dozens of colleges and universities vie for the Rhodes scholarship each year. Candidates are judged on a proven record of intellectual and academic achievement, integrity of character, interest in and respect for others, leadership ability, and the energy to fully utilize their talents.
For more information, visit: http://www.rhodesscholar.org/