UW-Madison makes top universities lists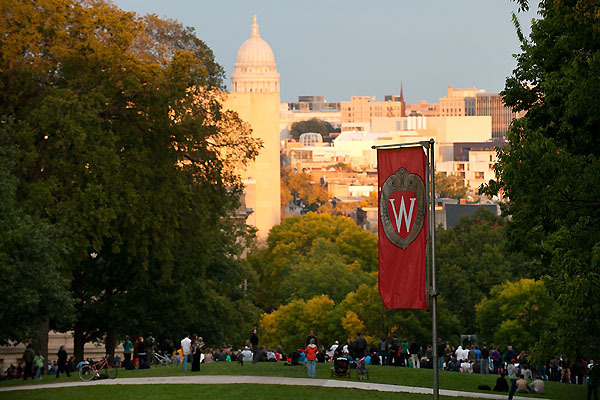 Among a spate of university rankings released recently, Madison has been named as the 8th top college town by to Livability.com, and 8th smartest city in America by the website Lumosity. UW–Madison was also named a best value among flagship universities.
Photo: Jeff Miller
The University of Wisconsin–Madison shows up prominently in a number of recent college rankings, including the Center for World University Rankings survey, "Fiske Guide to Colleges" value ranking, and Livability.com's top college towns. Other surveys put Madison among the "Smartest Cities in America" and the UW among the best universities in the country.
Center for World University Rankings: CWUR publishes global university performance tables that measure the quality of education and training of students as well as the prestige of the faculty and the quality of their research. CWUR ranked UW–Madison 23rd among 100 institutions worldwide in this year's survey, including several categories: publications, 19th; influence; 29th; citations, 20th; patents, 30th; quality of faculty, 33rd; alumni employment, 55th; quality of education, 31st.
"The Fiske Guide to Colleges" named UW–Madison as one of the seven top Best Value Flagship Universities for the money. It says, "Madison draws a quarter of its students from out of state, the highest proportion among leading Midwestern public universities. Why brave the cold? Reasons include top programs in an array of professional fields and several innovative living/learning programs. There's also the pleasure of Madison, a combination state capital/college town in the mold of Austin, Texas."
Livability.com: Madison has also been named as the 8th top college town, according to Livability.com. To determine its fourth annual list, Livability identified cities with a high quality of life based on a range of factors from cost of living and walkability to cultural amenities and pollution levels. It cites Madison's combination of culture, recreation and educational opportunities. It also lauded UW–Madison's presence in the community, saying, "University officials strongly support a tradition known as the Wisconsin Idea, which stems from a political philosophy that education should improve people's lives beyond the classroom."
Lumosity: Madison was also named the 8th smartest city in America by the website Lumosity. The rankings were determined by using data from more than 3 million people in the U.S. between the ages of 18 and 75 who had played several Lumosity brain-training games. The scores were ranked by location."One of the most interesting findings from this analysis is that most of the top metro areas contain major research universities, suggesting that education is an important predictor of cognitive performance," Lumosity data scientist Daniel Sternberg said in a statement.
Forbes magazine recently ranked UW–Madison as one of its Top Colleges in the United States, placing it 68th out of 650 schools. Forbes partners with the Washington, D.C.-based Center for College Affordability and Productivity for the sixth annual list. The rankings are determined using five main criteria: student satisfaction, post-graduate success, student debt, graduation rate and nationally competitive awards.
The Princeton Review features UW–Madison in the new 2014 edition of its annual college guide, "The Best 378 Colleges." The education services company also recognized UW–Madison in numerous categories, including 1st for best health services, 4th for best college newspaper, 5th for LGBT-friendly and 12th for best college library. Only about 15 percent of America's 2,500 four-year colleges and only four colleges outside the U.S. are profiled in the book, which is The Princeton Review's flagship college guide. Its ranking are based on surveys of 126,000 students attending the colleges.
"We know our students receive an exceptional education," says Provost Paul DeLuca. "Having UW–Madison recognized for our many strengths is yet another indication we can be proud of. I have no doubt we will continue to rank highly among our peers."