UW-Madison honored for support of employees in the military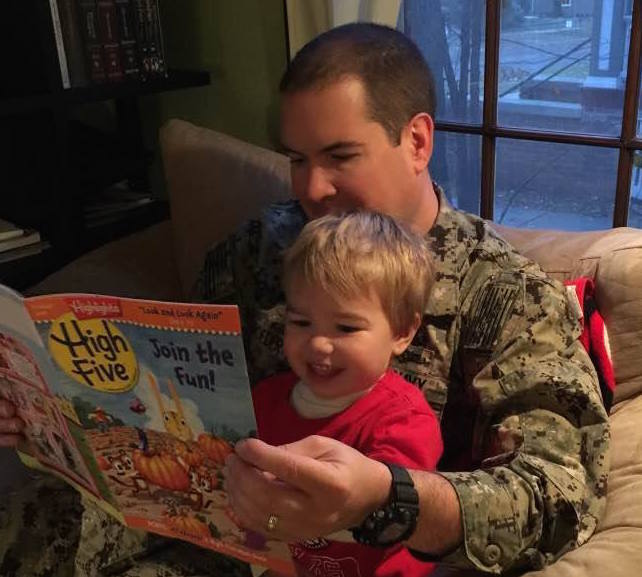 Dave Schroeder, a lieutenant in the Navy Reserve and mobile strategy manager for the UW–Madison Division of Information Technology, reads to his son Nathaniel, age 2.
When Division of Information Technology (DoIT) Mobile Strategy Manager Dave Schroeder was asked whether the University of Wisconsin–Madison supports the military, he had a lot to say.
Schroeder is a lieutenant in the Navy Reserve and an information warfare officer assigned to U.S. Fleet Cyber Command/U.S. Tenth Fleet. He has graduate degrees in information warfare from American Military University and in space systems from the Naval Postgraduate School. In 2014, he was recalled to active duty to a joint task force supporting counterterrorism operations.
Dave Schroeder
Colleagues at UW–Madison "reached out to me a number of times personally to see how things were going" and ask if there was anything he or his family needed. "It made me feel very welcome as I returned to work after my mobilization," he said. "I thought it would be nice to recognize UW–Madison and the UW System for this kind of support, since it's among the best in the nation."
Schroeder found out last week that thanks to his nomination, UW–Madison will receive the Above and Beyond Award via the Department of Defense's Employer Support of the Guard and Reserve (ESGR) program. It recognizes employers who go above and beyond what the law requires, from continuing health insurance and other benefits during deployments to sponsoring veteran hiring initiatives.
Several members of Schroeder's reserve command based at Fort Gordon, Georgia, which supports Navy and national signals intelligence, cyber, and cryptologic missions, also have attended UW–Madison or have other UW ties.
UW-Madison is now a finalist for the Freedom Award, the nation's highest honor presented to civilian employers for exceptional support of their National Guard and Reserve employees.
The state award will be presented at a ceremony attended by senior leaders from the Wisconsin Department of Military Affairs, each branch of the military, and the Department of Defense. The ceremony will take place April 17 in Green Lake.
—Adam Hills-Meyer