UW–Madison enrollment tops 50,000; freshman class includes second-highest number ever of Wisconsin residents
Total campus enrollment at the University of Wisconsin­–Madison is a record 50,662 students — the first time the figure has topped 50,000 — and the new freshman class includes the second-highest number ever of Wisconsin residents at 3,813.
The number of applications from prospective freshmen and transfer students also hit a high this year at 67,979.
"From the record number of applicants to our national rankings, UW–Madison continues to be highly respected and much in demand," says Chancellor Jennifer L. Mnookin. "I am also pleased that our incoming class of new freshmen and transfer students expands on UW–Madison's strong commitment to Wisconsin families and to the state."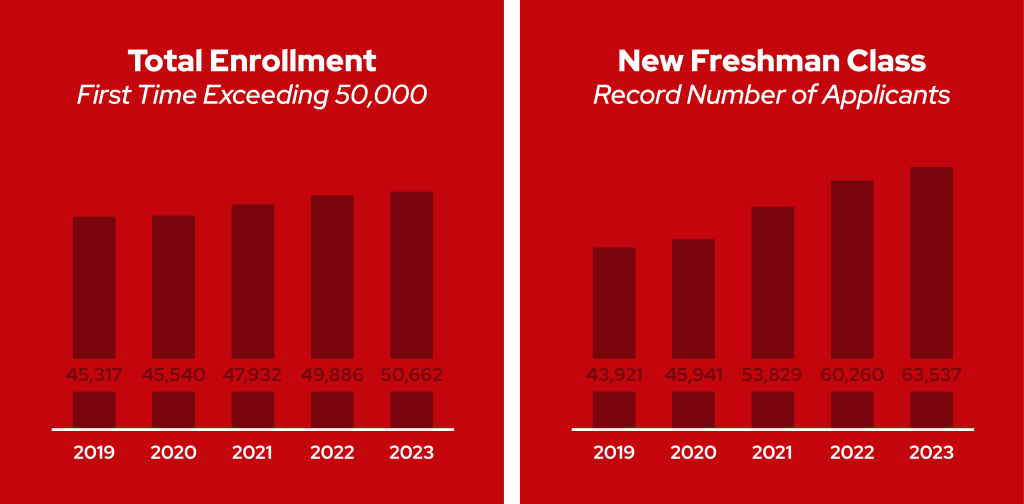 There are 9,095 new freshmen and transfer students on campus this fall. Of those, 4,436 are Wisconsin residents. The freshman class of 7,966 students includes 3,813 Wisconsin residents, an increase in Wisconsin residents over last year. This occurred despite the university purposely reducing the overall size of its freshman class by hundreds.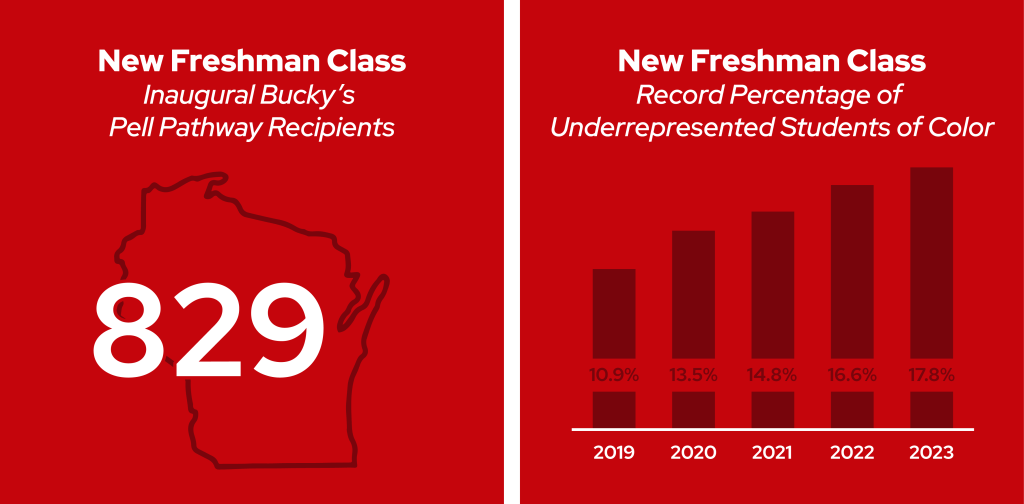 The university continues to invest heavily in these Wisconsin resident students. Almost one in four Wisconsin residents new to campus this fall will be covered by either Bucky's Tuition Promise or the new Bucky's Pell Pathway. The latter provides a route to a debt-free education for Wisconsin residents who qualify.
The freshman class includes the highest percentage of underrepresented students of color in the university's history, rising from 16.6% last year to 17.8% this year.
Boosting affordability
A total of 1,084 Wisconsin students new to campus this fall — 917 freshmen and 167 transfer students — are receiving one of UW–Madison's two primary tuition promise programs.
Bucky's Tuition Promise, now in its sixth year, guarantees scholarships and grants to cover tuition and segregated fees for Wisconsin resident students whose household adjusted income is $65,000 or less. Roughly half of all Wisconsin households qualify.
The new Bucky's Pell Pathway expands on Bucky's Tuition Promise by covering not only tuition and fees but also housing, food, books and most other educational expenses. Eligibility is based on whether a student qualifies for federal Pell Grants, which play a critical role in expanding college opportunity for students in low-income households.
Freshman Emily Hokanson of Sussex, Wisconsin, is one of the 829 new freshmen receiving Bucky's Pell Pathway. She's a National Honor Society member who created a service project at her high school that reintroduced more than 100 youth volunteers into nursing homes after the COVID-19 pandemic.
"Money has always been a challenge for my family, so Bucky's Pell Pathway was a huge relief," says Hokanson, who is majoring in animal science and hopes to become a veterinarian.
Derek Kindle, vice provost for enrollment management, says UW–Madison's emphasis on providing access to a top-notch educational experience is helping to retain and support some of the state's most impressive students.
"We're reducing financial barriers for this amazing group of students so that they can earn a four-year college degree with little or no debt," Kindle says.
Wisconsin focus
In 2015, UW–Madison committed to continue enrolling at least 3,600 Wisconsin residents in each incoming freshman class. This year's figure of 3,813 is especially significant given the stagnant number of Wisconsin high school graduates.
"These are exceptional students who have chosen to continue their educations in their home state, increasing the likelihood they will stay here and contribute their skills and leadership to our workforce and our communities," says Provost Charles Isbell. ""We are committed to providing a world-class educational experience for all our students so that they are prepared to be tomorrow's entrepreneurs, leaders and trailblazers."
A separate Board of Regents enrollment policy measures UW–Madison's commitment to the state by requiring the university to enroll annually at least 5,200 new undergraduate students (new freshmen and new transfers) who are Wisconsin residents or Minnesota reciprocity students based on a three-year rolling average. The university easily exceeds this with its most recent average of 5,600.
Other enrollment trends
The number of freshman applicants rose 5.4%, from 60,260 last year to a record 63,537 this year. The university chose to reduce the size of the incoming freshman class from last year's record high, offering seats to about 2,000 fewer applicants. The resulting freshman class of 7,966 is a reduction of 7.7%. They're a talented bunch — 137 are National Merit Finalists.
Graduate students
The number of graduate and professional students rose from 12,651 last year to 12,825 this year.
"I chose UW–Madison to pursue my PhD in part because the educational psychology program is top ranked in the nation," says new graduate student Samantha Macksey of Chicago. "This school cultivates an engaging and collaborative environment that produces an inclusive atmosphere. I anticipate the exposure to such a diverse array of experiences and perspectives will help me develop into a well-rounded future researcher."
International students
UW–Madison continues to attract students from all over the world. The freshman class includes 663 international students, including Paras Kasmalkar of Pune, India, who is majoring in computer science. He just represented India and earned a silver medal at the International Olympiad in Informatics in Szeged, Hungary. Each country can send up to four of its top high school students to the annual programming competition.
"I'm really happy to be here," Kasmalkar says. "UW–Madison has a very highly respected and well-known computer science department."
About 16% of new freshmen identify as first-generation students, defined as neither parent having a four-year college degree. The figure is largely unchanged from last year. For transfer students, the percentage of first-generation students increased from 25.3% last year to 26.8% this year.
Transfer students
Overall, UW–Madison welcomed 1,129 new transfer students to campus this fall, including 623 who are Wisconsin resident students — 55.2% of the total.
Ivette Pita-Ruiz, one of those new transfer students, is from Beloit. She worked retail for a year after high school, then attended UW–Whitewater last year. She hopes to become an art teacher.
"UW has so many spaces that could help me to develop my career path and strengthen my networking skills," she says. "I'm super excited to take advantage of all the opportunities Madison has to offer, especially studying abroad."
Enrollment figures are based on the 10th day of classes, the official student census for reporting purposes.