UW–Madison center signs agreement that could save Pentagon millions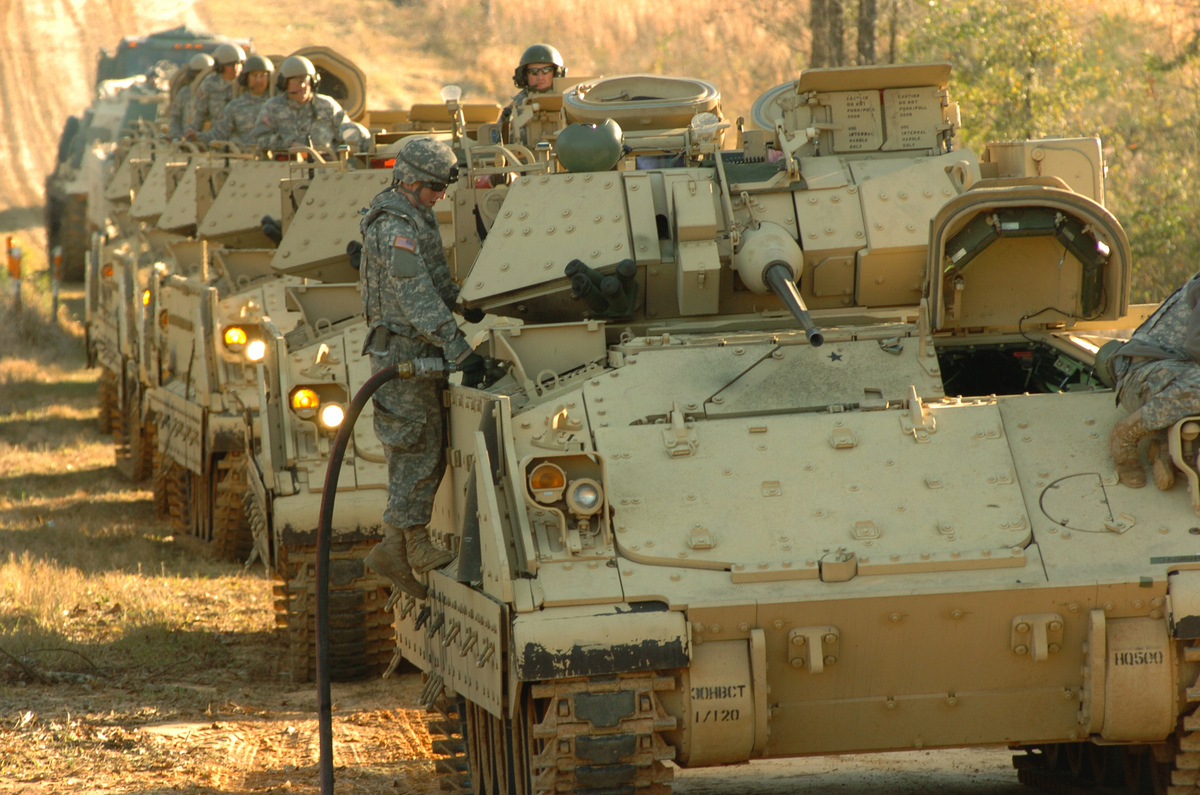 A U.S. Army soldier assigned to the 252nd Combined Arms Battalion, 30th Heavy Brigade Combat Team, fuels a Bradley Fighting Vehicle during field training at Camp Shelby, Miss., on Jan. 13, 2009.
Photo: Tech. Sgt. Brian E. Christiansen, U.S. Air Force
A University of Wisconsin–Madison center has signed an agreement with Camp Shelby Joint Forces Training Center in Mississippi that could save the Defense Department millions of dollars as military equipment begins to make its way back to the United States from Afghanistan, officials announced Wednesday.
The National Center for Freight and Infrastructure Research and Education (CFIRE), headed by UW–Madison engineering Professor Teresa Adams, signed the agreement to identify the base as a critical part of a strategic military intermodal logistics hub, taking advantage of cost efficiencies afforded in the South Mississippi Defense Corridor (SMDC).
Teresa Adams
Col. William "Brad" Smith, commander at the sprawling Mississippi National Guard installation located near Hattiesburg, says the opportunity for a cost-effective alternative to expensive legacy systems has presented itself for the return, reset, redeployment, redistribution and disposal of equipment from Operation Enduring Freedom.
"This is a rare opportunity to take advantage of the synergies that exist in the South Mississippi Defense Corridor. It's a military site selector's dream," Smith says of the five military installations that could play a critical role in the return of equipment. "It's reassuring that an organization like CFIRE can see this from 1,000 miles away."
Adams says "the time is right" to move forward to name the Port of Gulfport a "Strategic Seaport" and begin routing equipment to it. She cites several key factors, including unmatched rail and intermodal access, unfettered access to the Gulf of Mexico, interstate connectivity, C-5/C-17 capable airports, and a 135,000-acre Army installation within an hour of the port. Adams also notes the significant infrastructure investments at the port.
"Based on our experience, the joint utilization of the Port of Gulfport as a strategic seaport and Camp Shelby as a depot site will allow the Army to create an innovative logistics solution, maximize its limited resources, and realize benefits from the joint force capabilities within the South Mississippi Defense Corridor," Adams says.
"It's a military site selector's dream. It's reassuring that an organization like CFIRE can see this from 1,000 miles away."
Col. William "Brad" Smith
"Ultimately, this collaborative logistical relationship will provide a platform for further economic and community development that is more than ever, so important in the Gulf area."
Adams adds that other factors making the corridor attractive include growing rail traffic west of the Mississippi River driven by the oil and gas industry and the Panama Canal expansion; Post-Panamax ships taking priority in major east and west coast commercial ports; and a recent study by the U.S. Government Accountability Office citing several current strategic seaports as having major deficiencies that present significant obstacles to mission accomplishment.
According to Army officials, the Defense Department will spend $7 billion to ship nearly 750,000 pieces of equipment worth $36 billion as combat operations come to an end in 2014.
CFIRE is funded by the U.S. Department of Transportation Office of Research and Technology. The northern hub is led by UW–Madison, and includes partners at University of Wisconsin-Superior, University of Wisconsin-Milwaukee, University of Illinois at Chicago, Michigan Technological University and the University of Toledo. The southern hub is led by the University of Memphis and includes Vanderbilt University, the University of Southern Mississippi, and the University of Alabama in Huntsville. The CFIRE consortium's annual budget is approximately $3.5 million.
—Steve Wagner