University-Community Partnership Awards celebrate successful collaboration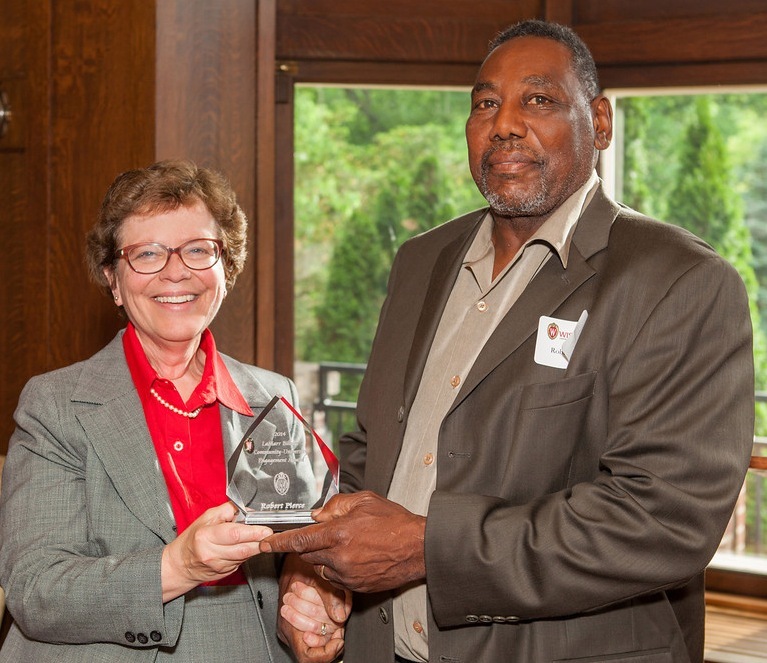 Chancellor Rebecca Blank poses with Robert Pierce, manager of the South Madison Farmers' Market and recipient of the 2014 LaMarr Billups Community-University Engagement Award.
People like Robert Pierce sometimes seem like they have a hand in everything.
Pierce, one of the few remaining African American farmers in Wisconsin, is the manager of the South Madison Farmers' Market. He has dedicated his life to bringing safe, affordable and healthy food to South Madison – and, in doing so, has been a key contributor to multiple University of Wisconsin–Madison partnerships in south Madison.
So when Pierce was honored at the 2014 University-Community Partnership awards, held at Olin House on Tuesday, June 3, it was no surprise that he had contributed substantially to other projects recognized for their achievement.
The awards, revived last year after a break of several years, highlight exemplary partnerships that get to the heart of the Wisconsin Idea: community members and UW–Madison personnel working collaboratively to transform the campus and community for the public good.
"Beyond the Wisconsin Idea, the common thread [between these projects] is their long-term potential," Chancellor Rebecca Blank said at the ceremony. "These initiatives are changing lives right now, but they are not quick fixes. These are solutions with staying power – and that's the part that makes them particularly valuable to the communities they serve."
The awards thank community partners and recognize the work of UW–Madison faculty, staff and students as they join together to address pressing public issues in Madison and the surrounding region. They are sponsored by UW–Madison's Office of Community Relations, Community Partnerships and Outreach (CPO) Staff Network, with support from the Office of the Chancellor and the Morgridge Center for Public Service.
Pierce received the LaMarr Billups Community-University Engagement Award for outstanding contributions to campus-community partnership initiatives. In his acceptance speech, he made special mention of the longstanding support he has received from Margaret Nellis, manager of academic partnerships for University Health Services and faculty associate in the School of Human Ecology.
Pierce and Nellis' collaborations over the past 15 years have laid the foundation for larger partnerships between the South Madison Farmers' Market and the Nelson Institute for Environmental Studies, including two back-to-back capstone courses offered to students during the 2013-14 academic year.
"Robert has an excellent vision for the future, and I'm so happy that I have been able to work with him over the years," said Nellis, at the ceremony. "This award means so much to Robert, his family, and the South Madison Community."
In addition to their work with the South Madison Farmer's Market, Pierce and Nellis contributed to another Community Partnership Award-winning effort. The South Madison Project, a collaboration between Slow Food UW and the Boys and Girls Club of Dane County, began with gardening and cooking experiences for low-income children and branched into three separate projects at multiple locations.
In turn, the South Madison Project involved work by emeritus professor Boyd Rossing and the Family Voices Project, another Community Partnerships honoree with a longstanding Boys and Girls Club relationship. Family Voices aims to clarify and demonstrate a model for mentoring, tutoring and enrichment for children that is both culturally relevant and encourages strong parent engagement.
Additional honorees also include:
A water stewardship project involving the Bad River Band of Lake Superior Ojibwe, exemplifying a collaborative approach to watershed education, cultural mapping, and cross-cultural approaches to water quality management. It incorporates tribal elder ways of knowing, traditional knowledge and tribal youth field experiences.
The Dane County African-American Prostate Cancer Initiative, a partnership with 100 Black Men of Madison that increases outreach and education on prostate cancer, which has significantly higher incidence and death rates for African American and Hispanic males.
The Menominee Journey to Wellness, a partnership with the Menominee Nation that impacts community awareness of childhood obesity and make community change.
The COMETS project (Creating Opportunities in Math, Engineering, Technology and Science), designed to engage children in science and engineering (or STEM) and build the capacity of centers to lead activities in STEM.
Participants in Growing Farm to School, a partnership with Community GroundWorks, work with researchers to assess students' knowledge, attitudes and behaviors related to fruits, vegetables and outdoor physical activity.
The Immigrant Justice Clinic at the UW Law School, a partnership with the Community Immigration Law Center (CILC). It provides direct legal representation to low-income immigrants in situations such as removal proceedings and human rights abuses; offers assessments of the immigration consequences of criminal convictions; and conducts "Know Your Rights" presentations in the community.