Traffic tips for commencement weekend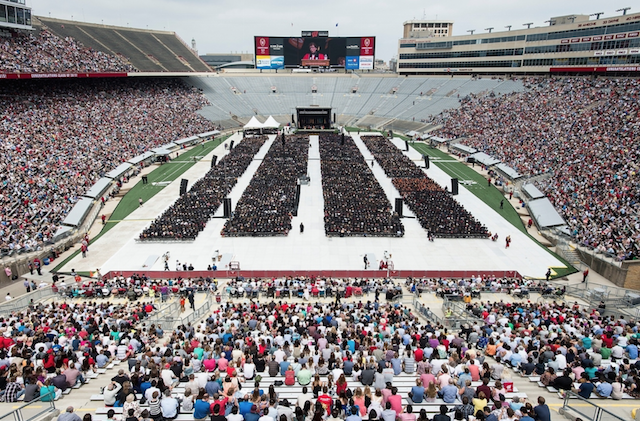 This coming weekend will be especially busy at UW–Madison with commencement, the Big 10 Softball Tournament, and residence hall move-out.
Two graduation ceremonies will take place: a smaller ceremony for doctoral and professional students at 5:30 p.m. Friday, May 11, at the Kohl Center, and a ceremony for bachelor's, master's and law degree candidates at noon Saturday, May 12, at Camp Randall Stadium.
Individual schools, colleges and departments will also host commencement activities throughout the weekend. A schedule of these events is here.
The following tips can help campus visitors, graduates, and students plan ahead for this weekend's activities.
Parking: When making commencement plans, please allow ample time to locate parking and get to your destination. Commencement parking is available on a first-come, first-served basis.
Almost all campus parking lots are free after noon on Friday. Select parking lots will be unavailable to visitors from 11 p.m. Friday until 7 a.m. Saturday. After 7 a.m. on Saturday, all approved lots are free until noon on Sunday. Reference the commencement parking map for lot availability details.
Lot 36 (Observatory Drive Ramp), 60, and 76 (University Bay Drive Ramp) are being used for Big 10 Softball Tournament parking on Friday; any visitor wishing to park in these lots must pay the special events fee.
The lots closest to Camp Randall, Lots 18 and 19, will not be available for visitor parking during commencement weekend. For Saturday's ceremony, visitors are encouraged to park in campus parking lots and use the fare-free campus bus Route 80 or commencement shuttle bus service.
No permit holder relocation is required for commencement activities.
Shuttle: On Saturday, May 12, a complimentary shuttle bus service will be available to transport participants and guests around campus. Shuttles will run approximately every 10 minutes, from 8 a.m. to 7 p.m. The shuttle buses are wheelchair accessible. More shuttle information
The City of Madison is currently reconstructing Monroe Street, a major traffic throughway to campus from the Beltline (Highway 12/14, Exit 258A–Seminole Highway). The project is expected to limit traffic flow on the street from Odana Road to Regent Street through November 2018. The westbound (outbound) lanes are closed; only one eastbound (inbound) lane is open. Additionally, several streets southwest of Camp Randall Stadium are closed due to construction staging. Guests are encouraged to find alternative routes and add extra time to their schedules due to anticipated traffic delays.
Additionally, parking will be unavailable on Regent Street between Monroe Street and Park Street from 11 a.m. to 3 p.m. Saturday to ease the flow of traffic. Parking on Breese Terrace and Monroe Street will be restricted on both sides of the street from 7 a.m. to 5 p.m. Saturday.