Three years in, UW South Madison Partnership shows strong growth
Inside a neighborhood mall on Madison's South Side, the shuffling beat of "Back to Life" by Soul II Soul reverberates as 21 women stretch, sway and sweat.
The free exercise class — called Get Movin' — meets twice a week and is aimed at older adults. It's offered by the Wisconsin Alzheimer's Disease Research Center, in space that is home to the UW South Madison Partnership.
"Oh my goodness, these ladies are like my sisters," says Diane Small, who tries never to miss a class. "There's a lot of unity here and so many people utilizing this facility."
The South Madison Partnership, a UW–Madison initiative, just celebrated its third anniversary. It is both a physical space and a much broader philosophy, one rooted in building relationships. The two prongs work together to connect UW–Madison with an area of the city whose residents historically have had less access to university programs and resources.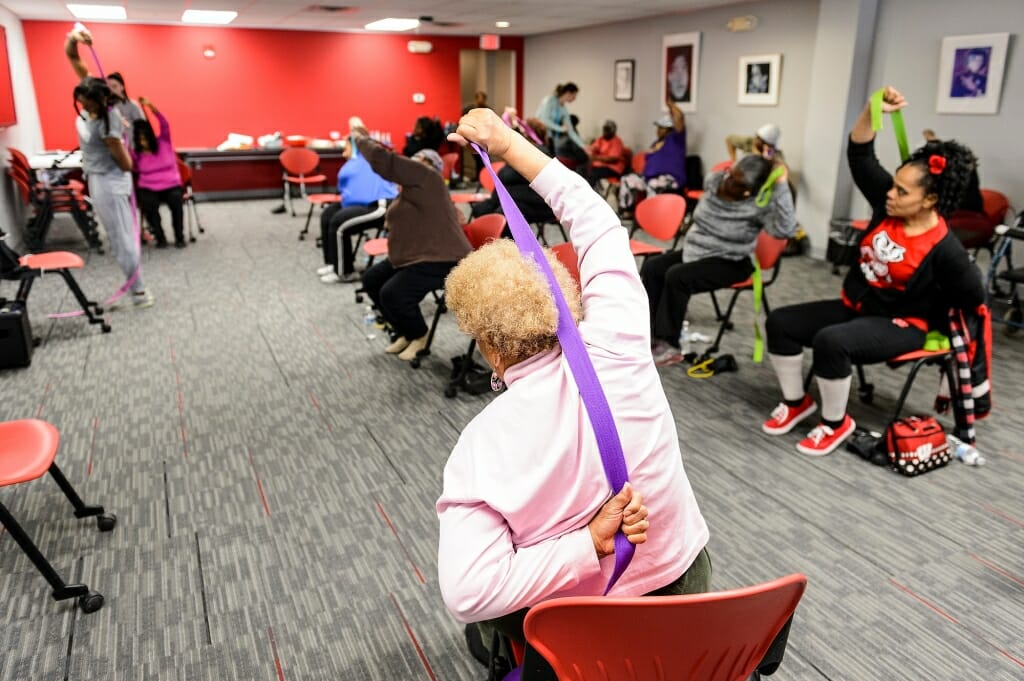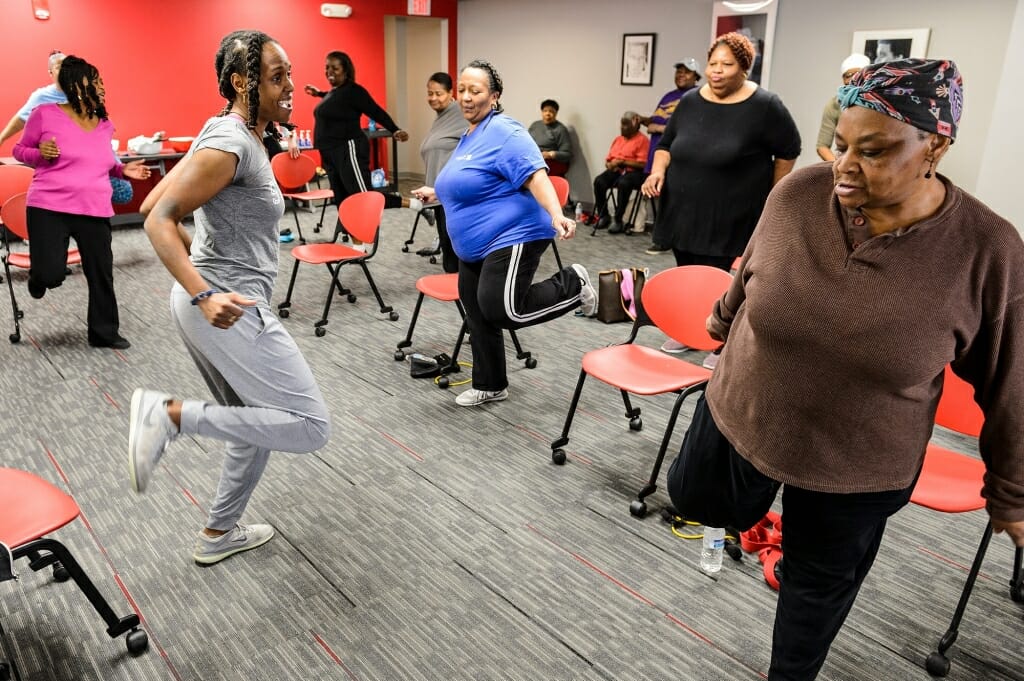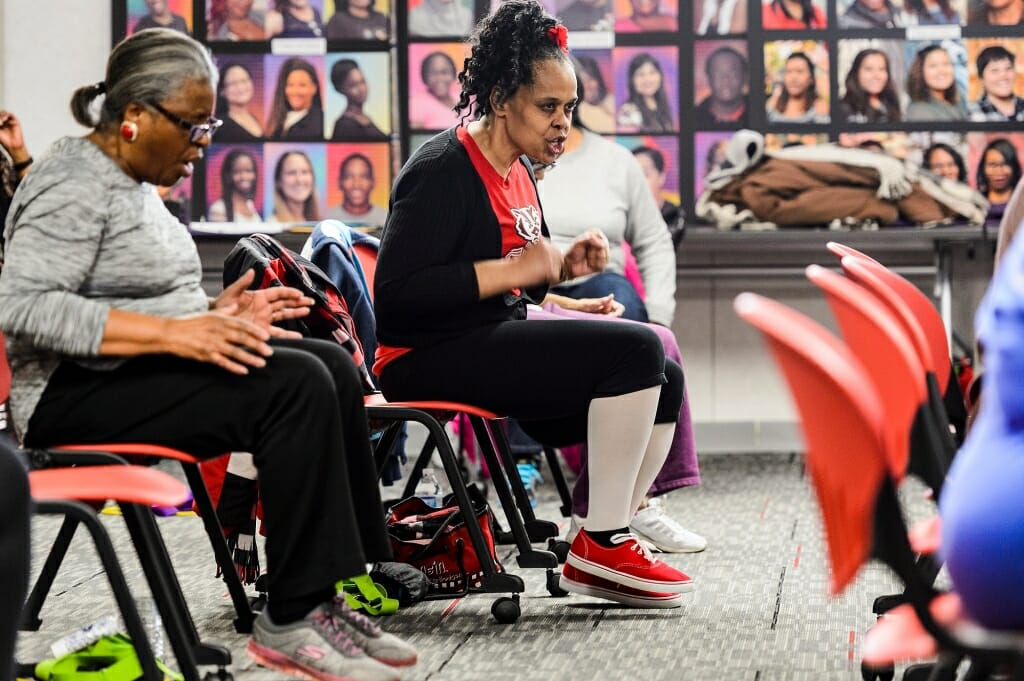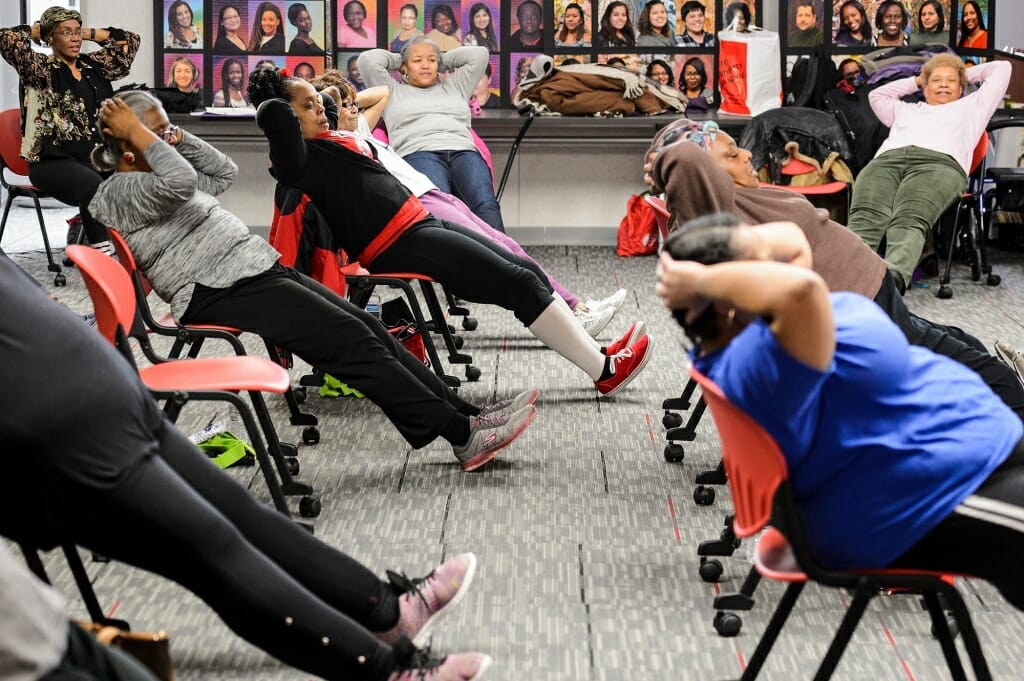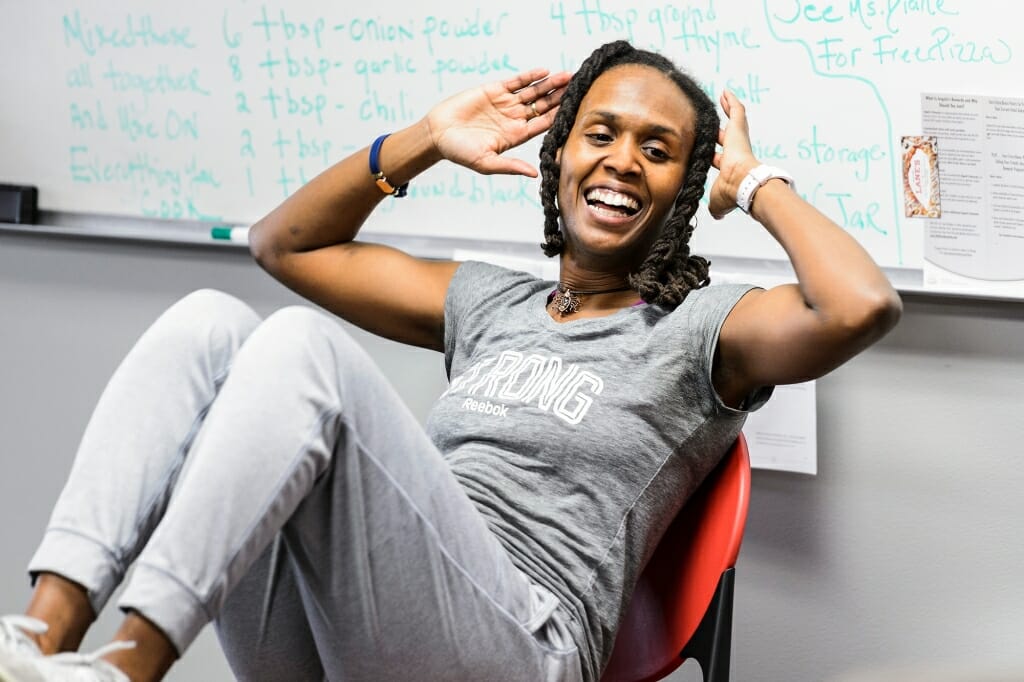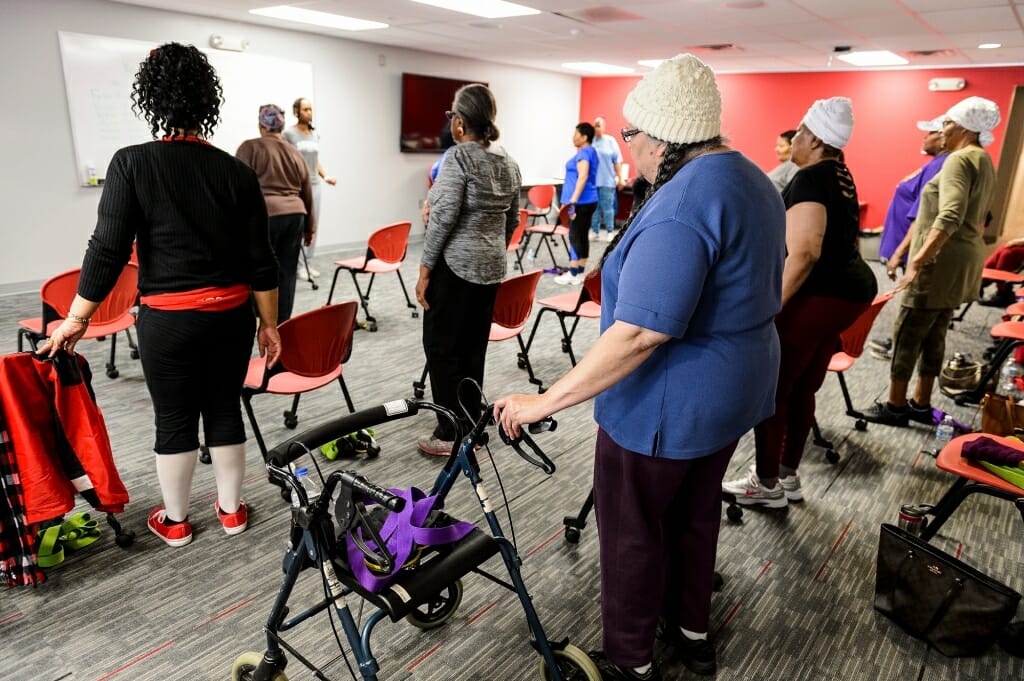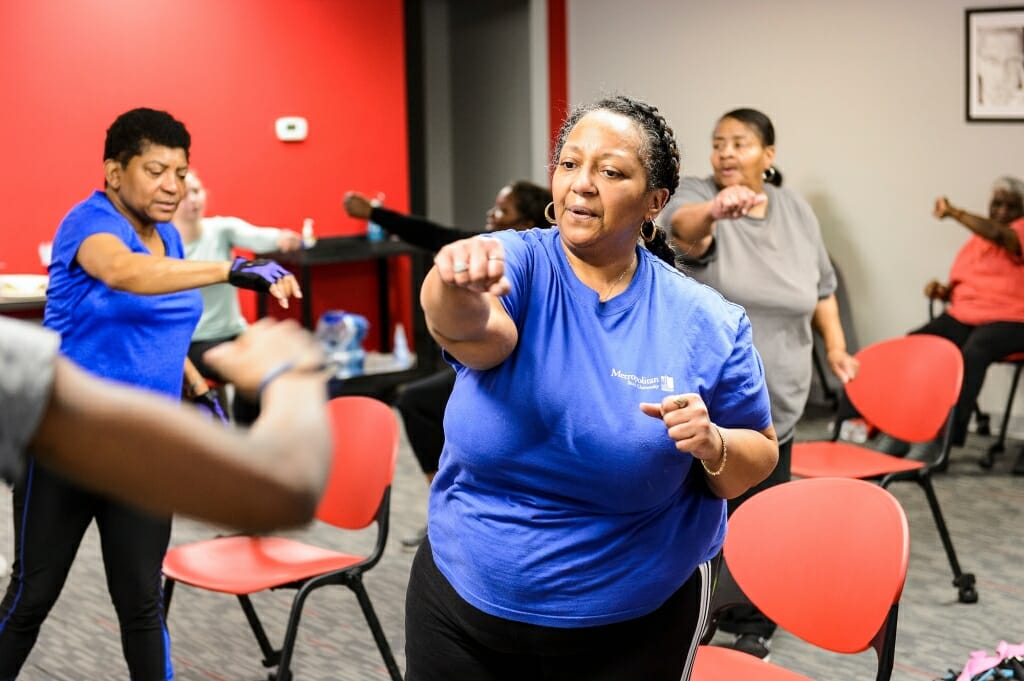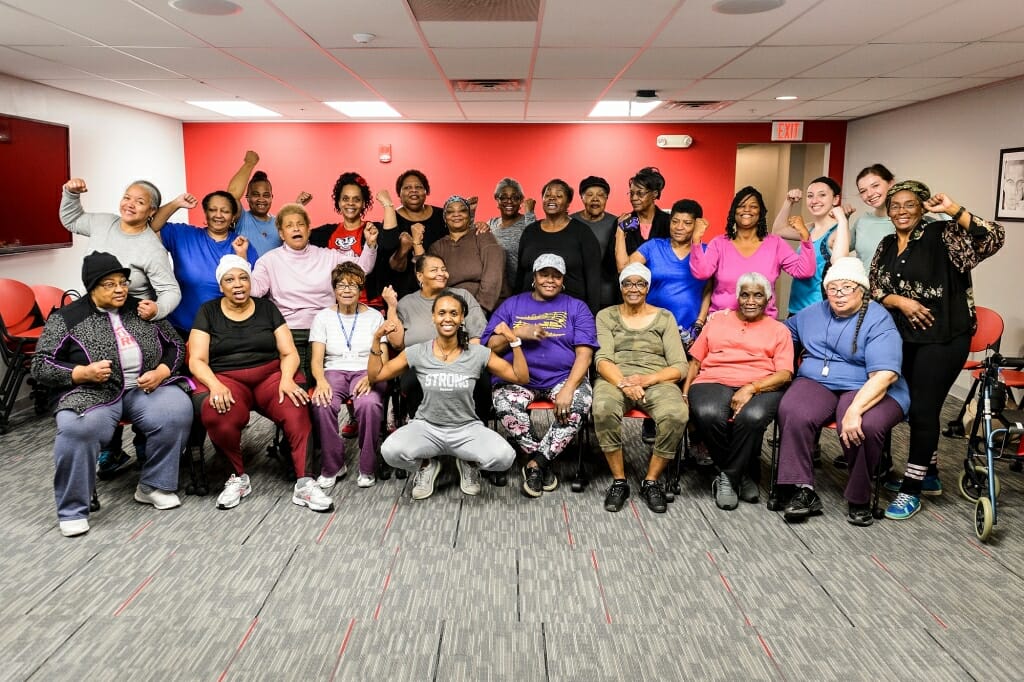 As the partnership enters its fourth year, use of the physical space is at an all-time high, new offerings abound and the number of collaborations with community organizations continues to grow.
During the 2016 fall semester, the space was used 619 hours, or an average of 38 hours per week. By the 2017 fall semester, usage had grown 53 percent, to 945 hours, or 58 hours per week.
The reception area is consistently staffed an average of 30 hours per week. The UW–Madison Office of Student Financial Aid last fall began weekly drop-in hours every Wednesday afternoon to help area residents understand and navigate financial resources and increase access to UW–Madison and other higher-education opportunities.
"It's such a valuable entity," says Ruben Anthony, who has watched the partnership evolve as president and CEO of the Urban League of Greater Madison. "It allows the university to have its ear to the ground and to be more sensitive to challenges in the community. At the same time, it gives us a strong connection to the campus."
The partnership has built a bridge between the university and South Madison, just as it was designed to do, says Everett Mitchell, UW–Madison's director of community relations from 2012 through mid-2016. He co-led creation of the partnership with The Morgridge Center for Public Service and Julissa Ventura, a Community-University Exchange fellow at the Morgridge Center.
Mitchell, now a Dane County circuit judge, says one of the criticisms prior to the partnership was that the university was an island unto itself. He didn't agree — there were many UW–Madison efforts working loosely around South Madison — but he saw a need to collectively and effectively bring those groups together around a single goal.
"I wanted to make sure the community knew that we were already there," Mitchell says. "What they needed to see was a marquee in South Madison."
'A welcoming space'
The university is just a couple miles from South Madison, but the distance can be daunting to people unfamiliar with the campus, especially those with transportation, parking and accessibility challenges. The partnership's physical presence, 2312 S. Park St., brings the campus to South Madison. It's the "marquee" that Mitchell references.
The facility is 3,000 square feet of inviting space at The Village on Park mall, a neighborhood hub. There's a 60-person meeting room, another that can hold 20 people, a reception area and an office area.
"It's such a welcoming space. We absolutely love being here," says Fabu Carter, an outreach specialist with the Wisconsin Alzheimer's Disease Research Center, based at the UW School of Medicine and Public Health.
The center has offered memory care services at the Park Street site since the space opened in 2015. About a year ago, it added the free exercise classes. Anyone can attend them, but the classes are a direct result of feedback from a survey of residents participating in the center's research, Carter says.
The respondents sought support in three areas: fitness, financial management and computer skills. The center is providing help in all three at the South Madison site.
"Some studies come into an African-American community, get their research and then go," Carter says. "We're different. We want to have a long-term response to helping the community."
Increasingly busy
The exercise class is one of several new activities at the increasingly busy site. Many of the original partners have expanded and added programs, and other groups and organizations come and go on an ad hoc basis depending on community need.
Madison College, for instance, held classes there last fall. The Urban League has used the space for professional development. A current list of activities can be found here.
Newer entities using the space include the Professional Accelerated Licensure Program, a joint effort of the School of Education and two local school districts. It is helping relieve a teacher shortage by providing opportunities for current educational assistants and bilingual resource specialists to become certified grade 1-8 teachers.
The licensure program joins longstanding partners like the Odyssey Project. The free UW–Madison program offers a challenging college humanities class for adult students facing economic barriers to college. It recently expanded with Odyssey Junior, a program open to children and grandchildren of Odyssey students and alumni.
The Neighborhood Law Clinic, part of the UW Law School's Economic Justice Institute, also has been at the partnership site since it opened. It offers free legal aid related to rental housing and employment law. It had been in other space in the mall for more than a decade.
"Access is so important, so we really love being co-located with all of these other programs," says Mitch, the associate clinical law professor who directs the clinic. "People come to the site for other things and then realize we could help them, and that's so wonderful."
Three other clinics that are part of the Economic Justice Institute also now hold hours at the site. They help people with immigration issues, family court matters and consumer law.
Expansive philosophy
While the physical space enables people to gather in meaningful and mutually beneficial ways, the partnership is much more than a building, says Leslie Orrantia, who oversees the partnership as one aspect of her role as community relations director. She succeeded Mitchell in mid-2016.
"It's about the people who make up UW–Madison and those who make up our greater community coming together to collaboratively make change for the greater good," Orrantia says. "Neither of us is going anywhere, so let's continue to be thoughtful and intentional in our work together to make Madison a better place for all."
Increasingly, the partnership helps sponsor pop-up events around the city, like a healthy-relationships workshop at Centro Hispano and a community screening of the documentary "Prison: Breaking the Cycle." The partnership supports the annual South Madison Festival and the annual family science nights at UW Space Place.
"It's not just having a space in South Madison, it's about playing an active role in the entire community," says the Urban League's Anthony. "Everett was such a good partner, and now Leslie has come and has been great. We're seeing a very strong connection between the campus and the community with her, and that helps us be proactive in our thinking."
Anthony jokes that there must be more than one of Orrantia.
"I can't go anywhere without seeing her," he says. "She hustles. She's not one to just carry a title. She's really trying to figure out how to partner and connect with people."
Back at the Get Movin' exercise class, Francine Strong, a retired state health worker, has just finished her workout and is enjoying a healthy snack of fresh fruit. She has been part of a memory-related study with the Wisconsin Alzheimer's Disease Research Center for seven years and plans to donate her brain to science.
The free fitness class signals to her that UW–Madison appreciates her contributions, Strong says.
"They think about what this community needs, and then they try to do those things," she says. "I hope they never stop."
For more information on the UW South Madison Partnership, go to communityrelations.wisc.edu or email Leslie Orrantia at orrantia@wisc.edu.
Although space use is prioritized for university and community collaborations, free space is available for community organizations. If interested in more information on using the space or to secure a reservation, email partnership@morgridge.wisc.edu.