Thousands of UW students have activated their Handshake account – have you?
Handshake makes it easier than ever to connect to jobs, internships, career events, and even on-campus interviews. It launched as UW–Madison's main career services tool in July 2018, and already thousands of UW–Madison students have activated their account.
Why should you join UW on Handshake?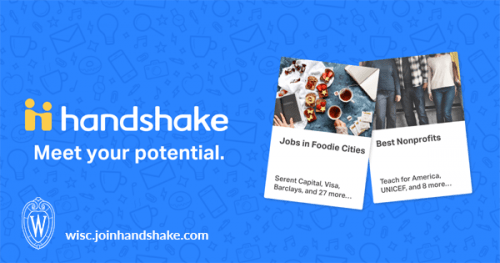 You Want Personalized Jobs & Internships: Full-time job or Internship? Networking or Career Events? Design & Art or Engineering? With Handshake you can share exactly what you're looking for and get recommendations that are tailored to your interests. (Think – Netflix's "Top Picks for You")
Because Career Planning Starts Your Freshman Year: That doesn't mean you need to know your major or career goals right away but it does mean you should connect with UW career services, and activating your Handshake profile is a great first step! (Tip: Exploring Majors & Careers? Check out the Career Exploration Center)
Because You Don't Want to Miss Out on Career Fairs & Events: Handshake is the best way to explore and register for UW career events, including job fairs, resume labs, mock interviews, and info sessions. Don't miss out on great opportunities like the upcoming Career & Internship Fair on Sept 20, where you can connect to 300+ employers from around the world, or the Fall 2018 Engineering & Stem Career Fair, Sept 13-19. See the Events tab in Handshake for more details.
How to Join UW on Handshake
Read the Student Terms of Use.
Activate your account by clicking the blue button or entering your wisc.edu email address.
Complete your profile and start exploring!
Questions? Contact your school/college career center of the Career Exploration Center or see careers.wisc.edu/students for FAQs.