Summer Music Clinic celebrates eight decades of hitting the high notes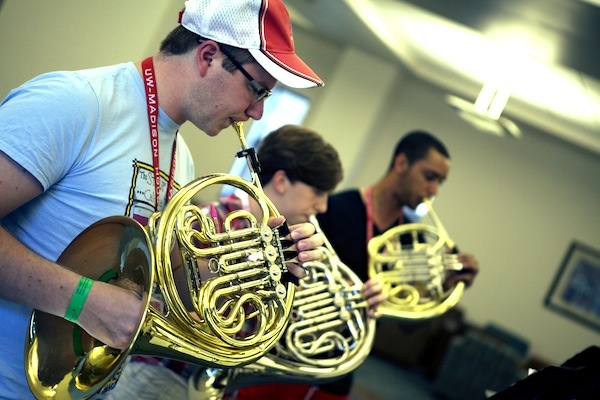 French horn players — some of the approximately 800 students who take part in middle- and high-school Summer Music Clinics — gather to practice.
For 80 years, UW-Madison's Summer Music Clinic has provided its campers with the chance to learn new skills through a variety of different classes and performance opportunities.
According to program manager Anne Aley, Summer Music Clinic offers two instructional sessions—one for middle school students, which was held the week of June 16, and one for high school students, which concludes Friday, June 27.
About 400 students attend each one and most reside at Ogg Hall for the duration of their stay.
Both sessions give students the freedom to make a schedule based on their personal interests. Classes range from band and orchestra to theater and jazz ensemble, allowing campers to hear lessons from many esteemed music teachers. After class, students can unwind through sports, arts and crafts or a multitude of other activities.
The high school camp is more detailed and deals with subjects like improvisation, composition and theory. Aley says many of these more complex topics are often not taught in high school.
Though their stay is limited to just one week, prospective students have the chance to make new friends, talk with mentors and discover campus life in Madison. The overwhelmingly positive reaction to the program encourages many participants to enroll at UW–Madison.
Kate MacRae stayed in the former Ogg Hall during the summers of 2000 and 2001. Her parents encouraged her to attend camps at several different colleges across the state while exploring her post-high school options. Her first summer as a camper came while she was entering her senior year of high school.
"It's an inspiring program or I wouldn't be here year after year. It's really fun for me to see the continuity of students coming back and bringing lots of great energy every summer to campus."
Anne Aley
"It definitely helped influence my decision [to attend UW–Madison] in a huge way because you were on campus for a week," MacRae says. "It really made it possible for me to picture my life here."
MacRae went on to receive a bachelor of science degree in music and choral music education from UW–Madison and has returned to Summer Music Clinic as a counselor every year except one since 2002. She recently landed a position as a high school vocal music instructor in Lodi, Wis.
"It has been an invaluable learning experience for me as a music educator," MacRae says. "Working here as a counselor has afforded me the opportunity to observe master teachers year after year."
Jacob Wolbert attended Summer Music Clinic for six years from 2004-10. He admits he had reservations about coming his first summer, but upon arriving at UW–Madison he enjoyed the freedom, interaction with friends and the meals with University Housing.
"My summer camp experience provided the building blocks for lasting friendships and was a main reason I majored in Latin American-Caribbean studies and music," Wolbert says.
Like MacRae, Wolbert cites the program as an important factor in his decision to enroll at UW–Madison. He recently graduated and wants to eventually attend graduate school. He, too, is working as a counselor this summer.
Megan Elisa Mitchell is a Powers-Knapp scholarship recipient who attended camp last summer. She performs vocally and played violin and piano as a youth. Her mother also attended Summer Music Clinic several years ago.
"Being on campus acclimated me to classrooms, faculty and staff," says Mitchell. "Plus it's a way to recruit talented students."
Mitchell, an interior design and voice performance major, formed many friendships during her experience in camp, teaching her how to get along with a diverse group of people. She is living in the dorms again this fall in preparation to become a House Fellow.
The tight-knit atmosphere encourages former campers to return as counselors in the future. Aley says there is a waiting list for counselors each summer.
Aley has spent 33 years working with Summer Music Clinic. "It's an inspiring program or I wouldn't be here year after year," she says. "It's really fun for me to see the continuity of students coming back and bringing lots of great energy every summer to campus."
The Summer Music Clinic is just one of the dozens of summer programs housed in university residence halls. 
– By Jim Dayton