Student race car design team takes first place
One hundred thirty schools from 11 countries on five continents battled for the prestigious SAE Foundation Cup during the annual event May 15-20.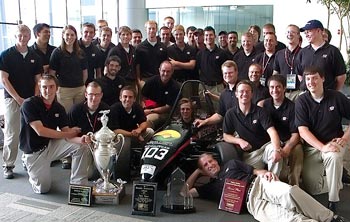 The Formula SAE Racing team poses with their championship trophy.
Sponsored by the Society of Automotive Engineers, Formula SAE is a collegiate engineering competition in which students design, build and race a formula-style racing car. The competition is divided into two portions: static and dynamic events. The static events consist of a business presentation, a cost report and design judging, representing real-world scenarios that the students will encounter during their careers. In the dynamic events, teams race their cars against other schools. The car is tested in skid-pad, acceleration, autocross and endurance.
After finishing second, third and fourth in the last 10 years, the UW–Madison team brought home its first win. In addition to winning the SAE Foundation Cup, the team earned several other awards, including the first place Ricardo Powertrain Award, second place Timken Engineering Friction Award and the second place Goodyear Best Performance Award. The team is primarily comprised of undergraduate engineering students and is advised by Glenn Bower, faculty associate of mechanical engineering.
Students made many updates to the 2007 car, including a switch from racing fuel to E-85, an 85 percent ethanol fuel, demonstrating the team's commitment not only to building a high-performance car but also to reducing emissions and furthering knowledge of alternative fuels. Among the top 10 finishers, the vehicle from UW–Madison was the only one running on E-85.
On May 20, the UW–Madison car was displayed at the GM Vehicle Engineering Center in Detroit, where it was crowned with two great honors, first place in the design competition and first place overall. The University of Western Australia and TU Graz from Austria finished second and third, respectively.
"We would to thank the University of Wisconsin–Madison, the College of Engineering, our adviser and our sponsors for all the support that we've gotten," says team member Blaine Gudbjartsson.