Student Personnel Association honors seven student services professionals
The Student Personnel Association recognized the work of seven distinguished employees who work in student services at the University of Wisconsin–Madison at its 2016 reception on April 29.
Founded in 1956, the SPA exists to create cross-campus connections among people who work with students to support, enhance and reinforce the learning mission of UW–Madison. Membership is also open to student services professionals from around the area, including Edgewood College and Madison College.
Chancellor's Award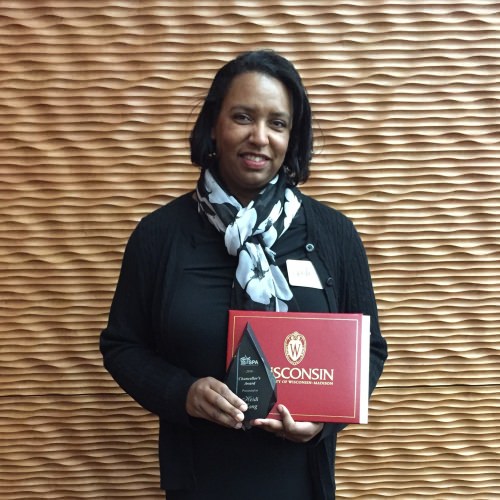 Heidi Lang, interim assistant director for program and leadership development at the Wisconsin Union, received the Chancellor's Award, the association's highest honor. The award recognizes campus leaders in providing distinguished service to the university community and student services, particularly beyond the scope of their office, as well as distinctive contributions throughout the campus community in all aspects of the recipient's professional and personal lives.
"Heidi Lang is a kind, caring and passionate colleague who seeks to create change through sound and supportive leadership," said Stephanie Salazar Kann, assistant director of engineering student development and past president of SPA, who presented the award. "Known for her commitment to developing student leaders and creating opportunities for each student to become the person they want to be, she leads by example, and I can personally attest to that."
At the Wisconsin Union, Lang is responsible for the professional development training program for advising staff and ongoing leadership training for student volunteers. She coordinates the mission, vision and programming for the Willis L. Jones Leadership Center and oversees the Union's social, cultural, educational and recreational program.
She served as president of SPA during a period in which the organization learned to redevelop itself as a citywide organization.
Frontline Award
The Frontline Award recognizes University Staff members who positively influence students' perceptions of the university, either as the first person students meet in an office or supporting a unit behind the scenes.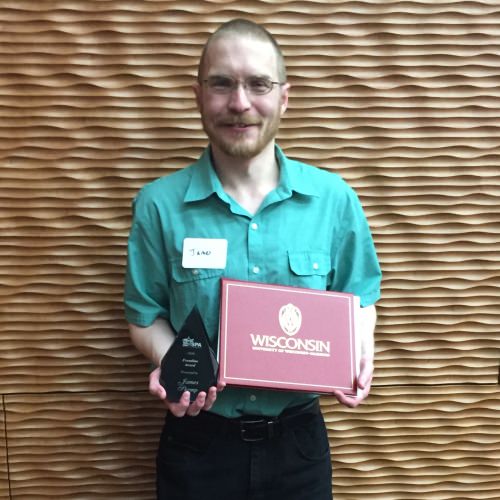 James Skemp, web applications developer in the Wisconsin School of Business, works with both undergraduate and graduate units to improve a variety of web-based technology tools. The products of his work are used by thousands of students (both prospective and current), greatly influencing and improving their student experience and interaction with the university.
"James is absolutely the 'unsung hero' behind much of what we do as an admissions team," says one nominator. "We could not do our jobs half as well without him."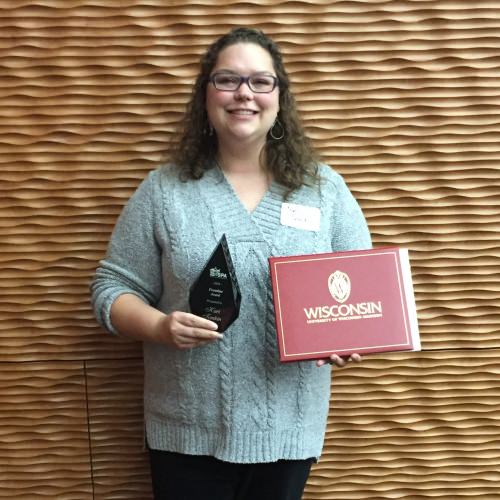 Kari Temkin, Badger Volunteers coordinator at the Morgridge Center for Public Service, acts as the gatekeeper for a campus-wide program engaging nearly 1,000 students in community service.
"She comes to work every day excited and in love with the work she does," says one nominator. "Even when there are mundane tasks, she approaches the work with enthusiasm because she is dedicated to the students she serves and creating a positive experience on their behalf."

Norman Bassett Award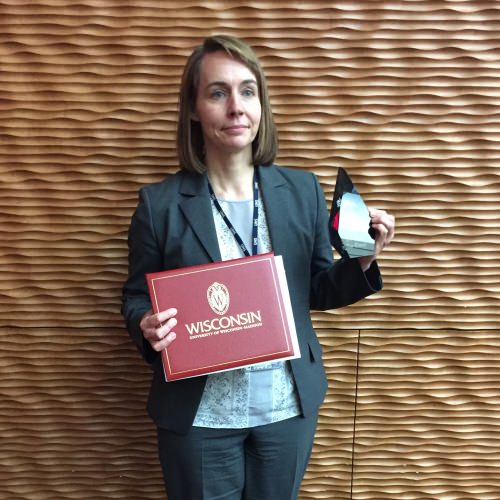 Sarah Van Orman, executive director of University Health Services, received the Norman Bassett Award, recognizing excellence in student services work for over 10 years and/or distinguished achievement in developing new, creative and effective programs to meet student needs.
Van Orman is the campus leader in health education, highly respected by her colleagues and administration. The initiatives, policies and procedures she has developed within UHS and across campus are of the highest quality, and she devotes time and effort to educating staff and students about each program and process.
"Sarah has the keen ability to predict what is required and what may be on the horizon, going above and beyond to prepare for all that is needed," says one nominator. "Diligent, fastidious, dependable and genuine are words that characterize her. Combine this personality with her unrelenting willingness to lend a helping hand and her reluctance to say no, and you have one fantastic professional."
Excellence in Higher Education Administration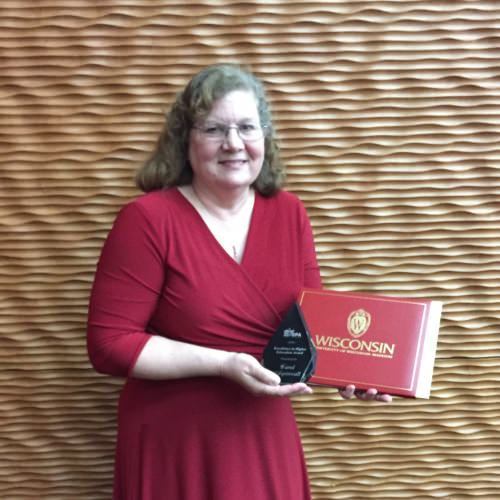 Carol Aspinwall, academic student services coordinator for the Ph.D. program in the School of Nursing, received the Award for Excellence in Higher Education Administration, recognizing effective qualities and practices that distinguish a leader in student services.
Aspinwall's nomination garnered widespread support from students, staff and faculty. "Carol is my go-to person for all questions about the graduate school and visas for international students that study with me," says a faculty nominator. "She always works above and beyond to assist, and if she doesn't know the answer, she finds it. I can think of no other person more deserving of this award."
Campus Impact Award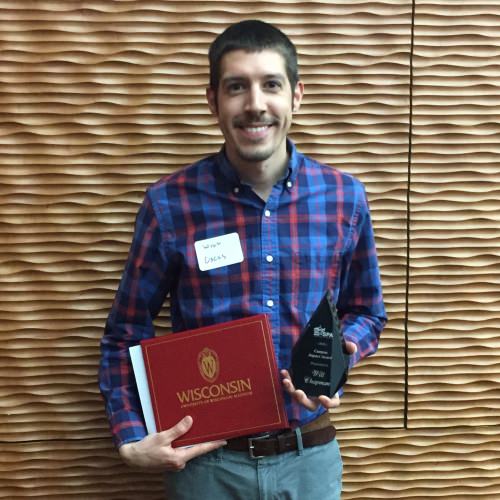 Will Chapman, assistant director for the Office of Student Conduct and Community Standards in the Division of Student Life, received the Campus Impact Award, recognizing a professional who has had a significant impact on campus in fewer than five years.
Chapman has helped create "Badger Red: The First 45 Days," an ethical decision-making program that works to strictly enforce alcohol laws and policies during the first 45 days of the semester. According to one nominator, his daily efforts to help students not just succeed at the university but develop a deeper understanding of their values, goals and responsibilities make him unique. His ability to make the conduct process lead to greater personal understanding is one of his greatest skills.
Leadership in Social Justice Award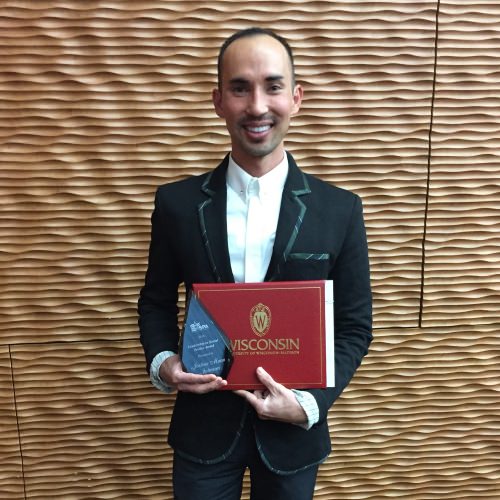 Joshua Moon Johnson, assistant dean of students and director of the Multicultural Student Center, received the Leadership in Social Justice Award, recognizing leadership and courage while initiating, creating and supporting a more socially just learning and work environment for students and staff, whether within or beyond the scope of the recipient's current position.
"We interact on nearly a daily basis, and he is absolutely one of the best professionals I have ever supervised," says one nominator. "He has many strengths, but one that is exceptional is his expertise on issues of race and sexuality. He has presented at many national and regional conferences, and has published a book chapter about LGBTQ faculty and staff of color."
Under Johnson's leadership, the Multicultural Student Center has overhauled its services, resulting in a 230 percent increase in the number of affiliated student orgs, and has increased outreach efforts by providing over 40 social justice workshops for campus departments and organizations.
Another nominator praises Johnson's collaborative efforts. "Most importantly, he speaks truth to power while remaining practical about the approaches necessary for systemic change."
The awards are made possible thanks to support from the Chancellor's Office, the Norman Bassett Foundation, the Ineva Reilly Baldwin and Ira L. Baldwin Endowment for Student Services, the Offices of the Dean of Students and the SPA membership. The Chancellor's Award recipient receives a cash award of $1,000; all others receive $500.