Statement of Everett Mitchell on the Madison community, policing
Everett Mitchell, director of community relations for the Office of University Relations at the University of Wisconsin–Madison shared the following statement on Friday, Aug. 21.
"During my career, I've served as a Dane County assistant district attorney, the pastor of Christ the Solid Rock Baptist Church and a liaison between the university, community leaders, businesses and people of faith.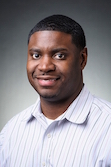 Everett Mitchell
I am a lawyer and I believe in the law. I also believe in equal justice for all, and in reforms to our criminal justice system that address disparities in policing for people of color. As co-chair of a United Way taskforce on policing, I am part of the national conversation on this vital issue.
I am saddened that those with differing agendas have taken a selective portion of a larger conversation out of context in an effort to discredit my views.
My comments around "big box" retailers were in no way an endorsement of shoplifting or other criminal behavior, but part of a point about how the distribution of police resources to areas with high numbers of misdemeanor crimes can bring low income or people of color into frequent contact with law enforcement.
As it relates to misdemeanor offenses themselves, I believe the community should explore a restorative justice model in which non-violent offenders between the ages of 17 to 25 perform community service.
Through my many roles, I believe in working with law enforcement and the community to reduce disparities, while also ensuring Madison is a safe place for everyone."