State Street Mall construction begins Monday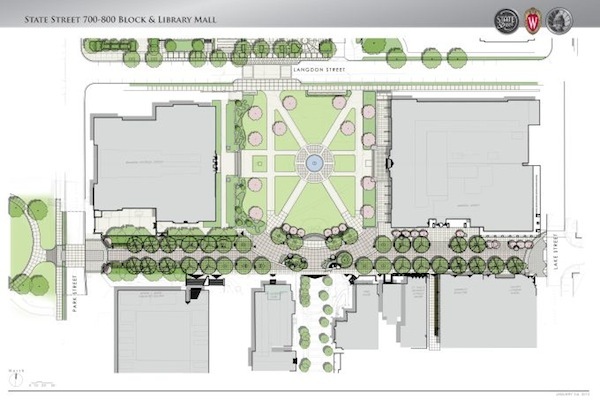 This rendering shows how the lower part of State Street will look from above once the project is completed this fall.
The State Street-Library Mall construction project will get underway starting Monday, May 19, with the goal of providing an exciting new look to the area where the city meets the campus.
The tired-looking concrete and streetscape will be refreshed by a new design featuring trees and landscaping, new seating areas, a raised pedestrian crosswalk at North Park Street and areas that can be used as gathering places. The two-block area will also be given new lighting and will accommodate utility improvements. More information on the final design plan can be found here.
The project will also involve a redesign at the base of Bascom Hill.
The first thing that pedestrians in the area will notice is the installation of construction- and erosion-control fencing. In preparation for the work, utilities have already been marked in the field with colored spray paint.
Those with a hunger will also note some changes.
Food vendors in the construction zone will be relocated from May 19 through Oct. 31. The new locations will be in the East Campus Mall area near the mall and several on North Lake Street between State Street and Langdon on the Memorial Library side, says Madison Street Vending Coordinator Warren Hansen.
Construction is planned to conclude before the beginning of the fall semester, says Gary Brown, director of campus planning and landscape architecture.
State Street and Library Mall will remain open to pedestrian traffic through the duration of the project. Access to buildings will be maintained, however short-term closures are possible to complete utility construction and paving. 
More information can be found on the City of Madison Roadworks projects website. This website provides current project information, and will be updated throughout the project.