Small(er) is beautiful for UW-Madison computer users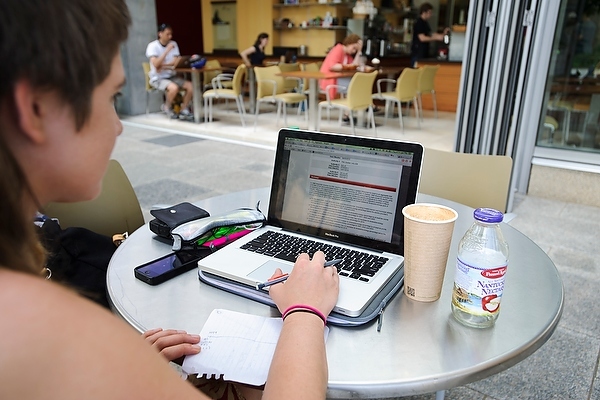 Despite an increase in the presence of smaller mobile devices, the trusty laptop remains ubiquitous on campus. Almost all UW–Madison students — 99 percent — use them, according to a new survey conducted by the Division of Information Technology (DoIT).
Photo: Jeff Miller
While the popularity of mobile devices and tablets has been increasing, UW–Madison students are not using them as anticipated, according to a survey by the university's Division of Information Technology (DoIT).
Students as well as faculty and staff also expect more features, applications and availability than ever before, the survey shows. And they are satisfied with the services they receive at UW–Madison.
These and other findings come from the 2013 Computing Surveys. The yearly surveys track student, faculty and staff use of and satisfaction with UW computing services and technologies, as well as specifics regarding wireless, printing services, the My UW–Madison portal, trends in technology usage, and more. The results are used to better serve campus needs.
Other highlights include:
UW students are turning to smaller, more portable computing options. Forty-two percent of faculty and staff and 28 percent of students own a tablet.
Nearly all students (99 percent) now use a laptop computer for personal use or schoolwork. Eighty-eight percent use a smartphone or mobile device, such as iPhone, BlackBerry, Android, Windows Phone, and iPod touch — up from 67 percent in 2012 and 56 percent in 2011.
Just over a quarter of students surveyed own a tablet computer. And 58 percent of student respondents who own tablets indicated that they use them for schoolwork.
Among the most popular features of the Mobile UW app are campus maps and the bus schedule.
Respondents were asked to provide feedback regarding wireless access. Of the faculty and staff, 74 percent were satisfied. Ninety-two percent of students are satisfied.
Ninety-six percent of students surveyed said that their technology needs are met (or exceeded) on campus, while 84 percent of faculty and staff said their needs are met (or exceeded).
The annual UW–Madison computing surveys were sent in spring 2013 to random samples of 1,200 UW–Madison students and 1,200 faculty and staff. Response rates were 20 percent for students and 18 percent for faculty and staff.
—Laura Grady