Science goes to the comics at Saturday showcase
It started with a mispronounced word and the idea of superhero proteins it inspired. A few doodles later and Jaye Gardiner, Kelly Montgomery and Khoa Tran realized they had landed on a fresh way to communicate their work as scientists.
"We started meeting together every Saturday at the Library Cafe and Bar to shoot ideas around and draw things a little bit at a time on the side of doing our own research," says Tran, one of the three co-founders of JKX Comics, the scientific comics project the trio formed out of those early drawing sessions.
Since then, the co-founders have all graduated from the University of Wisconsin–Madison, where they met as graduate students. But they're returning this Saturday to host the Gaining STEAM! showcase, a presentation of comics put together by teams of scientists and artists. The showcase is the culmination of JKX Comics' winning 2018 Arts Business Competition proposal and months of work to bring the research of seven UW–Madison scientists to life on the page.
The showcase will take place from 10 a.m. to noon on Saturday, May 4, at the Discovery Building, 330 N. Orchard St., during the monthly Saturday Science program. It's free and open to the public.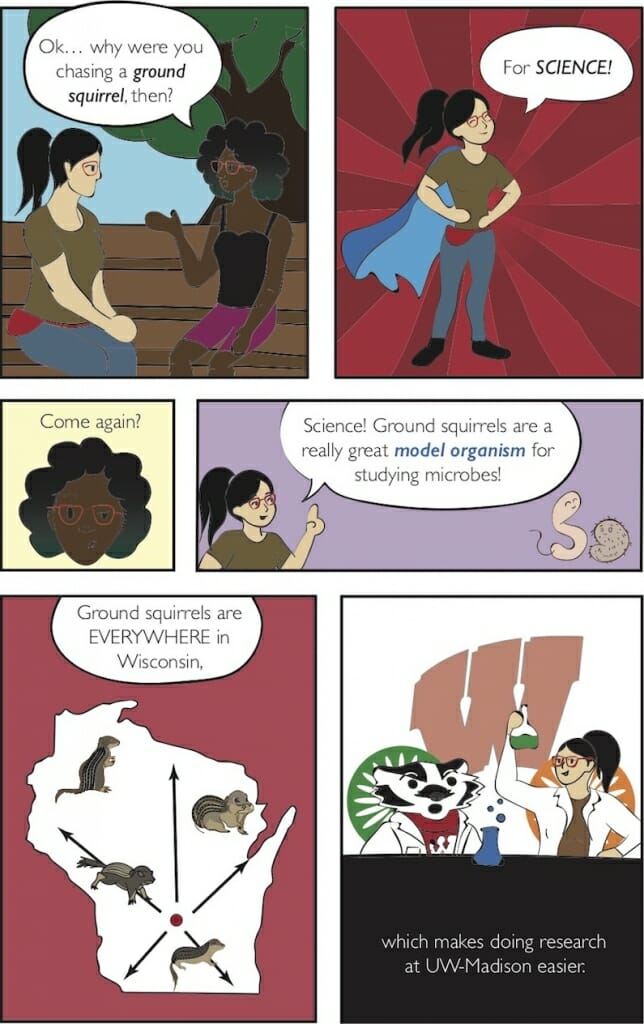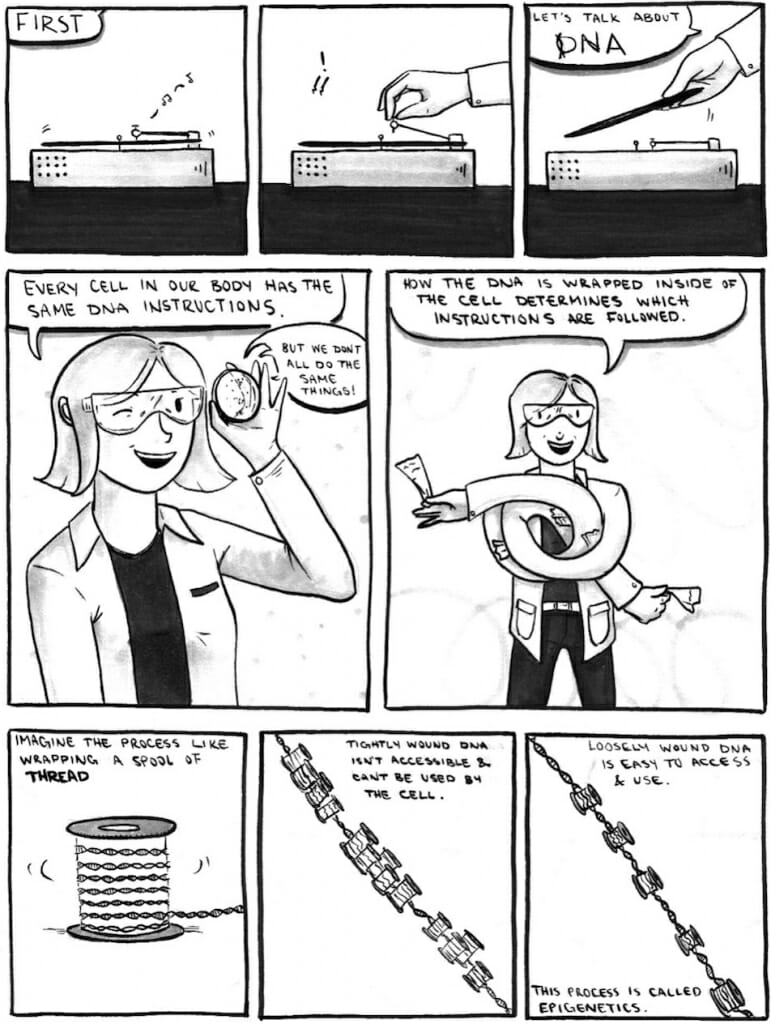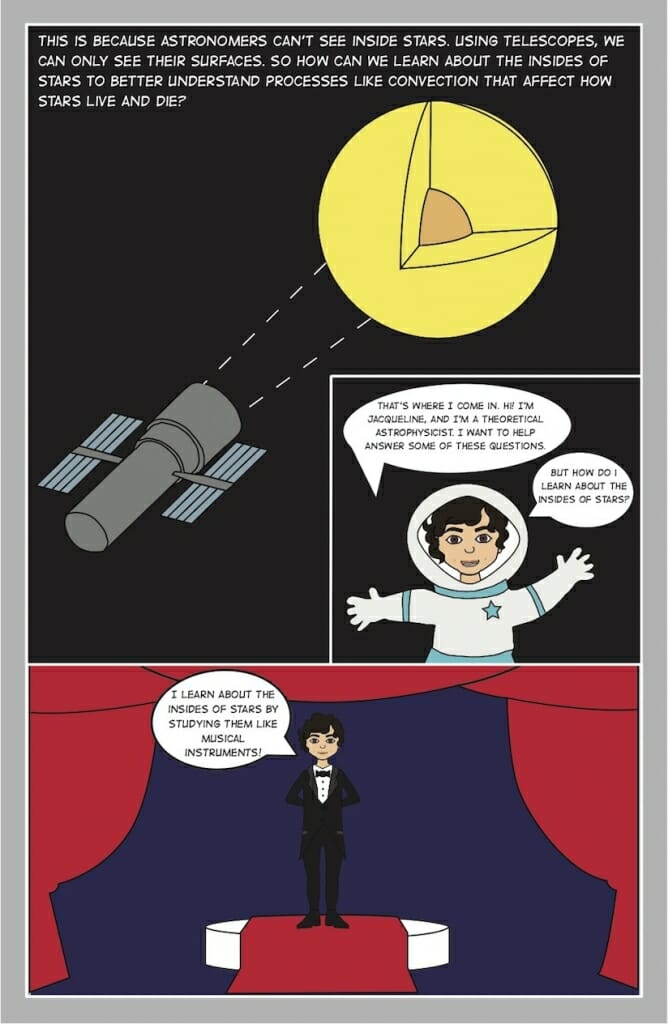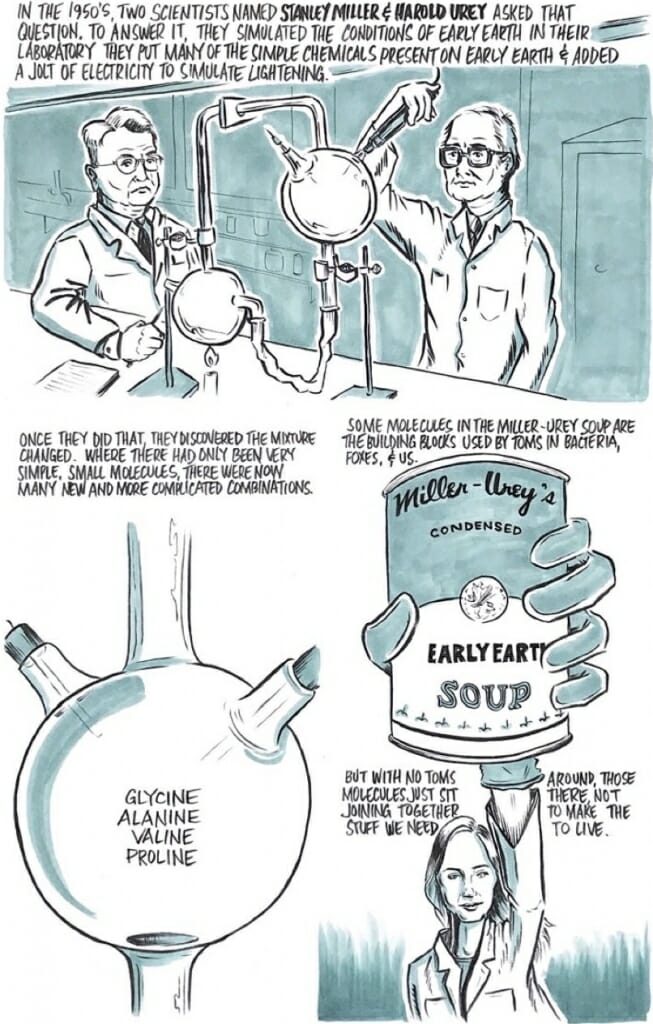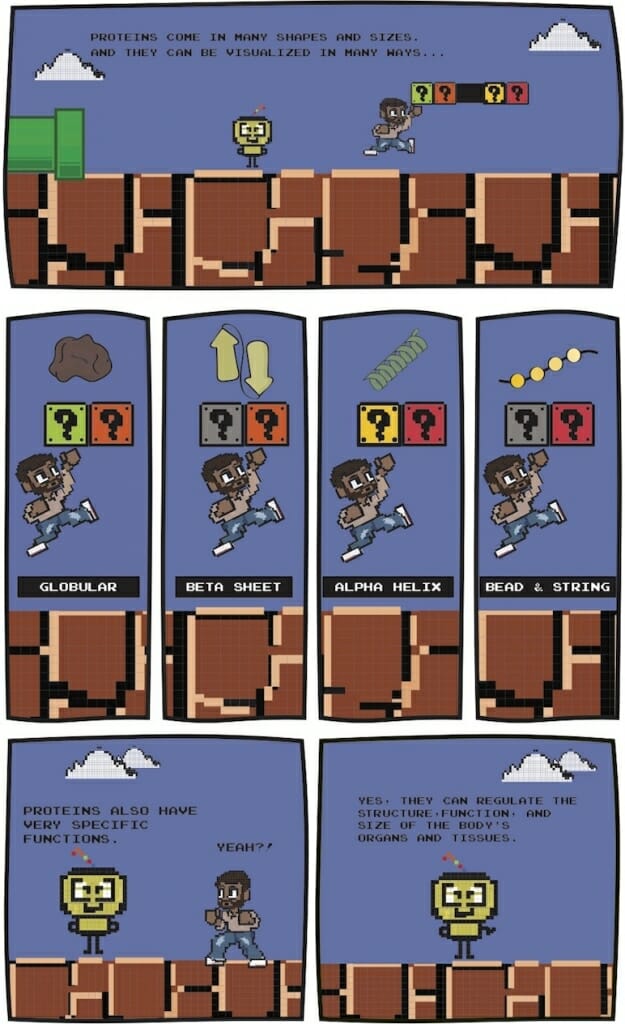 After winning the competition, which gave them $2,000 to put toward their project, the JKX Comics team sought scientists who wanted to turn their work into comic books. Seventeen applied, and seven were chosen to gather over a weekend in October with artists and storyteller Holly Walter Kerby, who partnered with JKX Comics to organize the showcase.
Kerby, a playwright, chemist and science communication instructor, led a workshop on how to turn a research question into a story and leave the jargon behind.
"Scientists are used to hiding behind their data," says Kerby. To get them out in the open, she encouraged the researchers to think of themselves as hosts guiding their audience along an adventure to answer the question that drives their research.
Each scientist sketched out his or her story with simply drawn icons symbolizing the characters, mysteries and struggles behind their research. They spread the icons out like the playing pieces of a board game to map out their narrative arc and mimed the action to fellow participants to work through the story.
"It breaks them out of all that language," says Kerby.
In another workshop, the project's artists taught scientists how to turn a story of words, data and symbols into one of panels, figures, action and color.
"Learning to think about how I can use art and images to communicate a certain idea — not in the form of a graph, but as a story — was really challenging," says Edna Chiang, a graduate student studying hibernation in 13-lined ground squirrels.
Chiang worked with JKX co-founder Gardiner to tell the story of how the squirrels' gut microbes survive hibernation during long, cold Wisconsin winters. Gardiner and Chiang served as hosts bookending the comic book. To set the different animated worlds apart, they switched the color palette to visceral reds, pinks and browns when they zoomed in on the microbial protagonists residing in the squirrel's intestines.
"I study microorganisms, and by definition you can't see them with the naked eye. So sometimes it can be really hard to make this idea of microbes living inside an organism tangible to someone who is not a microbiologist," says Chiang. "I've always wanted a cool visualization to use to help engage my audience. So when I saw this opportunity I thought, 'Dream come true.'"
The final comics took months of back-and-forth meetings between the scientists and artists to create. They span from astronomy to psychology to the search for ancient life. Their art ranges from realistic representations to 8-bit arcade-style cartoons.
Most of the comics feature the scientists as host and storyteller, putting a face to the research.
"Comics are a really great way to show who these people are and to break down the stereotype that scientists think they're better than everyone or they're all Einstein-looking people, old white men with crazy hair," says Gardiner, who is now a researcher at the Fox Chase Cancer Center in Philadelphia. "We come in all shapes and sizes and come from all different backgrounds and we are just people. And I think comics can provide really wonderful representations of us."
"Comics bring a kind of joy," adds Tran, who now works at the University of Pennsylvania. "I think comics are great for giving exposure and having people understand science better."