Science Expeditions event opens doors to UW-Madison research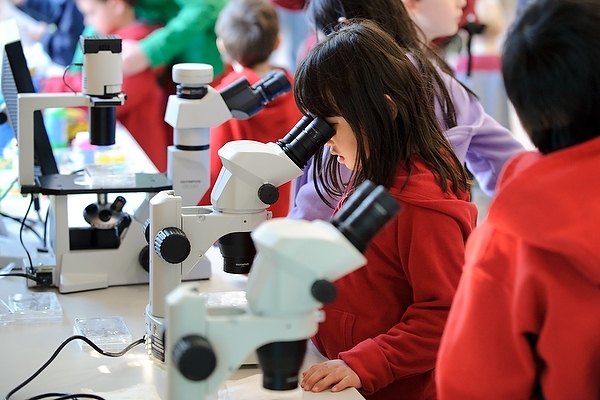 Children look into microscopes and learn about stem-cell research at a hands-on exploration station as families and visitors participate in a previous Science Expeditions.
Photo: Jeff Miller
Science Expeditions, the University of Wisconsin–Madison's 12th annual science open house, is as big as ever, and awaiting thousands of curious visitors April 4-6.
More than 15 campus venues — including laboratories, museums, greenhouses and medical and animal centers — will be open to visitors over the course of the weekend, offering the public the opportunity to mix with the university's scientists and students and learn about their work.
"UW-Madison is one of the largest and most successful research universities in the world," says Tom Zinnen, a Science Expeditions organizer and outreach specialist at UW–Madison's Biotechnology Center. "More than two-thirds of that research is publicly funded, so almost everyone in Wisconsin — whether they have ever set foot on campus or not — has a role in supporting that."
The free and open opportunity to explore campus kicks off at 7 p.m., Friday, April 4, at the Wisconsin Institutes for Discovery, 330 N. Orchard St., with a special edition of the SoundWaves series, which combines scientists discussing the world around us with live musical performances.
The Wisconsin Institutes for Discovery building serves as the hub for Saturday's activity as well, hosting dozens of exploration stations where (from 10 a.m. to 2 p.m.) kids and adults alike can partake in hands-on science experimentation with the help of volunteer UW–Madison educators and researchers.
More Saturday exploration stations will be set up in open buildings such as D.C. Smith Greenhouse, the Botany Department's Birge Hall, and the Zoological Museum in the Noland Zoology Building.
The free Science Expeditions Trolley will carry visitors and UW–Madison Campus and Visitor Relations tour guides among the event's venues and campus parking lots on Saturday, running every 15 minutes from 9:30 a.m. to 4:30 p.m.
The Trolley will also take visitors to a pair of other campus events: the Wisconsin Wellness Campaign Expo, including NFL Play 60, fitness challenges and cooking demos, from 10 a.m. to 2 p.m. in the Southeast Recreation Facility, 715 W. Dayton St.; and Spring Powwow, the annual American Indian celebration from 10 a.m. to 10 p.m. on Saturday and Sunday in the Stock Pavilion, 1675 Linden Drive.
On Sunday, April 6, Science Expeditions shifts its center of gravity to the Health Sciences Learning Center, 750 Highland Ave. for more exploration stations, tours of the Clinical Simulation Program — a training center where students, nurses and doctors practice and learn procedures in simulated hospital and clinic environments — and the Ebling Library exhibit, "Costly Progress: Medical Advances in the American Civil War."
For a full look at the packed schedule for Science Expeditions, with parking and maps of campus locations, visit the event's website at http://science.wisc.edu.
Other highlights include:
Science Spectaculars — theater shows exploring often loud and flashy aspects of physics and chemistry — scheduled for several Saturday times in Chamberlin Hall and the Chemistry Building.
Drawing Jam with cartoonist Lynda Barry, 10 a.m. to noon on Saturday in the Wisconsin Institutes for Discovery.
A guided hiking tour of Picnic Point with Friends of the Lakeshore Nature Preserve, starting at 2pm at the main gate to Picnic Point, just north of Lot 129, 2004 University Bay Drive.
Nose-to-nose interaction with cows and their keepers at the Dairy Cattle Center, 1815 Linden Drive, 10 a.m. to 2 p.m. Saturday.
"Crafting Canoes: Art and Science of the Hydro Dynamic Design," an exhibit in the School of Human Ecology's Nancy Nicholas Hall, 1300 Linden Drive, with presentations by faculty and staff on fiber engineering and concrete canoe design at 1 and 3 p.m.
"Chasing the Ghost Particle," a documentary at UW–Madison's South Pole neutrino observatory IceCube, presented with the Wisconsin Film Festival, starting every hour from 10 a.m. to 2 p.m. at the UW Planetarium in Sterling Hall, 475 N. Charter St.