Savor the moment: Entering class of 2013 welcomed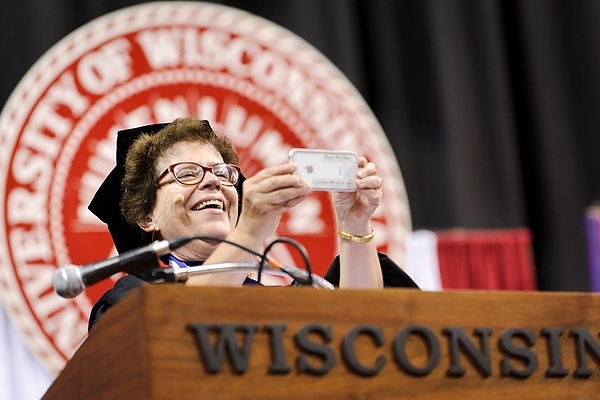 Chancellor Rebecca Blank pauses to photograph the audience with a smartphone before speaking to thousands of first-year students.
Photo: Jeff Miller
Chancellor Rebecca Blank welcomed new students to campus Friday, advising them to take advantage of every opportunity about to come their way as members of the UW–Madison community.
At the 2013 Chancellor's Convocation for New Students, Blank said that some of the best experiences and memories students will have will involve getting to know their fellow students. She said the incoming class is one of the largest and most ethnically diverse that UW–Madison has ever had.
"We all come here with our own personal stories — our own history of who we are and the experiences that we have," Blank said. "Your destiny and your future will be shaped at least in part by what you do here in Madison. We shape this place, and it shapes us."
Blank stressed her own status as a "fellow newbie" on campus who will be exploring the university with the incoming class. She also snapped a photo of the audience, explaining that it was her turn to share in the excitement of the incoming class who she has seen taking photos throughout the campus.
Incoming freshman Jessica Franco-Morales of Green Bay also spoke on what makes up "her world," a speech selected out of submissions from other freshmen who were asked to describe their world.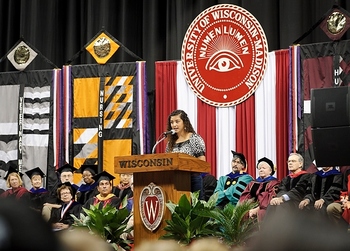 Jessica Franco-Morales, a first-year student from Green Bay, Wis., was winner of this year's convocation student-speech contest.
Photo: Jeff Miller
"However, what I value the most is that my world has made me realize that one must not be complacent and settle down for the current status quo," Franco-Morales said. "Rather, one must be the captain of one's quest for a better future."
Bill Cronon, Frederick Jackson Turner Professor of History, Geography and Environmental Studies, also addressed the audience and said one of the greatest treasure of UW–Madison is not only its breadth of subject matter but the "equally extraordinary human beings" that students often meet unexpectedly.
"It's the moments of serendipity that are not in your plan that are most likely to change your life forever," Cronon said. "They are among the best reasons I know for spending time in a place that has the universe in its name."
Aaron Bird Bear, academic adviser in the School of Education, served as host, talking about the long and rich legacy of the UW–Madison landscape.
Hoyon Mephokee, a student of Thai and Korean descent, said he enjoyed Cronon's speech, especially his stress on the etymological relation between the word "university" and the word "universe" and the limitations of knowledge.
"No matter how much you study – anything you study is just a fraction of the infinite ways that we see the universe," Mephokee said.
Mephokee said he's looking forward to meeting new people on campus and experiencing parts of American culture and life.
Madeline Baranek of Oak Creek, Wis., said she is looking forward to starting her classes, and that she was excited about the broad opportunities and subject areas the university offers. She is planning on taking a few classes outside her subject current plan of pursuing pre-pharmacy.
She added that she was impressed with Blank's speech, saying that it showed the chancellor's excitement for being on campus and getting the students involved in different opportunities.
John Traudt of Shorewood, Wis. says he's looking forward to meeting new people. He says he enjoyed hearing the speech from Blank and others.
"It was interesting to start connecting it all," Traudt said. "We're all here for the same purpose."
–Sean Kirkby