Richard Cordray to speak at financial literacy and education field hearing
Richard Cordray, director of the U.S. Consumer Financial Protection Bureau, will speak at a field hearing of the U.S. Financial Literacy and Education Commission on "Starting Early: Youth and Post-Secondary Financial Education" on the UW–Madison campus Wednesday, Sept. 25.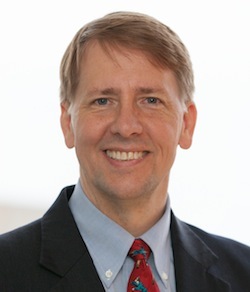 Richard Cordray
The hearing will be from 8:30 a.m. to noon at UW–Madison's Union South, 1308 W. Dayton St.
Representing 22 federal entities, the commission seeks to improve Americans' financial literacy and especially help youth learn about money and build sound financial habits. At the field hearing, the commission will share information about promising practices, critical challenges and opportunities in promoting the financial capability of children and youth populations.
"The fact that the commission and Director Cordray have selected UW–Madison as the location for this hearing is not an accident," says J. Michael Collins, faculty member at the university's Center for Financial Security. "Wisconsin has long been a leader on consumer financial education and research. We are proud to be part of this effort."
Speakers will represent national, state, and local government — including Melissa Koide, U.S. Treasury deputy assistant secretary for consumer policy; David Mancl, director of the Wisconsin Department of Financial Institutions' Office of Financial Literacy; and Madison Mayor Paul Soglin. UW–Madison Chancellor Rebecca Blank, Associate Professor of Education Sara Goldrick-Rab, Associate Professor of Business Elizabeth Odders-White, and Collins, an associate professor of human ecology and public affairs, will also speak.
The commission aims to encourage a rich dialog about financial education efforts in communities across the country with practitioners, researchers, regulators, policymakers, and university staff and students. The field hearing will include a public comments segment during which audience members will be invited to share their thoughts on topics related to financial capability issues young people face today. Members of the public will have one minute to share their comments and will need to sign up at the event site to take part in the public comments segment of the hearing. Space is limited; register online.