Residence Hall move-in welcomes students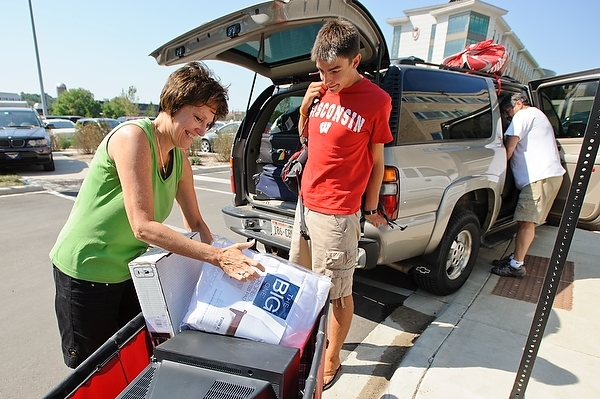 An undergraduate gets help from his parents as they load up a wheeled cart with belongings to be moved into his room in the Sullivan Residence Hall during last fall's move-in.
Photo: Bryce Richter
More than 7,400 UW–Madison students will be moving into the University Residence Halls Sunday, Aug. 25, Wednesday, Aug. 28, and Thursday, Aug. 29.
"Move-in is an intense but well-coordinated and exciting time of the year," says Mike Kinderman, Director of Residence Hall Facilities in the Division of University Housing. "For many first-year students, it is a major milestone for the residents and their families, and University Housing works incredibly hard to give them the best, most welcoming experience possible."
On each of the three days, roughly 2,400 residents move in anytime after 8 a.m. on an assigned move-in day. University Housing student employees and international students will move in early on Aug. 25, to allow them to participate in training and get accustomed to campus.
Traffic around all University Residence Halls will be extremely busy on these days, and all lots near residence halls will be used for temporary unloading during move-in. Besides ongoing  construction on Walnut Street and near the Memorial Union, motorists should be aware of this additional congestion on campus and expect some delays, including the following changes to traffic flow:
Observatory Drive will be one-way westbound from Charter Street to Babcock Drive and open only to move-in traffic.
Elm Drive north of Observatory Drive will be one-way northbound and open only to move-in traffic. Traffic leaving the area will be directed west to Willow Drive, exiting south to Observatory Drive.
Lake Street between Johnson and Dayton Streets will be closed and used for move-in unloading.
Additional information and maps of parking/unloading areas during move-in can be found on the Division of University Housing's website.
—Brendon Dybdahl