Registration, early voting available on campus for April 3 election
Voter registration and early voting efforts on the UW–Madison campus will ramp up in the next few weeks in preparation for the April 3 election.
At stake in the election are a Wisconsin Supreme Court justice seat and a referendum to eliminate the state treasurer's office. Also up are other judicial, educational and municipal offices. To see what's on your ballot, go to https://myvote.wi.gov/en-US/PreviewMyBallot.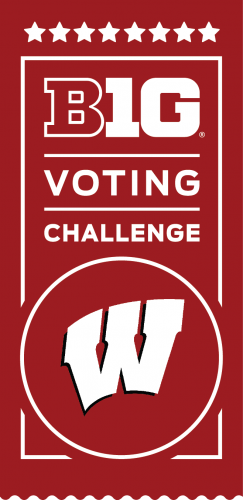 You can register at the city clerk's office or early voting sites until 5 p.m. on March 30. You can also register to vote on election day at your polling place.
There will be three sites for early voting and voter registration on campus when it begins on March 19: Union South (2 p.m. to 6 p.m. March 19-22), Memorial Union (2 p.m. to 6 p.m. March 19-22) and UW–Madison Student Activity  Center (10 a.m. to 2 p.m. March 19-22).
Early voting takes place at other locations in the city the following week, but not on campus because it will be Spring Break.
UW–Madison is competing in the Big Ten Voting Challenge, a nonpartisan effort that aims to mobilize registration and turnout activities at all 14 Big Ten universities. Trophies will go to the universities with the highest voter turnout and the most improved turnout in the Nov. 6 election.
Statewide elections this year are on Feb. 20, April 3, Aug. 14 and Nov. 6.
"One of the most important values we teach at our universities is the importance of civic engagement. Voting in elections gives our students a voice in the democratic process and in the decisions that affect local, state and national issues," the participating chancellors and presidents wrote in an announcement of the challenge.
Voter information for students is available at vote.wisc.edu. In addition, check out the Vote Everywhere UW–Madison Facebook page, and the @BadgersVote Twitter page.
You can register to vote at your polling station on Election Day, but being preregistered helps you vote faster. You can find out your voter status at the MyVote Wisconsin website.
Acceptable forms of identification to vote include a valid Wisconsin driver's license, Wisconsin state ID, U.S. passport, U.S. Uniformed Services card, Veterans Affairs ID, tribal ID or Certificate of Naturalization. For a full list, see the website bringitwisconsin.com.
For students without those forms of ID, UW–Madison's Wiscard Office in Union South provides a free voter-compliant ID card to enrolled students. The card is available at the Wiscard Office  from 8:30 a.m. to 5 p.m. Monday to Friday.
To vote using this ID, a student will need to present the card along with the voter enrollment verification letter available in the Student Center. This letter can be printed off or presented to the poll worker on an electronic device. The letter can also be used as proof of residence when registering to vote. The student will need to have their current mailing address entered in the Student Center.
On the election days of April 3 and Nov. 6, a second voter ID distribution site will be available in Gordon Dining and Event Center.
UW–Madison has a strong record of successful student participation in elections thanks to partnerships between Associated Students of Madison, the Division of Student Life, the Morgridge Center for Public Service, University Housing, the Wisconsin Union and elections officials in the city of Madison and Dane County.
Besides helping students register to vote, efforts include:
Posting signs in residence halls directing students to the proper polling place.
Creating a web link that students could use on smartphones at the polls to provide verification of enrollment.
Sharing information through vote.wisc.edu, social media and mass emails to students.
Providing space to ASM and other organizations for voter registration drives.
Providing a free voting-compliant ID card to any student needing one. (Students with a Wisconsin driver's license, U.S. passport or other acceptable ID do not need the card.)
The Vote Coordinator with ASM, Beth Alleman, is happy to help students register to vote, set up registration events or answer any voting-related questions, and can be reached at vote@asm.wisc.edu.