Rec Sports Master Plan vote next week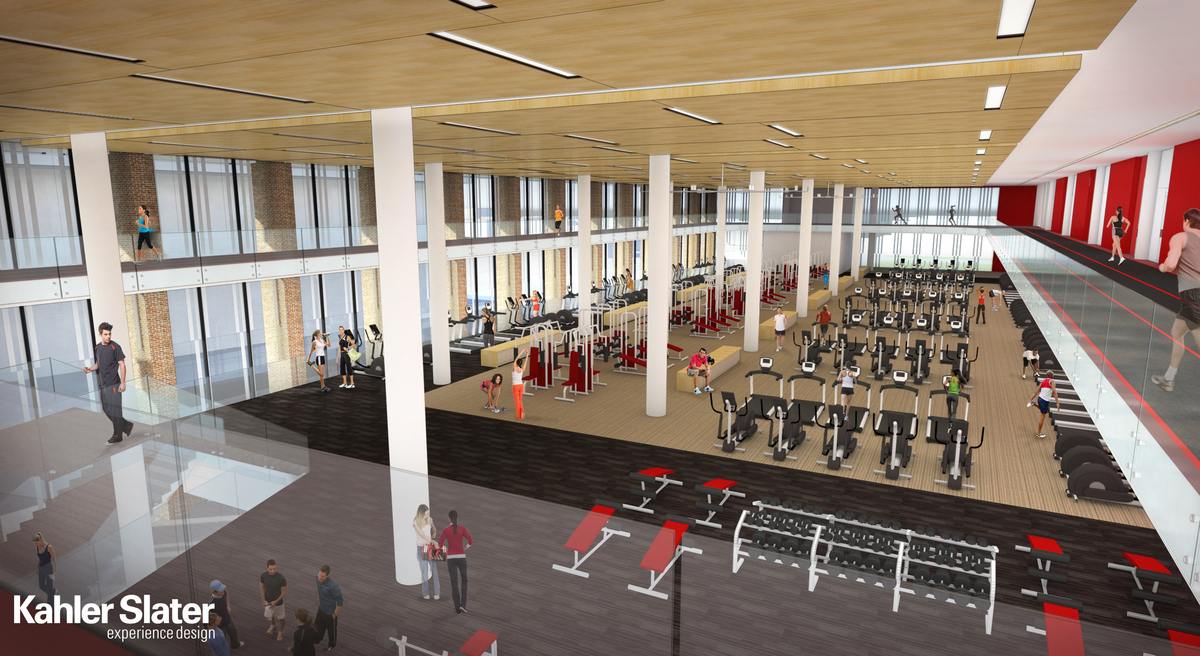 If the referendum is approved, the SERF will have additional strength and cardio space as well as opportunities for powerlifting, as shown in this architect's conceptual rendering.
Will money be spent to rebuild or repair? That will be a decision students make during the spring student elections, held March 3-5, when voting on a new Rec Sports Master Plan.
Voting will open at 8 a.m. March 3 at asm.uwsc.wisc.edu, and students will also receive an email from the Associated Students of Madison with the link to vote.
The referendum will be worded as:
The Division of Recreational Sports has submitted a referendum requesting an allocation of no more than $125.5 million to fund new recreational sports facilities. Students are being asked to fund no more than 57 percent of the overall cost of this project. The tentative schedule for the referendum capital projects is as follows:
SITE

PROJECTED DATE

PROJECTED INCREASE*

DATE OF INCREASE

NEAR WEST PLAYFIELD

2016/2017

$8

2016/2017

SERF

2019

$89

2019

NAT

2021

$5

2021

NEAR EAST PLAYFIELD

2021
*The numbers above are approximate and may reduce depending on other funding sources.
Any increases to student segregated fee payments will not be levied until the doors open for each new facility.The maximum student segregated fee increase would be $108, which would be paid each semester until the expiration of a 30-year bond between 2049-2051.
I support the segregated fee increase to help fund the proposal: YES ___ NO ___
If the Master Plan is approved, student segregated fees would increase after buildings reopen. If the referendum fails, fees would increase to at least double the current amount over the next five years with money going to repair existing facilities.
Exterior concept of the SERF, estimated to be completed in 2019. The new site would include more court space, fitness space and multi-purpose rooms.
Rec Sports had more than 1.7 million visits by users in 2012-13, including 83 percent of the student body. A new master plan is needed because the facilities have become outdated and are overcrowded, and it will take a considerable financial commitment by students to repair existing facilities, says John Horn, director of the Division of Recreational Sports.
The proposed plan is estimated to cost approximately $223 million. In addition to student segregated fees, funding sources include a combination of gifts, the state, UW Athletics and Rec Sports program revenue. At the request of students, Rec Sports has successfully kept the student proportion of funding for the upgrades consistent with their current share of funding support for Rec Sports operations.
Students currently pay $36.78 per semester in segregated fees for recreational sports and facilities. On average, Big Ten students pay $145.06 per semester for recreation programs. Given the current funding model for the referendum, the segregated fee is scheduled to come in below the Big Ten Rec Sports fee average for students, at the request of students. The proposal would result in a segregated fee increase of no more than $108 per semester.
The Natatorium would have 12 new, regulation-size basketball courts and a new indoor track.
The Recreational Sports Master Plan includes expansion and renovations of the Southeast Recreational Facility (SERF) and Natatorium as well as improvements to the Near West and Near East playing fields.
If approved, construction could begin in 2017 with a new SERF opening in 2019 and new Natatorium in 2021. The Near West and Near East fields are expected to be completed in 2016 and 2022, respectively.
Upgrades at the SERF and Natatorium would include regulation-size courts for basketball, volleyball, badminton and futsal, numerous multipurpose rooms, new indoor tracks and racquetball/squash courts.
There would also be three times the current amount of cardio and strength fitness space at the SERF plus renovations to the existing 50-meter pool and a wellness suite.
At the Natatorium, there would be seven times the current amount of cardio and strength fitness space plus an eight-lane recreation & instruction pool, indoor turf field, ice rink and wellness suite. An indoor track is included in the Natatorium plans as no indoor running facility is available on the Lakeshore side of campus.
The plans for the outdoor fields include four soccer fields at the Near East site (with an additional championship field) and the expansion to five flag football fields at the Near West site. All fields are planned to be lined with Ecofill turf made from recycled materials.
For more information, visit uwmadisonrecsports.wordpress.com