Ready-to-wear: These students design – and often wear – their own clothes
In between putting on fashion shows, designing fabrics and constructing garments for class projects, some students majoring in Textiles and Fashion Design find time to make clothes for themselves to wear.
Emily Popp challenged herself two semesters ago to wear only the clothes she had personally designed and fabricated for an entire semester, calling it her "fashion restriction." The intention behind the challenge was to force herself to make more clothes for herself, but swamped with school work she quickly realized that the garments she used weren't of high enough quality to withstand daily wear and tear.
"It was kind of rough actually," Popp said in retrospect, laughing.
Now in her final year within the School of Human Ecology, she said she now understands intimately the importance of durable, high quality fabrics.
The Textiles and Fashion Design program combines art, design, and science, with students engaging in studio projects and coursework covering historical and contemporary design. By the end of the program, students will have worked with industry professionals, staged gallery exhibitions and had the opportunity to spend their senior year at the Fashion Institute of Technology in New York City.
Luisa Fernanda Garcia, a recent graduate of the program, finds wearing her own clothes until they rip at the seams and fall apart is the essential final step in her design process. Before she can sell her clothes to other people, she said she needs to wear them herself so she knows how they handle wear and how to care for them.
"The problem that you get when you wear your own clothes is like, you get nuts, you get very picky," Garcia said of the strange downside of wearing something you've designed. "You're like, 'Damn, this stitch is not perfect.' And then you can see it every day – every day – because  you made it, so you know right away that something is not working."
"It gets into your head," she added.
Sarah Friedland, also a recent graduate, doesn't wear many of the clothes she designs. Perhaps it's because her designs wear on their sleeves – literally – what she feels on the inside.
"They're a little loud for me," she said. "I think it's more of kind of what I'm feeling on the inside. I'm not really a social person or very loud, so I think design is kind of my way of expressing myself where other people have the ability to be more vocal."
Friedland makes an exception, however, for a long, blue dress with a series of bold patterns on it. She rarely uses blue in her clothing, she added, but this piece has become one of her favorite designs yet.
Popp said she is inspired by people who are brave and bold with their fashion. Rei Kubokawa, the founder and designer for the Japanese fashion label Comme Des Garcons, is her favorite, praising her designs as the most cutting edge and creative in the fashion world – and, at 75, is still exploring new avenues with her art when most people have settled into a standard wardrobe.
Popp even takes photos of people she sees on the streets making creative choices with their outfits, posting it on her instagram account @fashions_of_wisconsin.
But it's her father who had the first and most lasting influence on how she views fashion. When she was growing up, he would always tell her that she could wear whatever she wanted and that looks don't matter, at least in the traditional sense.
"I think I've always felt like that inspiration of my Dad saying to me your clothes really don't matter, has given me a certain level of freedom to have fun with it instead of feeling that I need to look a certain way," Popp said.
Her favorite story of her father was when she was a kid and pined for a pair of wooden clogs. Although she only wanted the clunky wooden shoes as a knick knack, he agreed to buy them for her on the condition she wear them.
Popp agreed and sported them to school – for only one day, though. The underlying message, however, stuck with her.
"Like, who the hell says to their third grader, 'You have to wear actual wood clogs to school,'" Popp said. "That kind of mentality, where my dad was like totally no holds barred about what is and isn't appropriate to wear."
Garcia grew up in Colombia, where women dress for men, not for themselves, she says.
"The idea of the woman in Latin America is very stereotyped," she said. "I don't think they dress for feeling good or the pieces or this is a cool piece. I think it's more like, 'Oh, it looks more sexy.' And I hate that."
"What is sexy in a human being, for me, is how confident people feel," she added. "Yes, it is something physical, but [if] there's a strong personality behind and the clothing is showing that, to me is more sexy."
After studying Industrial Design in her home country, she moved to Paris, France to attend Paris 8 – what she describes as a revolutionary, "communist university" in both its politics and structure – and was immersed in a culture that approaches fashion from a vastly different angle than in Colombia.
The angle was analytical and deeply seated in theory. In fact, the Fine Arts major was contained within the Philosophy department, not in its own department as it is at most universities, including UW.
In her time at Paris 8, as well as her four years working for ELLE Magazine, she became more socially engaged about community and how she can change society. Coming from a developing country, Garcia knew first-hand the effect fast-fashion brands like H&M have on underprivileged populations. Predominantly in places like China and India, where manpower comes cheap, workers labor under hard conditions for little pay, producing copious amounts of pollution and chemical waste in the process.
While she was inundated day in, day out at ELLE with new fashion, new designers and new runway shows, her perspective on fashion shifted and then solidified.
"Suddenly I started to get enthusiastic and very happy, but I was always like, 'Well, this is junk. Do people need more? Do I need to make more? It's more waste,'" she said.
Garcia said it has become essential that the clothes she buys be made ethically, from paying workers fairly to being made with natural, environmentally friendly dyes and fibers. This extends to her own designs, which she often brings back to small artisans in Colombia to make. She said she wants to help these women who have struggled to stay competitive in a global market that favors the cheapest labor possible.
"When I make my own pieces I try to bring that same energy that I like when I buy pieces," she said.
The program takes a similar approach to fashion as Garcias, envisioning the art form as not just an aesthetic pursuit but a discipline that has environmental and human consequences.
"In Design Studies we promote a mindset that embraces the entire cycle of fashion in a holistic way," Professor Roberto Rengel, Chair of the Department of Design Studies, said. "Students take into account the source of the materials they are using, where and how garments are manufactured, the path from production to stores, and ways to re-use or recycle the piece when it is dispose of.  Along the way, they learn to make responsible choices that are ethical and sustainable."
Friedland has had a more circuitous route to fashion. She started at the University of Denver, where she studied music, transferred to UW for Animal Science and the Ecology Wildlife program with the aim of becoming a vet, and then after writing for the student-run fashion periodical Moda Magazine, landed on the Textiles and Fashion Design program.
Despite not always being passionate about fashion, she said she has always dressed uniquely.
"I always had my own style. It wasn't necessarily great, but it was my own," Friedland said.
Her design aesthetic often hearkens back and references her childhood. In high school she dressed in bold colors, wearing pink or blue tights everyday. Her designs copy these younger years, despite refining and mellowing her own personal style, and juxtaposes the "bright and girly" with the "mean."
For her thesis, for which students design a collection and display them in a runway show, she centered on a theme which contrasted the sticky sweet images of childhood with the heavy anxieties of adulthood. She entitled the collection "Sugar-Free."
"It was mostly about my anxiety about leaving school," Friedland said. "It was kind of like a desire to go back to childhood where things were simple and I didn't have to worry about anything and protecting myself from any hardships that come after I graduate."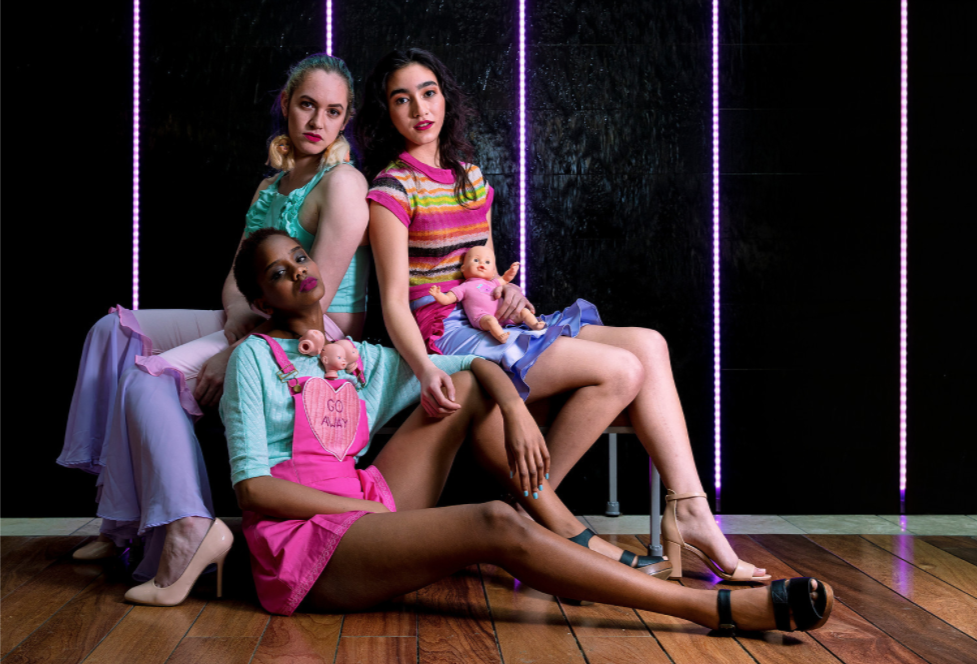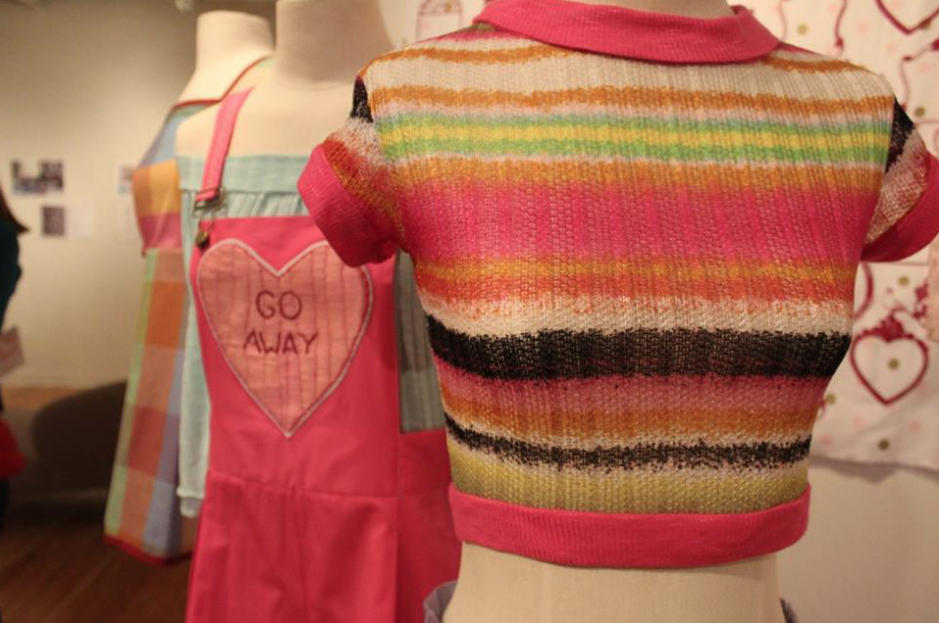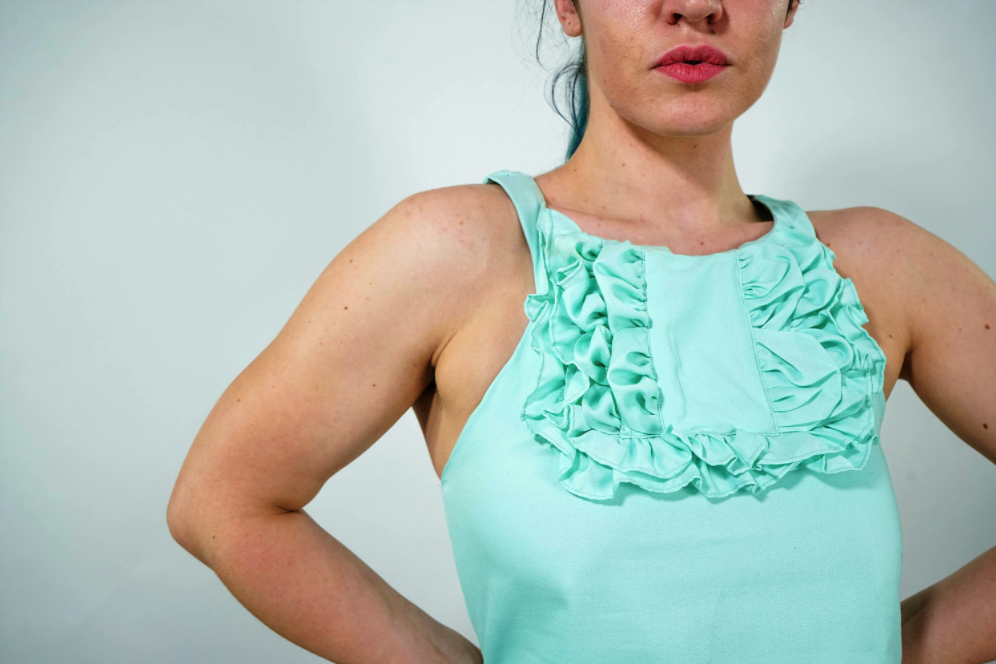 Each student has a different form they most like to play with. Where Friedland likes to play around with color and themes and Popp is inspired by fabrics, Garcia loves unique patterns and striking textiles.
Because second-hand fabrics at thrift stores are cheap, Popp collects them and often combines them, hoping to hit upon something novel and non-traditional. She said repurposing preexisting used material into a new piece is one of her favorite things to do.
"Sometimes I like to try to use a fabric that is inappropriate for the medium," she said. "I think I mostly take inspiration from the fabric itself … and then see what happens from there."
In one piece, what she aptly named "The Hundred Pound Dress," she combined 100 pounds of used clothing into one giant dress.
Garcia said she is all about colorful patterns. In her shoes, clothes and drawings, she always plays with eye-popping designs. Wearing colorful patterns helps to bring out a person's personality, she said, and helps them be more bold and confident.
"People who want to disappear in society wear blue or black," Garcia, wearing a bright orange and tan tunic, said.
She said she found her style at UW. While she enjoyed writing hundreds of pages on French art theory at Paris 8, she said UW was like a three year concentration "about me and my work and the way that I see the world."
Wearing her own clothes both markets herself and her business and expresses who she is, she said.
"It feels like every time that I have a show, for instance an art show, I like to make a special piece for that show," she said. "I want to invite the viewer to my whole universe, from my shoes to my jewelry to my wall pieces. I want them to feel me."