Rare texts, technology tell Shakespeare's story in seminar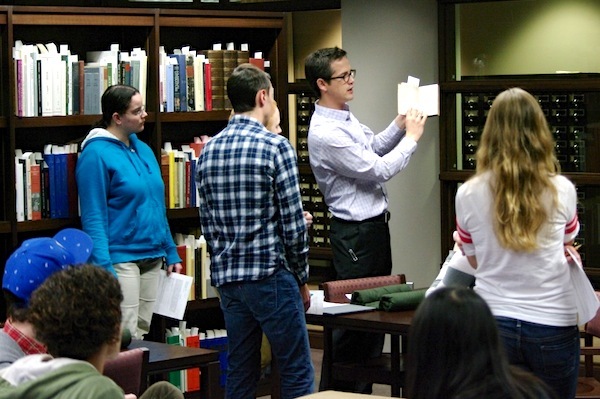 English Professor Joshua Calhoun displays a rare book to students in a class in Special Collections.
Photo: Kevin Boettcher
Harnessing today's technology and rare books dating back to the 16th century, students and a faculty member will bring to life the works of William Shakespeare on Saturday, June 21 at the University of Wisconsin–Madison.
As part of the Department of English's Mendota Seminar, which this year is built around Shakespeare's 450th birthday, undergraduates and graduate students will curate notable rare books from the Memorial Library's collection.
English Professor Joshua Calhoun describes the Special Collections texts as his "best teaching tool," even in the digital age.
The seminar will focus on the works of William Shakespeare, 450 years after his death. Read more about Joshua Calhoun's views on Shakespeare's influence here.
The event, "Shakespeare, Special Collections and the Future of Books," will be held in the Rare Books Room on the ninth floor of the Memorial Library from 1:30-3 p.m.
This is the first year that undergraduates have participated as teachers in the event. Seven undergraduates and two graduate students are set to display the rare texts to seminar participants.
Calhoun says the rare texts are powerful educational tools that shine a light on the literature and the time in which they were published.
For example, Calhoun says his class on 16th century English literature was poring over literary works and discussing their findings. It's not unusual for students to find 16th century handwriting in the margins and wormholes winding through the pages.
One student in that particular class was excited to find a leaf in one of the books, bearing the initials R.M.L.
"The head of Special Collections bee-lined to where he was sitting, looked at the inscription on the front flyleaf of the book and announced to the class what their classmate had just discovered in an 1875 edition of Shakespeare's plays was a note written on a leaf by Fighting Bob La Follette," Calhoun says.
The student curators at Saturday's event will circulate through the room, teaching and showing some of the Special Collections gems to the participants. They'll explain how books were produced four centuries ago and invite participants to turn the pages of books that have circulated since Shakespeare's time.
Calhoun will cap the session with a short talk about two editions of Shakespeare's sonnets that he most enjoys teaching. One edition is in Special Collections, a second edition of the sonnets published in 1640. The other is on his iPad, in the Shakespeare's Sonnets app by Touchpress from 2012.
The student curators will join Calhoun for a question-and-answer session afterwards.