Q&A: Scholarship winner says you should build a 'global network'
University of Wisconsin–Madison alumnus Brian Drout has been named a Schwarzman Scholar, receiving full tuition for a one-year master's degree program in Tsinghua University in Beijing, China.
The scholarship, inspired by the Rhodes Scholarship, seeks to "prepare the next generation of global leaders for the challenges of the 21st century and beyond." Drout was among 129 students selected from 2,747 applicants in 119 countries.
Drout, from Wales, Wis., graduated Phi Beta Kappa in 2014, studying political science with a certificate in environmental science. Drout currently works as a senior foreign consultant at New Oriental Overseas Consulting in Nanjing, China. He focuses on student academic and admissions consulting in cross-cultural context.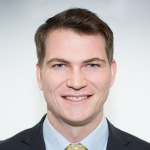 University Communications recently discussed with Drout about how UW–Madison prepared him for this opportunity and what advice he gives for fellow UW students to expand beyond the state borders.  The interview was edited for style and clarity.
Q: What does this opportunity mean to you?
I'm thrilled about the opportunity; it's a great honor. The application process was intense. They flew non-Chinese, Asia-based semi-finalists out to Bangkok for a panel interview at the end of October. My panel was full of distinguished professionals — including Rob Garris, the director of admissions for the entire Schwarzman program, and Chan Heng Chee, the former ambassador to the US from Singapore. It was pretty intimidating to sit in front of that group and seek to present a vision for how I wanted to study Chinese-backed infrastructure projects in Latin America. The interview went as well as I could have hoped; I left the room feeling I had shown who I was, how I think, and what I can do. It was a remarkable feeling to get in. In all honesty I'm still processing it.
I am proud to be a product of public schools in Wisconsin, both Kettle Moraine High School and of course the University of Wisconsin–Madison. I don't want to overstate what I've accomplished by getting in — the work of the program has yet to begin — but it feels good to go out there and compete against the Ivys and other elite private schools and be successful. I can't trumpet the virtues of public education enough and not add an appeal to the leaders in our state to strongly support public schools, both to ensure that UW remains a world-leading university but also to make sure that school districts across the state get the support they need to ensure equal opportunity for all Wisconsin students. I am really proud of getting in, but it did require some luck, and I had a lot of help.
Q: How did your time at UW–Madison prepare you for your current work in China and what you're hoping to do in the next year or two?
BD: You know it's a funny story. At Wisconsin, I studied political science and sort of carved out a focus on Latin American politics while studying Spanish. I didn't study Chinese or Chinese studies, though I wish I had. I have friends who have gone through the East Asian Studies department and it's terrific. I went to Peru through UW's study abroad program the fall of my senior year and returned to Wisconsin for that final spring semester, which proved to be a pivotal time for me.
I knew I wanted to continue living abroad and it's a remarkable way to stretch yourself and learn. I had gotten pretty good with Spanish after that semester and wanted to work on another language. I felt China was a remarkably important country, and I wanted to learn more about it. I found a teaching program based in Shenzhen and applied almost on a whim. I moved to China in the summer of 2014, fresh out of college, without a firm plan or sense of what I was doing. But I think UW prepared me for that, for the risk-taking. You take a curious mind to new experiences and begin to make sense of them and the world.
The most critical experience in getting me to think globally was CRC Global, a service learning course and volunteer trip to the Dominican Republic, which was run by Gwyn Schell and Jasmine Clay during my sophomore year at Chadbourne. That experience was pivotal for me early on in college, and in many ways set up the frameworks that I still call upon today for thinking about cultural exchange, international development, and global citizenship. I think without that program it's unlikely I would have studied abroad in Peru, unlikely I would have moved to China, and unlikely I'd be a Schwarzman Scholar.
The past few years have taught me that the best laid plans have a way of changing course, so for now, I'll celebrate the opportunity and do my best to make it count in a way that embodies the Wisconsin Idea.
Q: Do you have any words of advice for current students about the value of working/studying abroad?
BH: I absolutely endorse taking advantage of study abroad, or working abroad, if you can manage it. Language study is big, and I really would encourage everyone who has the means to study another language. I know sometimes there are things holding you back from taking the plunge to live abroad, but even so, I would encourage American students at Wisconsin to take part in the international student community on campus. I work now guiding Chinese students through the process of applying to US schools, and I think one of the really amazing things about being a college student in this generation is the ability you have to make international friendships and build a global network.
Jessica Chen, a friend and fellow Badger, connected me with my current position in Nanjing, her hometown. I met her playing cards at Professor Elizabeth Sawyer Kelly's weekly bridge table at Union South. My friend Cecilia Miao from Chadbourne, was a co-founder of Channel C at Wisconsin and helped connect me with a network when I arrived in China. It was her friend, fellow Badger and Channel C co-founder Pan Fangdi, who first introduced me to the Schwarzman Scholars Program and encouraged me to apply.
I think the best advice I can give is to be curious about the world and find a way to act on that curiosity in a way that builds meaningful relationships with people that transcend differences in nationality.