Program helps address nursing shortage in rural Wisconsin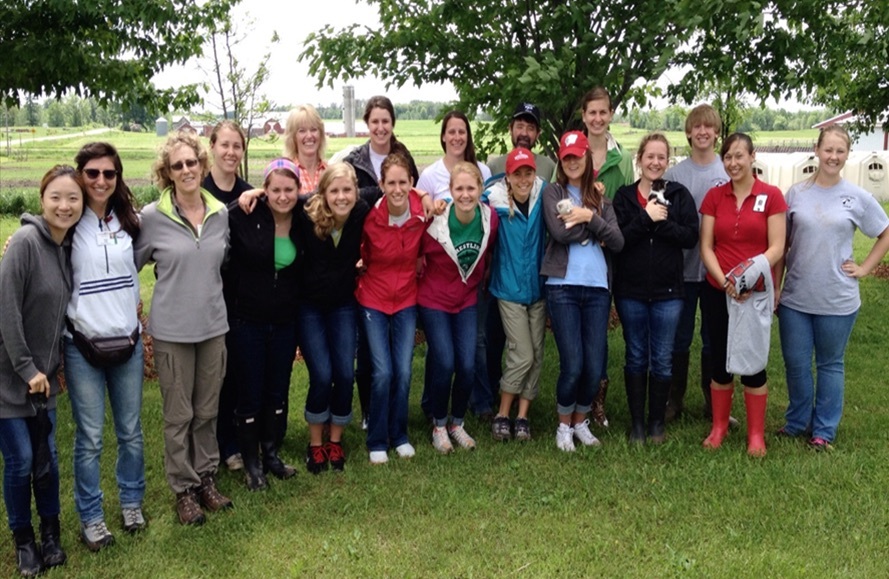 Assistant Professor Pam McGranahan with a group of nursing students on a tour of a dairy farm in Rusk County, Wisconsin. Photo courtesy of the School of Nursing
A dairy farmer in northwestern Wisconsin sized up his mangled thumb, wrapped in duct tape, and issued his prognosis: It would heal eventually and, besides, it was milking time.
The man was one of many rural residents that University of Wisconsin–Madison School of Nursing students met during an annual three-week Rural Community Health Immersion Clinical program.
"It's a totally different perspective for the students. But it's that farmer's reality. He said, 'I think it's going to be OK.' He had this wicked-looking thumb and said he was self-insured with a high deductible and had cows to milk," says Pam McGranahan, clinical assistant professor and coordinator of the summer program.
The hands-on experience in Rusk, Barron and Chippewa counties introduces nursing students to rural health care issues as they aid communities in providing health education.
"They sometimes feel like they fail if they don't get a job in Chicago, Milwaukee or Madison when they graduate. I want to introduce them to rural communities, where they can have a broader range of responsibility," McGranahan says. "You don't fail and see less when you're in these rural communities. You actually see and do more."
About 16 students each year take a spring semester class in rural health to prepare themselves. During the clinical, they work at free clinics, stage bike rodeos to promote helmet use and safety, help organize immunization clinics, work in a soup kitchen, ride along with sheriffs and EMTs, present health education programs, test beachwater and go along on restaurant inspections.
Anita Zimmer, Rusk County's interim health officer, says students gain from their experiences in a rural setting and the community gains from their involvement.
Senior nursing student Judith Kornblatt tests beach water as part of her clinical program in Rusk County, Wisconsin. Photo: Pam McGranahan
"All of these experiences are so important and the health department recognizes the importance of the students gaining this experience while also receiving the benefit of projects and extra sets of hands for events," Zimmer says. "The other benefit to the health department is being able to bring fresh eyes and perspectives to the work we are doing and hearing new ideas and project proposals."
Students also learn about environmental, occupational health and cultural issues unique to the area. For example, they visit a turkey processing plant in Barron, where Somali immigrants make up a significant share of the workforce.
"I have them walk down Main Street, because there are your traditional Wisconsin farmers in pickup trucks and there are women in burkas," McGranahan says. "We have breakouts about how to promote health in both populations."
Natasha Crooks, a doctoral nursing student who participated in the clinical in 2012, helped educate young, male first-time offenders about sexually transmitted infections in a program called Operation Fresh Start, helped organize a bike rodeo and ran a program on infant car seat safety.
"We're in a bubble on campus and it was great to explore what else is in Wisconsin and be immersed in a community," Crooks says. "At Operation Fresh Start, the program we ran was interactive. It was engaging. It was fun. Most of all, it was effective."
Last year, nursing students scrapped other plans and helped local health officials set up and operate mass immunization clinics in response to outbreaks of hepatitis A and pertussis in Rusk County.
"We know where our nursing shortage is right now. It's in rural parts of Wisconsin," McGranahan says. "Nurses there tell me they need that infusion of new blood."
Sarah Kruger, a clinical professor who ran the program in 2012 and 2013, says an increasing number of nursing students are interested in rural and community health, where needs are often the greatest.
"We're learning, but we're also giving back," says Kruger. "We're not just about our little silo here in Madison. We're owned by the taxpayers and we want to give back to the state in terms of our knowledge and our skills."