Photo exhibit to show 100 years of change in China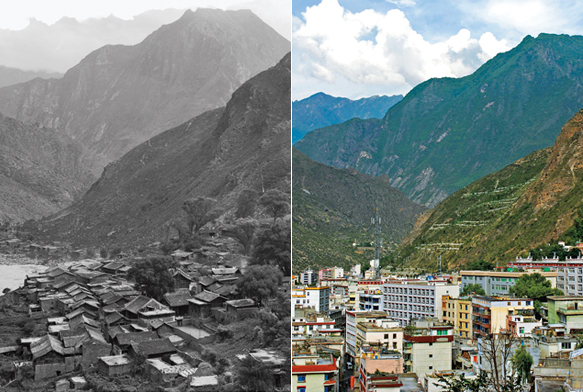 Photographs of the town of Danza in Sichuan Province, captured by Ernest Henry Wilson in 1908 and Yin Kaipu a century later, both reveal dense development in the tight mountain valley.
Photos: © President and Fellows of Harvard College/Arnold Arboretum Archives (left), Yin Kaipu (right)
A unique collection of photographs documenting a century of landscape transformation in China will be on exhibit throughout November at UW–Madison. The exhibit, "Evolving Landscapes: 100 Years of Change in Western China," will be the first-ever public presentation of the images.
The exhibit, hosted by the Nelson Institute for Environmental Studies, the School of Human Ecology and the Wisconsin China Initiative, will take place Nov. 3-27 in the Ruth Davis Design Gallery at Nancy Nicholas Hall, 1300 Linden Dr. A formal opening on Thursday, Nov. 7, will include an all-day symposium and an evening reception. Conservation biologist Peter Raven of the Missouri Botanical Garden will deliver the keynote address.
The photographs were captured by two accomplished scientists who, separated by more than 100 years, explored the rugged landscapes of China's Sichuan and Hubei provinces. Professor Yin Kaipu of the Chinese Academy of Sciences retraced the steps of early 20th century British naturalist and photographer Ernest Henry Wilson, who had taken hundreds of detailed photographs in southwestern China — one of the most biologically diverse regions in the world outside of the tropics. Yin, a botanist, re-photographed the same locations, allowing viewers to explore a complex range of environmental, social and economic changes.
"This is an extraordinary collection of images from one of the most environmentally and economically important regions of the world," says Nelson Institute director Paul Robbins. "The work of these two photographers, separated by a century, helps us understand the scale of change in western China."
Expert commentary by UW–Madison faculty members will accompany each comparative set of photographs in the exhibit, which will explore topics ranging from urban development, climate change and natural disasters to cultural values and family traditions.
A delegation of Chinese officials and scientists, including photographer Yin Kaipu, will participate in the opening events on Nov. 7, which are free and open to the public.