Parking attendants keep things moving during campus events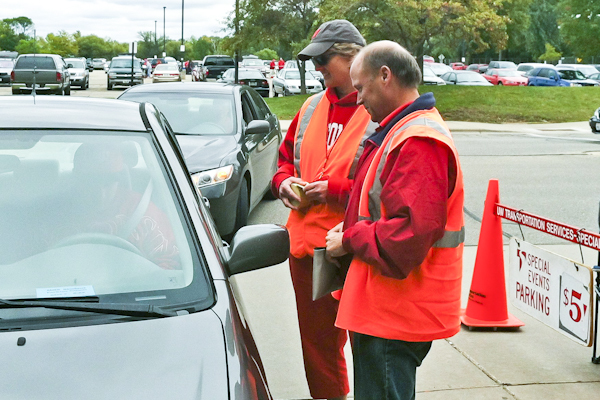 Parking attendant Steve Pschorr (right) enjoys bantering with fans as they arrive at lot 76 for Saturday's Badger football game.
At 6 a.m. on a home football Saturday, most tailgaters haven't even finished marinating their meat — let alone shown up at Lot 60. Even though the Badger game won't start for another eight and a half hours, Steve Pschorr is setting up his camping chair outside the Lot 76 ramp, waiting for the crowds to arrive.
It'll be a while. The cars won't start trickling in until 8 or so, but Pschorr is prepared: a book, a few Sudoku puzzles, and the all-important layers of clothing.
Pschorr and his fellow parking attendants are some of the people who keep things moving on game days. No small feat: during that time, Camp Randall Stadium temporarily becomes the fifth largest city in Wisconsin.
"We're out here to make sure that ticketholders can not only have a place to park, but a place to tailgate and enjoy themselves," says Kim Henderson, manager for special events and citation appeals at University of Wisconsin–Madison Transportation Services. "Steve is dependable, friendly, helpful — has great customer service — and he's a BIG Badger fan."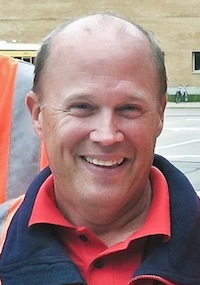 Steve Pschorr
Pschorr is one of 40 limited-term employees employed by Transportation Services throughout the year, helping out with everything from football to career fairs and SOAR. Most events only use a few lots close to the core facilities.
On home football days, however, 25 LTEs take their places alongside full-time workers and Naval ROTC midshipmen (whose yearly fee contributes toward scholarships, technology and other school-related needs). They gather at the Welcome Center to receive a fleet vehicle, a roll of tickets, startup cash and any game-day instructions.
Then it's off to the lot. For sold-out spots, only one person needs to manage the flow; for locations where parking is still available, two or three people will trade off to manage money (and, on occasion, the weather).
The job is a perfect complement to Pschorr's other life. As a realtor and longtime youth hockey and soccer coach, his schedule can vary each week, so he can take some daytime events that other attendants can't.
The LTEs sign up for anywhere from two to eight events a month. When Henderson sends out a list of events a month ahead of time, respondents sign up based on their own availability.
"It's a really neat mix of people: some older people who are retired, a lot of students," says Pschorr. "A lot of people have full-time jobs elsewhere, so they aren't available during the week. I'm self-employed; I work when I have clients. And I still have all afternoon and evening to do what I want."
"Steve is dependable, friendly, helpful — has great customer service — and he's a BIG Badger fan."
Kim Henderson
For a people person like Pschorr, the perks are endless. He'll banter with Badger rivals — North Dakota hockey fans are always a favorite — and offer dining tips for out-of-town visitors, who sometimes make a point of driving out of their way to thank him. Travel Series ticket holders sometimes dress up in location appropriate gear, arriving in leis and flowered shirts for a Hawaiian event.
And then there's the food. A plate of juicy brisket sits on Pschorr's chair, courtesy of the tailgaters in nearby Lot 60.
Big names stop by, too: Alvarez, Richter, even former quarterback Russell Wilson.
"Oh, I've liked him since day one," says Pschorr. "He's such a neat guy; I was working over at Lot 17, and — hey!"
He leans over, waving to a fellow realtor.
"You taking the shuttle? Make sure they win, okay?"
Even when his game day experience involves a neon vest (over the obligatory red shirt, of course) and a post nearly a mile from the stadium, Pschorr picks up on the excitement.
"People always grumble about parking — that's just what it is," he says. "But they're coming to a football or basketball game, they're excited, they're wearing red, they want to be there. It's fun."
As a lifelong resident of Madison, Pschorr loves the way his side job lets him see the many ways in which the university touches people's lives.
"People will come into work and say, 'What's going on today?'" says Pschorr. "Let's see: there's a soccer camp going on over here at the McClain Center, and Engineering Career Fair over here, campus tours over at Union South, and sometimes there's SOAR going on — and people are coming in to work their regular jobs. It may not always involve 80,000 people for a football game, but there's something going on everywhere."