Opportunity to represent Team USA arrives 34 years later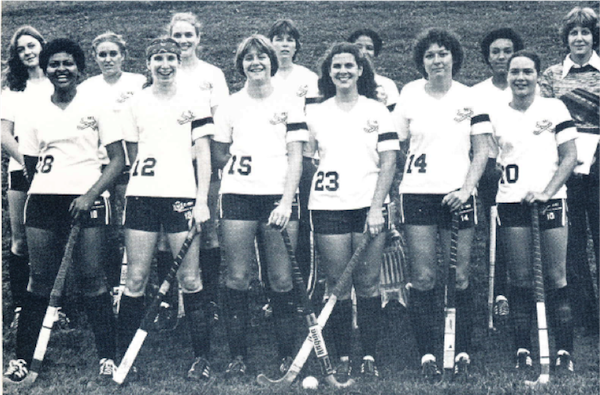 Elaine Bower, No. 15, is pictured with the Carnegie Mellon Field Hockey team.
Photo: University Archives, Carnegie Mellon University, Thistle Yearbook
Elaine Bower is finally fulfilling a dream that's been more than 34 years in the making.
This month, she will compete on the Women's Masters (50+) field hockey team, representing the United States in the FIH Masters Hockey World Cup. The event is being held June 5-13 in Rotterdam, Netherlands.
Bower, a program director with the Department of Engineering Professional Development at UW–Madison, has had a lifelong passion for the sport.
She began playing field hockey in high school, competing all four years, and continued in college at Carnegie Mellon University, where she was chosen as co-captain her junior and senior years.  
While in college, Bower participated in Olympic development camps, which were part of the Olympic and National Team selection process.
That's when her Olympic dreams began, with hopes of representing Team USA in the 1980 summer Olympics in Moscow. Those dreams were put aside, however, when the United States and 65 other countries boycotted the games in opposition to the Soviet invasion of Afghanistan.
Elaine Bower is pictured with her daughter, Christine.
Unlike today, athletic sponsorships were not available for Olympic athletes, so holding out until 1984 was not an option.
With her Olympic dream dashed and college over, Bower turned her focus to her career and that focus has helped her become a master program director at UW–Madison.
Annually, she runs nearly 30 professional development courses in chemical and process engineering for practicing engineers. In 2012, the American Institute of Chemical Engineers elected Bower as a fellow, the highest grade of membership.
Although the Olympic dream faded, Bower's love for the sport of field hockey continued. After college, she played for four years on a traveling women's team before moving to Wisconsin.
Busy with her career and family, her active role in field hockey would not begin again until 2009, when her daughter Christine began playing field hockey for the University School of Milwaukee.
Bower served as an assistant coach in 2010 and 2011. It was through coaching that she was introduced to the Milwaukee Field Hockey Club.
After several years playing with this club, Bower learned of the tryouts for the Women's Masters (50+) USA team. In February, Bower took advantage of this opportunity and tried out. Two months later, she was an official member of the team.
She met with teammates last week in Rotterdam for practice,  where she will play mid-field or back.
Bower will be in great company. Her teammates include past Olympians and past National Team members.
"It's such a huge honor to be on a team with such amazing and talented people," Bower says. "I am just happy to be part of this prestigious group."
This is the first time the U.S. has entered a Women's Master team, so there are a lot of unknowns, but England and the Netherlands are both expected to have strong teams.
For Bower, just being there will be fulfilling enough.  
"I am most excited about wearing the red, white, and blue and being apart of a national team representing the USA," Bower says. "It has always been a dream."
– By Scott Hannan