Of Badgers and bovines: Jordan Ebert pursues both passions at UW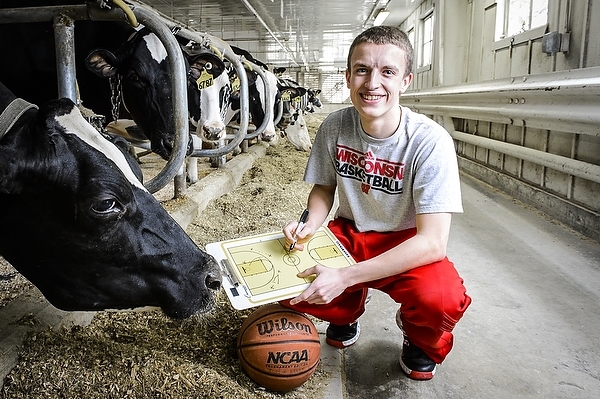 UW-Madison undergraduate Jordan Ebert is pictured at the university's Dairy Cattle Center. Ebert is a sophomore pursuing a degree in dairy science as well as a student manager for the Wisconsin Badger men's basketball team.
Photo: Bryce Richter
Like many University of Wisconsin–Madison students, Jordan Ebert found himself in Dallas this March, cheering on the Badgers in their Final Four matchup with the Kentucky Wildcats, adding to a list of memorable moments in his young undergraduate career.
A sophomore pursuing a degree in dairy sciences, Ebert had already had two experiences his first year on campus that, he says, will stay with him for the rest of his life.
The first is one that will linger for any Badger fan.
With only 2.4 seconds left in a closely fought regular-season game, Badgers guard Ben Brust sprinted across the basketball court, snagged a pass out of the air, took one dribble and launched a half-court shot that fell through the net, sending their game with the third-ranked Michigan Wolverines to overtime. The Kohl Center erupted, the Badgers went on to win and hundreds of ecstatic students stormed the court.
Ebert watched from some of the best seats in the house, since student managers for UW athletics get to sit right behind the player's bench.
"I called my dad later that day," he remembers. He told him that "they're going to be talking about this one for a long time and I'll be able to say that I was right there.'"
Ebert's second memorable moment also involved a competition steeped in Wisconsin tradition.
"Neither of my parents went to college and nobody in my family really got secondary schooling like this. So I came in with very little knowledge about college and because of that, very few expectations. I was just kind of thrown into it and thought, 'Well, here we go.'" 
Jordan Ebert
The glow of three spotlights circled the arena floor of the Alliant Energy Center as an announcer intoned over the loudspeaker, "the 2012 World Dairy Expo Supreme Champion of the Junior Show…is Siemers Goldwyn Goldie, the Holstein exhibited by Jordan and Whitney Ebert of Algoma, Wisconsin."
The lights converged on Jordan Ebert, holding the halter of a huge heifer amid the wave of audience applause.
It's not been a bad start for someone who had almost no expectations for college.
"Neither of my parents went to college and nobody in my family really got secondary schooling like this. So I came in with very little knowledge about college and because of that, very few expectations. I was just kind of thrown into it and thought, 'Well, here we go,'" he says.
If college leads to eventually taking over the family business, Ebert will become a seventh generation dairy farmer. It's a legacy he's proud of, and he believes his dairy science degree will help him become a farmer who can keep it going.
Randy Ebert, Jordan's dad, currently oversees Ebert Enterprises, a dairy operation of nearly 3,000 cows in Algoma. But, as Randy once commented in the publication Agri-View, "It's hard to involve kids in the farm when it gets to this size." Jordan Ebert headed to Madison in part to get more hands-on dairy apprenticeship.
With classes focused on things like dairy management, nutrition and reproduction, Ebert says he's slowly learning how a big dairy is run – and why it takes a team of not just farmers, but nutritionists, veterinarians and extension agents.
"There's so many aspects to cover and things to know," he says. "I didn't realize [that] this isn't just all everyday farmers trying something out and then saying 'Oh, hey, that worked,'" Ebert says. "There's also a lot of science behind it that they try to get out to the farmers of Wisconsin and [both groups] give and take with each other."
While the table certainly looks set for Ebert to one day take the reins from his father, there is a second calling that he can't shake. Ebert's been playing basketball, as he puts it, "since I was little, on."
At five foot, six inches, though, the game didn't come easy to him. He prided himself of being knowledgeable about the game and having impeccable fundamentals, a style of play that drew him to the Badgers.
"The two things teach life skills. You never get too high and you never get too low. I think that's a big thing in sports, and it's a big thing in life, and I think it can be a big thing in my future with farming."
Jordan Ebert
"It's true basketball," he says, and it's something he knows will continue to be part of his life.
"Jordan has one of the best work ethics I have seen in my time here," Algoma high school's varsity basketball coach, Bob Graf, says, adding that Ebert has stayed involved, helping coach summer league basketball and some skills camps. "Jordan's ability to teach and communicate makes him a very effective coach. He could absolutely be successful in coaching."
"I've always dreamed of college coaching," Ebert says.
But he's not sure if it will ever be his "real" job. "That's another level beyond, but it's always in the back of my mind. What if there was an opportunity that presented itself?"
Right now, Ebert's having his cake and eating it, too. Coming to UW–Madison has allowed him to work with one of the best college basketball teams in the country while also studying in one of the nation's best dairy science programs.
His only mandate from home is to pursue every opportunity.
"By no means is my dad pressuring me to come back to the farm," Ebert says. "The pressure is more for me to explore and try different things. The farm is always going to be there."
Surprisingly, that's a sentiment that Ebert has heard in his major department.
"Jordan is someone who took the advice we give to new students to get out and get involved," says Ted Halbach, a dairy management instructor in the Department of Dairy Sciences. "So much of a student's education happens outside of the classroom, and I'm sure he would agree that besides the fun he had as a team manager, his experience in the role garnered life skills he can use as a dairy farm manager or any career path he may choose to pursue."
Ebert has taken these messages from both home and school to heart – most recently making the trip to Dallas for the NCAA Final Four.
And, when Traevon Jackson's desperation shot failed to fall, leaving the Wisconsin Badgers stuck on the doorstep of the national title game, Ebert was disappointed, but able to truly enjoy the remaining games, a mindset he credits to his work with both basketball and bovines.
"The two things teach life skills," he says. "You never get too high and you never get too low. I think that's a big thing in sports, and it's a big thing in life, and I think it can be a big thing in my future with farming."