Objects of curiosity emerge during renovation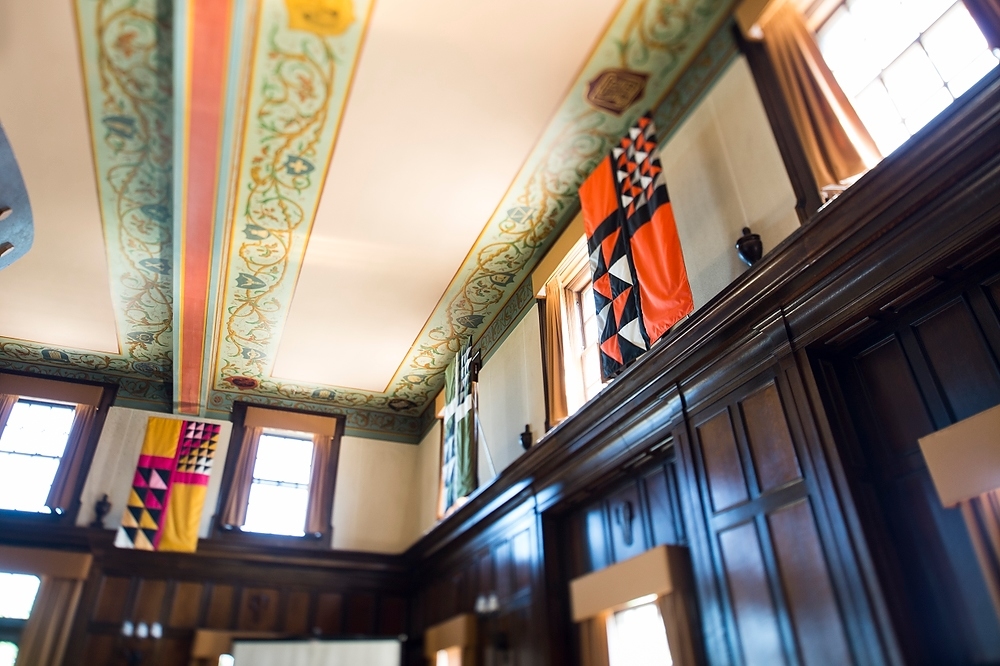 Decorative banners and painted emblems adorn Tripp Commons in the Memorial Union, which is undergoing a renovation and restoration. The Memorial Union Reinvestment is slated to finish in 2017.
Photos: Jeff Miller
Whenever you renovate a near-century-old building, you're bound to discover items that were stored away and completely forgotten. Some are a little more surprising than others. At the Wisconsin Union Theater, workers found several bottles of moonshine hidden within the walls (no, nobody tried it — the bottles remain unopened).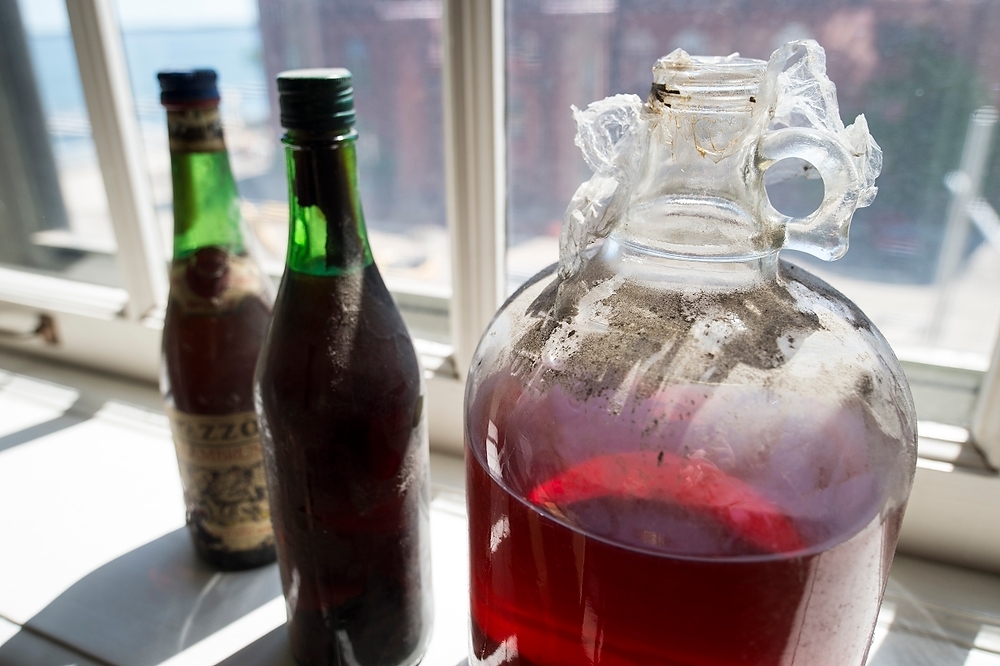 Vintage bottles of moonshine were found within the walls of the Memorial Union during the building's renovation.
Some objects were a little more innocuous than moonshine. In a stairwell closet that formerly served as the theater's archival storage area, workers came across massive crates packed with posterboards and exhibits commemorating the theater's opening in 1939 and documenting its construction process.
Part of the original stage was saved and placed in the entrance lobby of the new theater. The names of many famous people who spoke or performed there now encircle the boards, giving the public the chance to stand where politicians, musicians and civil rights leaders once did years ago.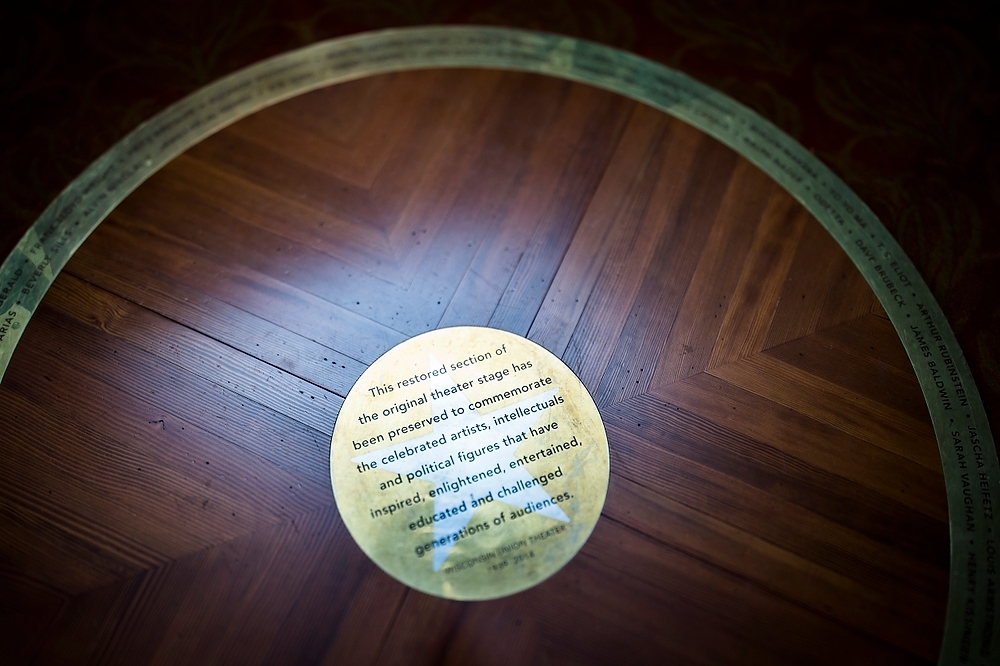 A circle of original Wisconsin Union Theater stage floorboards in the lobby of Shannon Hall. The emblem features the names of more than 50 notable people who have performed during the theater's history.
Plenty of other objects from yesteryear add to the overall décor of the Union, but they may be difficult to spot. The canoe from the first-ever Hoofers trip hangs above the Outdoor UW entry hallway. Inside Tripp Commons, shields from various schools and colleges are painted on the ceiling, with their respective flags hanging from above.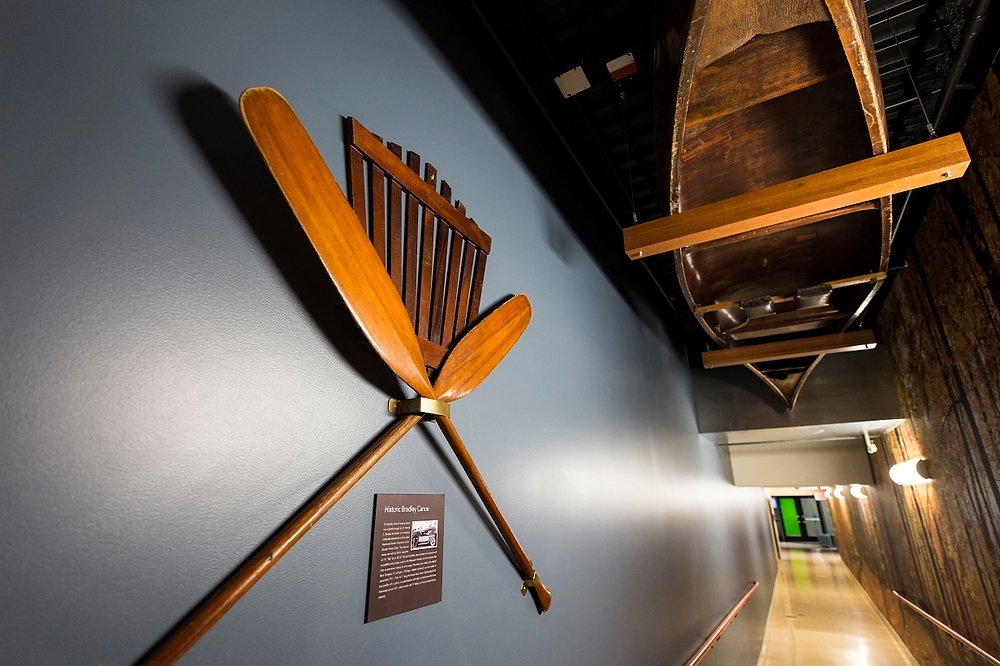 A vintage canoe and paddles from the first-ever Hoofers trip hangs above a hallway corridor leading to Outdoor UW.
Elsewhere on the second floor, dark wooden boards flank the corridor. Known as the gold star honor roll, they are easy to overlook, but they're the essence of Memorial Union. Names of University of Wisconsin students who died in World War I are etched into these boards due to the Union's status as a war memorial. During the renovation, an electronic kiosk will be added to display the names of veterans of later conflicts.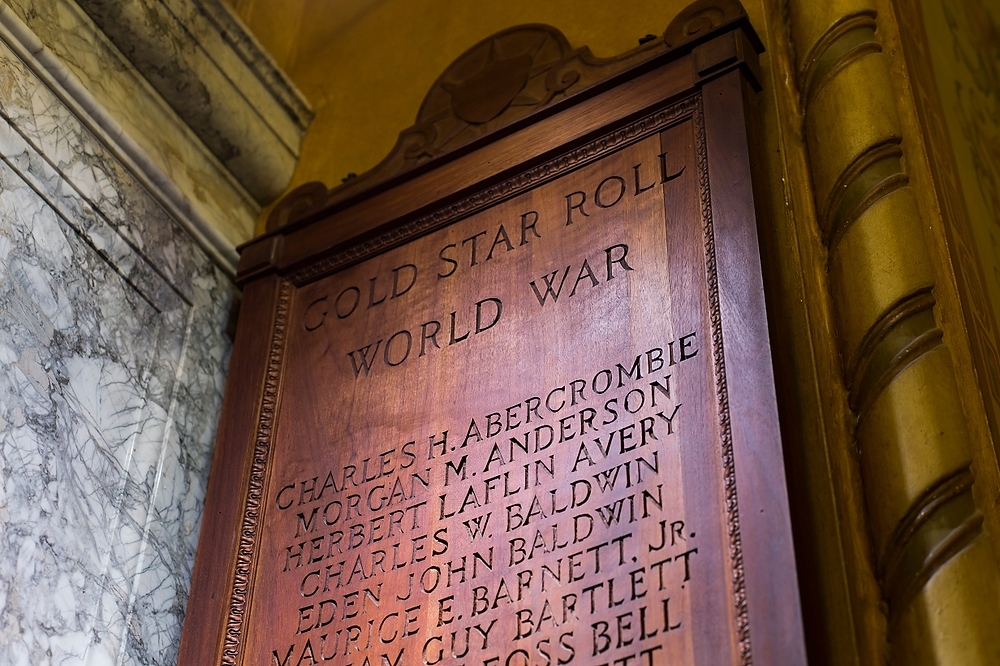 The names of World War I victims are carved into wooden "gold star honor scrolls" that flank the second floor corridor.