Nurtured at UW, East of Vilas rocks the local music scene
"There's a teeming student population here in Madison. Pure, unbridled creativity."
That's what Austin Gent, a student at UW–Madison, says when he thinks about music in the capital city of Wisconsin. He's the lead drummer in a popular student band on campus named East of Vilas. 
Alongside Austin are six other band members, all UW students. Ben Newman is the lead writer, vocalist and producer. Lane Burke and Cree Faber contribute vocals. Carl Youel covers the keys, Mac Farah holds down the guitar parts and Orion Weber supports the sound with his bass playing.
The members of East of Vilas have been just the latest band to break into the scene in Madison and beyond. 
Much of their music fits into the indie category. Originally, East of Vilas would create music that was "studio focused," meaning most of the work would be done in post-recording sessions to add sound effects and adjust the sounds digitally. However, more recently, the band has moved more towards live music as they continue to release new songs and perform around the Midwest.
How did they get here? By meeting in The Studio Learning Community in Ogg Hall.
"The Studio is a learning community that basically gathers artists their freshman year and beyond to live in a dorm and create with others. The Studio provides the students with the facilities to do so," said Orion.
Cree, Orion, Ben, Carl and Lane met up in The Studio to blend their talents, creating their first song, "Growing Pains."
After surviving a socially distanced school year of COVID-19, Austin and Mac joined on collaborations with the original five until they eventually became full-time members of the band. The group moved into a house on the east side of Madison, where they grabbed inspiration for the full band name.
"We have this room in what we call the Jam Ranch, where we have our instruments and we can come together. It's a really powerful thing to have this creative space," Ben said. "We wanted to craft an identity and thought, why not use the place where we always are?"
"The brand shifted when we moved in here," said Austin. "This living room is very much a part of our identity now," Carl added.
Now, just mere months after the big move, East of Vilas has broken onto the Madison music scene. They released a new single on April 28 titled "Out of the Blue." The song reached close to two thousand streams in its first week. The bands' daily streams and monthly listeners have spiked beyond belief since the release of the song, too.
"People are continuing to listen to it and continuing to enjoy it," Mac said. 
The members have been blown away by the initial support they've received 
"It's been one of the fastest-growing songs in terms of our music. I'm constantly getting messages from people about how much they like it, even people that I haven't talked to in years are telling me they listened to it and are streaming it every day," Lane said.
"It's been humbling. We've been really, really touched by the support from everyone," Austin said. "It's people who are not just humoring us and saying, 'oh, your song is so nice.' Instead, it's people who are singing along to the music, reposting the social media, etc. It's wild," Ben added.
Reposting the band's social media content in support may seem like a small act to the average listener or fan of the group, but, as the members are aware of, social media is an entirely different business piece of the puzzle to success.
Luckily, band members and their friends all pitch in.
"We recently brought in Riley, one of our roommates, to run our Instagram account. Lane and I handle the TikTok. Cree is a graphic design major so he makes a lot of awesome graphics for the page and album art. Will, another roommate, is a film major that takes excellent photos and videos for us. Everyone contributes something to the beast that is social media," Carl said.
It's all hands on deck.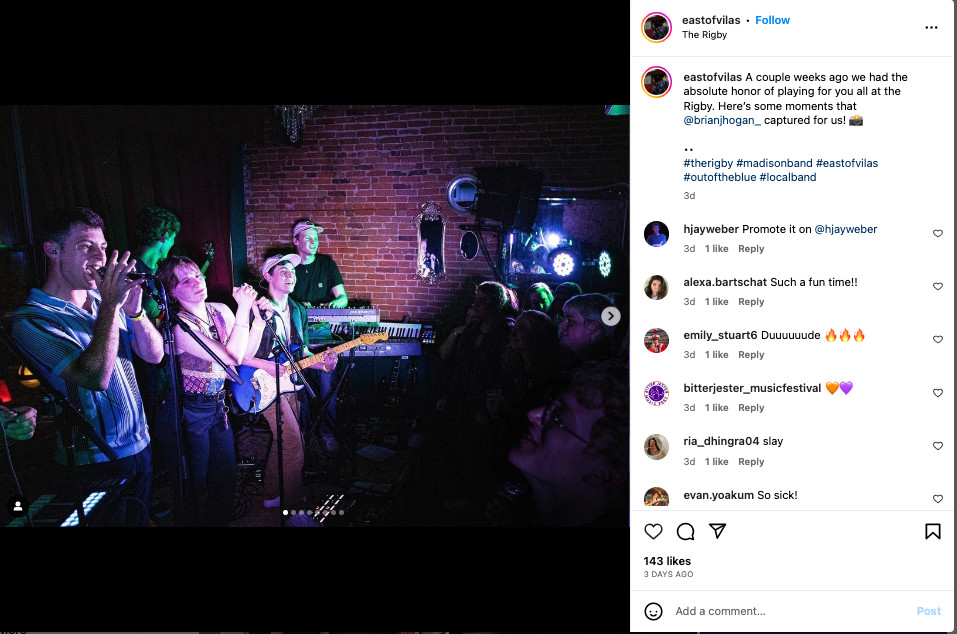 "We are forever grateful for the people who are willing to lend their time to us because they like us and enjoy what we do," Ben said.
While the business side of growing their presence has been important, the band makes it clear that, to any aspiring musicians in Madison or beyond, there are certain things that should not be left behind.
"You have to make genuine art that you really connect and identify with. That part can speak for itself," Carl said. "You can't underestimate the power of organic, personal connection with people who love what you do," he added.
And, even when work begins to be recognized and people show interest and connections with the art, Ben knows that being a good human is the most important part.
"Lead with kindness and gratitude towards your early listeners and the people who approach you early. We always show them gratitude and it's gotten us very far." 
Still, keeping the band going takes a lot of organization.
Mac, regarded as the busiest person in the band, keeps a color-coded Google calendar that maps out student organization events, band sessions, classes, homework, social life and personal life.
"I have a deep appreciation for music and it's where I want to be, so I find time for it," Mac said.
This sentiment is echoed throughout the band. Music is not work. It's worth.
"We're doing such cool things, so this never feels like work. We all have roles that are defined over time, so we're investing in our education by running this band. It's like taking another class, except this class is super cool and I want to do it much more than other classes," Ben said.
As the band navigates into the summer of 2023, they have big plans ahead after finishing their other, not-as-fun classes. The group accepted an invite to the 2023 Bitter Jester Music Festival in Highland Park, Illinois, to compete for a $2,000 prize.
In Madison, the group will continue their performances, with plans to perform at local establishments and even the Memorial Union Terrace over the summer. 
"The Terrace is iconic," Carl said excitedly.
The band's recent performances around Madison were their first officially original gigs. East of Vilas has numerous songs out, enough to the point where they feel confident in themselves to perform original music, much to the enjoyment of the fans in attendance.
"Over time, we've trended towards live songs. So most of our sound now comes from live jamming or bringing in snippets of a song to start," Ben said. "People were singing along to "Out of the Blue" when it had been out for about a day," Austin added.
Simply put, the group loves performing in the growing music scene in Madison.
"The music scene is a lot bigger than people realize. There wouldn't be a music scene if there wasn't an audience. The scene is an organic, beautiful and wide net that most people are a part of," Orion said. "It's just a matter of finding which part of the net you're connected to, and where other connections arise," he added.
Their live performances cultivate an intimacy between the band and the audience, Austin said.
"For people to enjoy our music… It's really the greatest privilege and honor as a musician," he said. "To have that energy exchange and participate in that act… man, I love music. It's just divine."
East of Vilas hopes to inspire other UW–Madison musicians to explore their creativity.
"We have a strong philosophy of collaboration and appreciating the community of artists that are at UW," Carl said. "I would advise you to go meet people and find people with similar passions. Tell them about your music, and join student organizations together."