New tradition welcomes students to Camp Randall, captures a "W" snapshot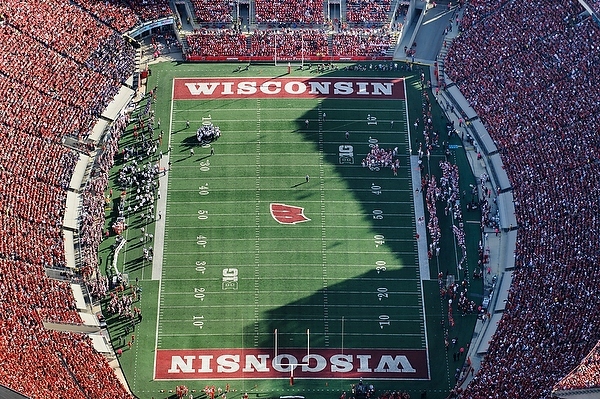 Camp Randall will have a different look Thursday, when incoming students will gather to learn game day traditions and start a tradition of their own: the W Project. Students will form the UW's Motion W on the field for a picture.
Photo: Jeff Miller
Camp Randall won't host its first football game of the season until Saturday, Sept. 6, but its field will see plenty of action a couple of days before kickoff.
Sub in as many as 5,000 incoming students for the players, a photo op for a football game and Wisconsin Welcome Thursday for college football Saturday. Retain football coach Gary Andersen, Bucky Badger, the UW Marching Band, 5th Quarter and the UW's classic anthems. And what do you have? A new tradition: the W Project.
This Thursday, Sept. 4, first-year students will meet at Camp Randall from 5:30-7:30 p.m. to take part in a slew of activities, including the main attraction — when they will flow onto the field to form the shape of the UW's Motion W for an ambitious snapshot.
"WASB was interested in organizing the event to fulfill our mission of 'linking students past, present and future.'"
B.C. Cole
Students will initially enter Camp Randall through Gate 3, where they will each receive a complimentary T-shirt from The Red Shirt program.
"As first-year students begin their time here at UW–Madison, we want to introduce them to a tradition that can be carried into alumnihood," says Shannon Timm, a marketing account manager at the Wisconsin Alumni Association (WAA). "The Red Shirt represents a sense of identity, community, pride and belonging."
Students will then gather in the student section, where they will be greeted by music and highlights on the big screen. Speakers from UW Athletics — including Andersen, and Badger basketball student-athletes Sam Dekker and Josh Gasser — will talk to incoming students about the UW experience, good sportsmanship and student conduct at events.
Afterward, students will watch a Wisconsin Welcome video, and Paula Bonner, WAA president and CEO, will speak about the importance of The Red Shirt program and staying connected to the university.
Before participants file down to the field, the UW Marching Band will perform a rendition of the 5th Quarter to help incoming students learn the lyrics and motions of the UW's most popular tunes.
A Twitter hashtag campaign will be active throughout the event, and participants can show off their new Red Shirts by tweeting photos of themselves, along with the hashtags #WProject and #Badgers, and have their posts show up on the video boards.
Minnesota's Class of 2018 took to the field to form a block "M" last week. Not to be outdone, UW students will form the Motion W Thursday.
Photo: University of Minnesota (@UMNews)
After the students are adequately prepared for game days, band members will start to form the "W" on the field. Participants will then trickle down and fill in the gaps. After the official photograph, students will be allowed to stay on the field and take pictures of their own.
The W Project was inspired by similar efforts at other Big Ten schools. Not to be outdone, students from the Wisconsin Alumni Student Board (WASB) spent months collaborating with WAA, the Center for First-Year Experience, University Communications, the UW Marching Band and UW Athletics to pull off the photo op.
The official photo, as well as candid shots and a time-lapse video, will be made available on WAA's website following the event.
"WASB was interested in organizing the event to fulfill our mission of 'linking students past, present and future,'" says B.C. Cole, a leading organizer of the event. "The W Project hits on all three points, as it gets current students engaged at the event, allows the photo to be shared with future Badgers and alumni, and is a memento to those current students after graduation."
Students are strongly encouraged to bring a water bottle to the event due to expected high temperatures. No concession stands in the stadium will be open.